Chip Kelly may be new to the Eagles nest, but he doesn't need a history lesson to understand the significance of the Eagles-Giants rivalry. As Kelly prepares his team to face off against the Giants in his first game against the divisional foe, the Eagles head coach spoke to the media about the rivalry means to him while shedding some light on the improvement of some of his young defensive players.
"I've very aware of the rivalry between the Giants and the Eagles," said Kelly. "There was actually (a countdown) on NFL Network (in 2012) of the biggest rivalries in the league and I think that it was voted number one. You notice that there's history in the game. There's Herm Edwards picking up the fumble. There's DeSean Jackson's punt return. There's a lot of history. Obviously when you play in games like this, it's the closest opponent. They're right up the road. You're very aware of it and the battles that go on in this division, and especially recently with the Giants' success and the Eagles having so much success in the 2000's. We're very aware of what the battle between New York and Philadelphia is like."
At 0-4, the Giants, comprised mostly of holdovers, have been one of the most surprising teams in the NFL. On the other side, the Eagles and all of their new faces sit slightly higher in the division at 1-3. With Dallas facing off with Denver on Sunday, there is a chance that the Eagles could be sitting in first place in the NFC East on Monday morning. When asked if that mattered, Kelly joked about the importance of standings this early in the season, but also admitted that Sunday's game will have long term effects.
"I talked to our team about that on Tuesday because I had people tell me that if Dallas loses this weekend and we win, we're in first place, and I was fired up," Kelly said, drawing laughter from the audience of reporters. "I called the league office and I wanted to know when we get the trophy and when the trophy presentation would be, and I got the same response because they thought that it was funny too.
"It doesn't matter if you're in first place in the first week in October. What matters is 'Are you in first place after December 29th?' But, this week contributes to being in first place on December 29th. Let's not waste energy and time on 'Hey, if this happens and this happens and this happens.' It's almost like you have two choices – you can wish for things to happen or you can plan for things to happen. Our job as a team is to be prepared to play the New York Giants. Now this game could have huge ramifications as you get down the road where (we) and the Giants are tied and then we won the game against them, and that's where it becomes a big deal … Let's focus on what we can control, and what we can control is our preparation and getting ready for them. If they did give us a trophy after this game, I'd be really fired up about it, but I was told that's not going to happen.  
In order for Kelly to come away victorious in his first Giants experience, he may need strong contributions from some of the younger players on the Eagles defense. Patrick Chung is once again limited in practice on Thursday, meaning that Earl Wolff could be in line to make his second-career start on Sunday afternoon, and Kelly has seen continuous improvement from his rookie safety.
"Like all young rookies, I think that everything is a new experience for him, so the more reps you get him, you kind of see him getting better," said Kelly. "I see improvement in Earl, but you're not, in the short amount of time that he's been here, able to put him through every single route combination, set recognitions and all of those things that a guy that's been in the league for two or three years could recognize. We all see every day that Earl's improving, and you keep looking at him saying 'He's starting to make plays.'
"The one thing I know about Earl, and we all know about Earl, is that he flies around. He's around the ball, and even if he makes a mistake or makes a misstep, he's going to make up for it with his effort. That part is encouraging and as he continues to get more experience, you're going to see him get better and better out there."
Another rookie who has seen his playing time increase is third-round pick Bennie Logan. Along with veteran Isaac Sopoaga, Logan has seen a number of snaps at the nose tackle position, and Kelly has been very pleased with the way that duo has been playing in the trenches.
"Bennie's growing like a lot of our young guys," Kelly explained. "They're getting better and they're progressing. The one thing about that position is that you're at the focal point when the ball's being snapped, and the pounding that you take when you're in there – it's a pretty physical game and you better make sure that you have two (players). You're getting hit by guards, and hit by the center. You're in the middle of all the action.
"Sop's a little bit older, but I think he's been a good influence on all of the younger guys in terms of his experience in the league, but we also know that we can't have him out there for 60 or 70 snaps either. I think having two guys there has really helped us and will continue to help us as we continue through a 16 game season."
Make sure to follow us on Twitter @EaglesInsider.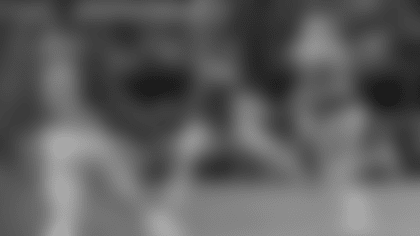 news
Spadaro: For Jalen Hurts, the message is always the same
The quarterback has turned the page, knowing that a red-hot Dallas team awaits in an NFC East showdown.