There is an expectation that Sunday's game between the Eagles and Denver Broncos will bring offensive fireworks. The Broncos and Eagles rank first and second, respectively, in the NFL in terms of yards per game, with the Broncos outpacing the Eagles 487 to 462. Those gaudy numbers have elicited comparisons between the two offenses – something in which head coach Chip Kelly has little interest.
"That means absolutely nothing to us," Kelly said when asked who the two teams compared. "All we need to (know) is 'How well do we play on a weekly basis?' and 'Are we scoring enough points to win a game?' We don't compare ourselves to anybody else. At the end of the year, no one pats you on the back because your offense is ranked at a certain level, that's got nothing to do with it. Does our offense give us a chance to win the game this week? That's all that we care about."
Led by future Hall-of-Fame quarterback Peyton Manning, the Broncos passing game garners a lot of attention. Of the 486.7 total yards that Broncos average per game, they have averaged 374.7 yards through the air (approximately 77 percent of their total yardage). Though the Denver running game is not as voluminous, Kelly and his coaching staff are not neglecting any of the running backs that the Broncos might deploy.
"I don't think (their running game) gets overlooked by us, "said Kelly. "Obviously the notoriety goes to Peyton and the receivers, but I think they're running the ball very effectively and it doesn't matter which back is in there, whether it's (Montee) Ball or (Ronnie) Hillman or Knowshon (Moreno), they're still running the same plays. It's not like they have a package just for this guy and they feature certain types of plays with him. It seems like they're running their run game and it doesn't matter who the back is.
"When we defend them or when we defend anybody, we're looking at everything. Now there may be more stories about their passing game, which is understandable, but I know that our defensive coaches aren't saying 'Hey, let's not worry about the run game. Let's concentrate on the pass."
Turning to the other side of the ball, the Broncos have the best rushing defense in the NFL, allowing just 43.3 yards on the ground. The Broncos also rank No. 1 with only 2.3 yards allowed per rush. Conversely, the Eagles are the league's best team at running the ball, with an average of 209 yards per game and an average gain of 6.6 yards per carry. For the Eagles, the ability to run the ball against Denver may go a long way. Kelly gave his explanation as to what makes the Broncos run defense so strong, and he gave some of the credit to their offense.
"A lot of times I think that teams end up playing from behind and all of a sudden that turns into them playing a game of catch-up," said Kelly. "(The Broncos) are so productive on the offensive side of the ball that all of a sudden after two series it's 14-0 and now you're trying to think 'How do we hold serve and how do we stay with them?'
"Also, I think that (Broncos defensive coordinator Jack Del Rio) does a great job with that defense and I think that their defense doesn't get enough credit. They've got a very, very stout defensive line that holds up very well, and they've got three linebackers that can run and close to the football. They always seem to be around the ball. They've got a good scheme in terms of what they do, but I think that a lot of teams end up getting in that catch-up mode because they're going against such a productive offense, so they're throwing the ball a lot more."
For Kelly's injury update ahead of Sunday's matchup, click here.
Make sure to follow us on Twitter @EaglesInsider.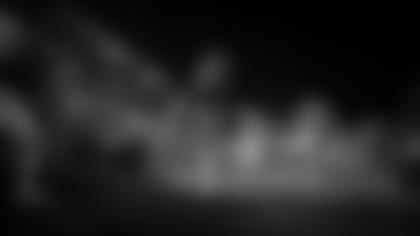 news
Spadaro: The focus for Week 3 - Keep Winning, Keep Improving
How the Eagles are approaching Monday Night Football in Tampa Bay.