The 2013 season couldn't have gotten off to a much better start for Jason Kelce.
After missing 14 games last season because of torn MCL and partially torn ACL, the Eagles center returned to the starting lineup, and has been one of the main reasons why the Eagles have been so effective at running the football. Through seven games, the Eagles lead the NFL in rushing yards per game with an average of 165.0, and Kelce has played a key role in that success, reading the defense and barking out orders for the rest of his linemen. 
In two of the Eagles' last three games, however, yards on the ground have been harder to come by. Against the New York Giants in Week 5 and Dallas Cowboys in Week 7, the Eagles averaged 3.8 and 3.7 yards per carry, respectively, down from their season average of 5.2. Kelce, who is in charge of calling out the scheme for the offensive line, has been critical of his play as of late, but that's something that Chip Kelly appreciates about his man in the middle.
"I think Jason Kelce takes everything to heart, and that's what's awesome about (him)," Kelly said earlier this week. "He demands perfection from himself, and I think he knows I don't think anybody's going to get perfection, but that is a standard he sets for himself.  I think if Jason Kelce graded out at 99 percent, he'd be pissed off. That is just the type of guy he is. That's why he's awesome to have on this team."
As Kelly prepares for his second meeting with the Giants, he was asked about Kelce's performance from the first time that the team went head-to-head, and he once again had nothing but good things to say about the third-year pro.
"I don't think Jason played as poorly as he thought he played in the Giants game," Kelly explained. "He's a competitor. He thinks he should make every block. He thinks he should make every correct call. And he's really been the anchor for us in the middle there."
For Kelce, the Eagles' first meeting with the Giants earlier in October was particularly tough to swallow. LeSean McCoy was held to his lowest rushing total of the season (46 yards on 20 carries) and Kelce was beat on multiple occasions by "nut stunts" (nose-under-tackle) from the Giants defensive tackles. On those plays, the defensive tackle would rush up-field into the Eagles backfield before the offensive line could shift to either side. It's a very risky move because it opens up larger holes along the line of scrimmage, but the Giants used it very effectively.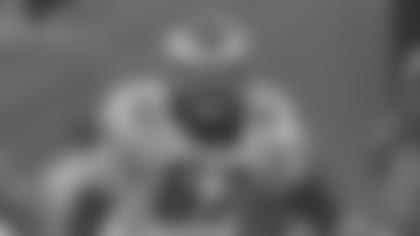 This time around, Kelce vows to be ready for whatever New York throws his way.
"I think we're a little more prepared for the (nut stunts) if they want to do that again, but I think that, by and large, the majority of it just comes down to the guys up front just winning one-on-one matchups against their (defensive) linemen," said Kelce. "They could come out and play us completely differently, and if they do, what it really comes down to is just blocking your man … and adjusting in the game to what they're giving us and what they're doing during the game."
The Giants have built on an already strong front seven of their defense by acquiring All-Pro linebacker Jon Beason in a trade from the Carolina Panthers. Beason was on the Giants roster when they hosted the Eagles at MetLife Stadium, but he only appeared on seven snaps (all coming on special teams) because he had just been acquired earlier that week. According to Kelce, Beason adds another dimension that the Eagles offense must contend with. 
"Jon is an older guy. He's been around, and he understands (the game) and is a good, solid player," Kelce said. "Their defense, in general, has some great players on it, and even before they played us, they were playing pretty good defense, so it's not a surprise that they've played well the last couple games. We know in this game we're up for a pretty good matchup."
On Sunday afternoon, the Eagles will look to get their running game back on track. The re-entry of Michael Vick into the starting lineup (who is probable on the injury report after missing two games with a hamstring injury), should open up some doors for McCoy and the other Eagles backs, but it all starts up front with the man McCoy considers the commander of the Eagles offensive unit.
"He's kind of the captain of the offense," McCoy said, praising Kelce's work. "You go from Michael Vick and then you go down to Kelce. He demands things upfront. He lets us know where to go, and he's (the offensive line's) quarterback. That's what makes the offense go. I think it starts up front with the offensive linemen, and Jason is a hard worker. He's a great center. He's very smart and very intelligent. I see the difference between when I have him and when I didn't have him. You can count on him to make the right calls, even in blitz protection. I don't think it's the physical part of who you block, it's just knowing what guy I'm blocking, and Jason does fine at all of those things. He'll be fine this game."