NOTE: THIS STORY ORIGINALLY RAN IN THE APRIL/MAY ISSUE OF EAGLES INSIDER. CLICK HERE TO SIGN UP FOR A SUBSCRIPTION.
---
"I just want a chance to be able to win and get back to the Super Bowl. That's why I picked the Philadelphia Eagles."
Asante Samuel declared those words to the members of the media in attendance and the thousands of fans who bombarded a live webcast on the team's official website while the ink was still drying on a lucrative six-year contract. The most spectactular jewel in what was otherwise a relatively dull free agent pool left the organization that drafted him, one where Samuel won a pair of Super Bowls, to help another in its pursuit of its first in the storied history of the franchise.
It is a perfect marriage on many different levels. The Eagles got a superstar playmaker whose addition instantly improves a young defense that matured through experience in 2007. But in the end, Samuel may have gotten more.
Growing up in Lauderdale Lakes, Fla., Samuel had dreams of being a big-time quarterback.
The problem? No colleges were willing to take a flyer on a 5-8, 165-pound quarterback.
So, his new coach at Boyd Anderson High School, Perry Egelsky, turned him into a defensive back. The move paid off when Gene Chizik, the man whom Samuel credited for harnessing the potential that made him the outstanding player he is today, witnessed Samuel's play first-hand at a practice for an all-star game.
"Right then, I wanted him big time," said Chizik, who was the defensive coordinator at Central Florida from 1998-2001 and is now the head coach at Iowa State. "He came in and he started for me as a true freshman and pretty much every game he ever played in from then on. From the day he stepped in there, he had a lot of confidence. He wasn't cocky. He knew he was the kind who had a knack for making plays. He made that very clear early on as a freshman to me. It's not often to start as a true freshman in the secondary. He did it."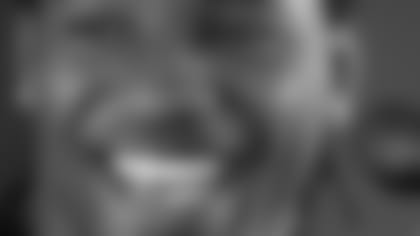 CB Asante Samuel
Chizik simply described Samuel as scrawny when he arrived at Central Florida. Samuel grew to his current height of 5-10 and packed 20 pounds of muscle onto his expanding frame, but he didn't lose any of his speed. Chizik admitted that making Samuel play within the boundaries of the scheme would limit his abilities. Samuel needed the latitude to be able to make the game-changing plays that have come to define his NFL career. After playing at free safety in his freshman year and at cornerback for his final three seasons, Samuel left Central Florida as the school's all-time leader in pass breakups with 38 to go along with eight interceptions.
Even though he was a Mid American Conference first-team selection as a senior, he still wasn't getting respect. Pro Football Weekly said in its draft report that Samuel would have a "good chance to make the NFL as a nickel or dime cornerback." Samuel was selected in the fourth round (120th overall) of the 2003 NFL Draft by the New England Patriots. There were 10 cornerbacks selected ahead of him. Not getting respect wasn't new for Samuel. Again, he had to grind. He had to prove that he belonged with the big boys.
As a rookie, Samuel didn't need much time before he made an immediate impact. In a Week 3 win over the Jets, he notched his first career interception off Vinny Testaverde and in true playmaker form returned it 55 yards for the game-winning touchdown. In 2004, he returned his only interception of the season 34 yards for a touchdown in the AFC East-clinching win over the Bengals. Two seasons, two Super Bowl titles. Samuel started in all 15 games he played in and was tied for the team lead in interceptions with three in 2005. In the Wild Card round of the playoffs against Jacksonville, he returned an interception 73 yards for a touchdown. He led the Patriots with two interceptions and six knockdowns in the playoffs.
Samuel parlayed that postseason into a year that catapulted his name among the best in the game.
Ten interceptions. Twenty-four knockdowns. A career-high 62 tackles.
One thing remained constant - a lack of respect.
Even though he was tied with Denver's Champ Bailey for the most interceptions in the NFL and the Patriots allowed the fewest touchdowns in the league, Samuel was snubbed when it came time for the Pro Bowl. In the playoffs, Samuel recorded two more interceptions and returned them both for touchdowns. At the end of the year, Samuel was an unrestricted free agent and was ready for teams to start knocking down his door.
The Patriots slapped the franchise tag on Samuel. It wouldn't be another six months before he signed the deal and even then it was only with the promise that the Patriots couldn't use it again after the 2007 season.
Samuel cemented his status as one of the league's premier left cornerbacks last year. After recording another six interceptions, Samuel earned a plane ticket to Honolulu for his first Pro Bowl appearance. After he was coronated in Hawaii, he claimed the mantle of the top free agent to hit the market.
The Eagles saw just how Samuel can single-handedly make an impact back in Week 12 of this past season in Foxborough, Mass. The Eagles were poised to hand the undefeated Patriots their first loss of the season, but it was two plays by Samuel that made the difference.
On the opening drive of the game, the Eagles faced a 3rd-and-3 at their own 38-yard line. Brian Westbrook lined up as a receiver on the far right side along the numbers. Samuel lined up across Westbrook at the 42-yard line. Reading a pass play, he backpedaled two more yards just before the snap. Samuel correctly reads that Westbrook was running an out route to the sideline. As he headed towards Westbrook, he saw that quarterback A.J. Feeley was about to make the throw. Samuel broke for the ball and picked it off. He ran untouched into the end zone for a touchdown. New England took an early 7-0 lead.
"I don't think you can not understand the game of offensive football and be a great DB," said Chizik. "You have to understand the game. I think he does that. And I think that there's a knack in there that great football players can't even explain nor their coaches can explain how it happens. It just does. For him, that's part of the deal. He has great anticipation on when to break on balls. I'm sure he has great pre-snap thoughts on what the possibilities are. I think that it's a knack that some guys have and some guys don't."
Samuel was the Alpha and the Omega on that crisp fall evening.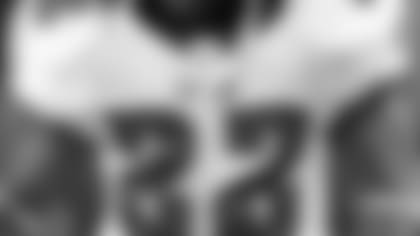 CB Asante Samuel in his first preseason game as an Eagle
The Eagles overcame that initial setback and were in prime position for the upset. Trailing 31-28, the Eagles were marched to the Patriots' 29-yard line and had them on their heels. Kevin Curtis was lined up on the far right side wide of the numbers with Samuel playing seven yards off. After the snap, Curtis ran to the 23-yard line and began to cut in as if he were running a post route. Samuel played a few yards off of his outside shoulder. The problem was that Samuel didn't bite on the move inside nor the pump fake by the quarterback. Feeley released the ball before Curtis could come out of the route and Samuel saw this. To complicate matters, the pass was thrown too far and Samuel was the only one who could make the play on it. He hauled in an over-the-shoulder grab for this second pick of the game.
"He's got great ball skills. He has a flair for the game," said defensive coordinator Jim Johnson. "He loves to make big plays. Anytime you throw the ball in his area, it seems like he comes up with a big play either a tipped ball or an interception. He's the complete package."
The Eagles ranked 10th in the NFL in total defense last season, but that hides the fact that they weren't able to generate enough turnovers. The Eagles were the only team in the league to not force 20 turnovers last year, they finished with 19. Samuel alone has had 16 interceptions over the past two seasons which leads the NFL. Samuel may have operated in a zone-coverage scheme in New England, but he thinks that the transition to Johnson's pressure-style defense will be smooth. In fact, head coach Andy Reid already has declared that Samuel will assume the left cornerback position.
The Eagles are giving Samuel the respect that he deserves. That doesn't mean that Samuel is without his skeptics. There are some in the media who have questioned Samuel's motives. He left an organization where he won two Super Bowls, had the first 16-0 regular season in league history and came within three points of a third world title. If he really wants to go back to the Super Bowl and win, why not stay in New England?
It's about respect. Samuel would only offer a "no comment" when asked whether he was truly appreciated in New England. His former college defensive coordinator knows that Samuel doesn't have it "in his DNA to go somewhere and play for just the money."
"Everybody is going to say what they are going to say. No one is ever going to stop that. But when he signed with Philadelphia, he signed for one reason. That is he still feels like that's a place right now that has a chance to compete and make it to the top and he wants to have a big hand in that,"" Chizik said. ""He's not one that's got it in him to count my money and I'll just coast now. I don't see him changing that much because I never could see that coming."