Defensive coordinator Jim Johnson adds wrinkles into his game plan every year. The team has added some unique talents such as Chris Clemons and Asante Samuel and accordingly, he wants to utilize all that he has.
The Eagles defense at times may be described as a 4-2, with Chris Gocong more than likely taking a seat so an extra corner can get on the field.
"Every year it's different. I know some years we started a couple games with nickel defense," said Johnson. "It was like 65, 70 percent of the time we played a lot of nickel. Some years it might be 40 percent, but I anticipate 50 or 60 percent."
Johnson says that secondary packages will vary from week to week based on the opponent. He points to the Arizona Cardinals, whom the Eagles face at home on Thanksgiving, as an example of a team that has a talented and deep receiving corps. That is a time where Asante Samuel, Sheldon Brown and Lito Sheppard will all get a full day's work in.
The defensive coordinator, now in his ninth year, has talked to his corners and everyone seems to have a good attitude and understanding of what is taking place.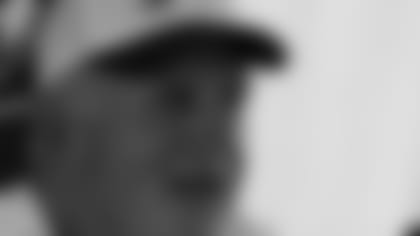 Defensive coordinator Jim Johnson
Johnson is not one to beat around the bush. He will give straight-forward answers without sugar-coating much. Since the first few days of training camp focus more on the offense then anything else, Johnson said Bryan Smith and Trevor Laws are really not missing much after they were placed on the PUP list Tuesday. They are absorbing everything in the classroom and should be ready to put the pads on within the next week.
That's when the real test begins.
In the meantime, Johnson will be looking around, evaluating everyone because experience tells him that there are surprises every year.
"You're always going to find a guy here and there; especially a guy undrafted," said Johnson. "The guys we draft, we're a little more patient, we have something invested in them and we have a little bit more patience than a guy undrafted sometimes."
Joselio Hanson is evidence that it is possible to catch the coaching staff's attention in training camp, make a name for yourself, and become "a legit NFL player."
There is a long list of guys who Andy Reid, Johnson and the other assistants have their eye on. In time we will see if there is a solid candidate that emerges from this young, talented group.
Quintin Demps was a player that Johnson answered a variety of questions about, especially since the safety took some snaps at corner during Tuesday morning's workout.
"I think Quintin and I need to have a talk," Johnson said jokingly. "He needs to learn strong safety and free safety."
Sean Considine is back on the field at safety and he could be a valuable tutor to a young player like Demps.
Johnson says Considine is one of the smartest players on the team and even though Quintin Mikell is the starter right now, Considine is another important piece to build a successful 2008 season.
"We'll use Sean a lot of different ways. Sometimes in nickel, and Q (Quintin Mikell) will play in dime," he said. "We'll try to get the best players on the field."