Defensive coordinator Jim Johnson doesn't buy into the irrational thought that growing facial hair helps a football team reach one of its goals.
But he isn't tempting fate, either.
Johnson showed up at his weekly press conference on Thursday sporting a salt-and-pepper beard, albeit minus the pepper, which was in direct correlation of safety Brian Dawkins' edict last week.
With a three-game winning streak on the line, Johnson isn't taking any chances.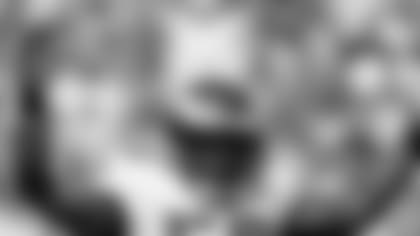 DE Trent Cole won't have to worry about Pro Bowl tackle Chris Samuels
"I'm not superstitious," Johnson said. "But I'm not going to shave this thing right now."
For three games, the Eagles have been clicking on all cylinders. Defensively, they've seemed to have fixed areas that caused them problems earlier in the season.
In the first game against the Giants, the Eagles held New York's top receiver, Plaxico Burress, to just one catch but they surrendered 219 yards rushing. In the rematch two weeks ago, with Burress out due to a suspension, the Eagles could focus on stopping the run and New York gained just 88 yards on the ground.
A similar situation repeats itself this week. In the first game against Washington, top wideout Santana Moss was held without a catch but the Redskins ran for 203 yards, including 145 by Clinton Portis.
"The biggest reason is because we double (Moss) quite a bit," Johnson said. "So when you double a receiver sometimes it hurts your running game. Just like when you go against Plaxico. There's got to be a combination where we're not doubling but we still have enough people to stop the running game. We just did a good job as far as taking him away, as far as double coverage, but it still didn't help win the football game."
In the first meeting, the Redskins converted 11-of-19 third down opportunities. In the last three games, though, the Eagles have allowed their opponents to convert just 9-of-33 third-down chances.
"The coverage has been good, the pressure has been good, so it's a great combination," Johnson said. "Hopefully we can keep that up. About the last 4-5 weeks, we've been excellent on third down."
Johnson said finding a balance between putting enough players in the box to stop the run and doubling the opponents' best receiver has been a big key to the Eagles' recent success.
"Well, a lot of things go into it," Johnson said. "It's down and distance; sometimes it's just a feel, what their tendencies are. And it's a little bit of a guessing game. There is no exact science; I wish there was but there's not. Sometimes, it's when you feel they're going to run the football and when they're going to pass the football. Sometimes you have to be good enough against the run and we have, I think, lately even though we're doubling the receiver we're doing a better job of stopping the run."
It's something Johnson hopes to continue at FedEx Field on Sunday.