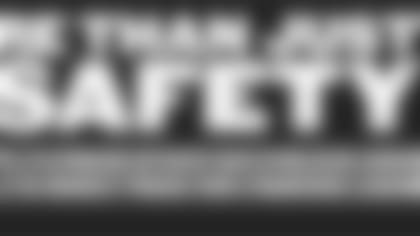 This is the cover story for the November 22 edition of Gameday Magazine which can be found at the Lincoln Financial Field Pro Shop as well as select ACME Markets. App users, please click on "View in Browser" for the full experience.
Every Sunday for the better part of two decades, Brian Dawkins stepped onto the football field and gave the game everything he had. Now, as an analyst for ESPN, he spends his Sundays watching and breaking down the play of a new crop of safeties. The game has changed a lot since Dawkins' prime years in Philadelphia, with awareness of the seriousness and extensiveness of head injuries across the league sparking increased rule changes that have largely eliminated the jarring hits for which the future Pro Football Hall of Fame safety was made famous, or infamous if you were on the opposing team.
But it wasn't just Dawkins' fearless and physical style of play that made him a fan favorite in Philadelphia, it was his penchant for making big plays when the Eagles needed them most. It seemed as if it was a skill that simply came to him naturally, and in speaking with the 42-year-old it's clear that this "playmaking gene" is what he looks for most when analyzing the play of other safeties. In Malcolm Jenkins, he sees someone who plays with the same mindset he did when he was with the Eagles.
"When I watch safeties, I want to see flash," Dawkins explained. "When I look at film, I want to see the potential to disrupt, I want to see a guy that can change the outcome of a game by making big plays. ... Watching Malcolm Jenkins, that's what you're seeing."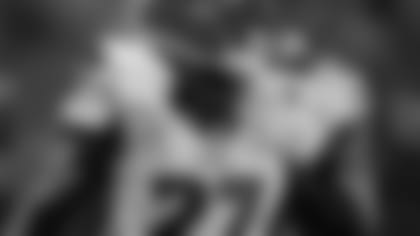 Jenkins joined Philadelphia last season after five seasons with the Saints, the team that drafted him 14th overall in 2009. He played his first year in New Orleans as a cornerback, the position he played during his four seasons at Ohio State. But in his second pro season, an offseason injury to All-Pro Darren Sharper prompted the team to temporarily convert him to safety. Jenkins played so well that he remained at the position even after Sharper returned. That year, he finished first on the Saints in interceptions (2), second in passes defended (12) and fourth in tackles (64). And ever since, the 27-year-old has embraced the safety position.
"I always try to take the label off of myself and call myself a hybrid," Jenkins said. "In my mind, I can still cover like a corner, and if you ask me to cover the No. 1 receiver I'd have no problem doing that. But it fits my personality to play safety because I like to study the game, and I like to make calls and be in control of what we're doing and getting guys lined up. The communication part of it is really something I enjoy."
Signed to a three-year deal by the Eagles in 2014, Jenkins has already established himself as one of the unquestioned leaders on a defense that ranks tied for ninth in the NFL in points allowed (20.4 per game) and tied for second in takeaways (2.2 per game) this season. On the year, the seventh-year defensive back leads the team in tackles with 63 and forced turnovers (4). His tenacious play has made him a favorite amongst fans and teammates alike, although his fearlessness has sometimes cost him.
Against the Cowboys in Week 9, Jenkins suffered a concussion while tackling running back Darren McFadden on a run up the gut of the defense in the second quarter. Watching the replay, you can see that Jenkins' head connects with McFadden's shoulder. But he appeared to remain conscious in the moments that immediately followed, quickly gathering himself and remaining in the game despite the effects of the injury and only informing team medical personnel after the 33-27 overtime win. Luckily, he didn't cause any further damage and was able to return to action after missing just two practice sessions. He expressed remorse for his decision when asked about it after the fact, saying that next time, if there is one, he'll do the right thing and notify team doctors.
"We've talked about it. I've talked with him. He's heard from his mom, and he's heard from his wife," said head coach Chip Kelly following Jenkins' return to action. "His long-term health is the most important thing to us."
If you asked fans in pretty much any NFL city in America what position they'd want to play if they were to step onto the gridiron, almost all would say quarterback, running back or wide receiver. After all, they're the players who get the glory. But Philadelphians are a different breed. Take a stroll through the parking lots outside Lincoln Financial Field on a Sunday morning and ask tailgaters which position they'd play. You'll hear a lot of people saying safety and linebacker.
"The safety position in Philadelphia is different," Dawkins explained. "In other places, safety is just a part of the defense, the last line of the defense, but in Philadelphia he's the game-changer. ... If you give one of the Philadelphia fans a chance to go out on the football field and play, that's probably what they would do. They wouldn't be all calm. They wouldn't be all to themselves. They'd have a great time, and I think that's the reason my connection with the fans was so strong. They knew I gave it everything that I had, and they knew I had fun with it, and I wore my emotions on my sleeve."
Brian Dawkins had a connection with the fans that was like few other players in the history of the NFL. He spent 13 seasons in Philadelphia, earning nine trips to the Pro Bowl and six All-Pro honors. Three years ago, his number was officially retired. Jenkins has only been in Philadelphia for two years, missing Dawkins' tenure by five years, but he understands completely why the fans loved No. 20 so much.
"The safety position reflects the personality of the fan base," Jenkins said. "Usually your safeties are your hard workers, they have a chip on their shoulder, a lot of enthusiasm, and they're smaller guys hitting bigger guys. And I think that's kind of the mentality of Philadelphia. This city isn't too fond of guys who don't show enthusiasm. If you're an even-keel player, you better make a lot of plays, because they like to see the passion for the game, and I think that's why they loved Dawkins so much. People say they love watching me play, not because I make the most plays or lead the league in interceptions, but just because of my passion."
The Eagles haven't had a safety make the Pro Bowl since Quintin Mikell in 2009, and Dawkins was the last to earn first-team All-Pro honors, doing so in 2006. Jenkins might be the player to break that trend, and Dawkins recently said that he believes the playmaking defensive back is deserving of both honors. The commendation from the legendary Eagle isn't lost upon Jenkins.
"He's reached out to me on multiple occasions just to say good job or to give me pointers," Jenkins said of Dawkins. "He's somebody that I really look up to as a safety, especially with what he means to this city and to this organization. It's huge to get that kind of praise, and he's got respect not only here in this city but around the league and around the country."
In the wake of Brian Dawkins' stellar career with the Eagles, being compared to the six-time All-Pro is about the highest honor that can be bestowed upon a Philadelphia safety. But Jenkins hopes to one day emerge from the shadow cast by Dawkins and create his own legacy. One built upon his ability to play anywhere in the defensive backfield, and upon his qualities as a leader and his proclivity to come up huge in the game's biggest moments. If he continues to play the way he has so far this year, that won't take long.