It all happened very quickly for Jason Kelce.
Last September, the Eagles were battling the Baltimore Ravens in a Week 2 matchup. Trailing 17-7 in the third quarter, LeSean McCoy would pick up 9 yards on a play that brought the Eagles down to the Baltimore 21-yard line. On the play, Kelce had his right knee stepped on by a then-Ravens safety Ed Reed. His MCL had been torn completely, and his ACL suffered a partial tear. His season was over, and while the Eagles would win the game, the team would drop 12 of their last 14 to end the season. There was nothing Kelce could do but sit and watch.
"I think that made (the injury) more frustrating for me, especially watching the offensive line struggle the way that they did," Kelce said. "I think everybody that plays offensive line understands that you have kind of an inner sense of accountability towards the way the offensive line plays, whether you are out there or not. If you're a part of that unit, you want to see them succeed, and the way we played last year at times was a little sub-par. It was very frustrating to say the least."
After starting all 16 regular season games as a rookie, Kelce was poised to have a breakout season in 2012. Instead, he along with other key members of the offensive line such as Jason Peters and Todd Herremans, was forced to sit out due to injury. Kelce said that the rehab process was challenging, but that it eventually motivated him to become a better player.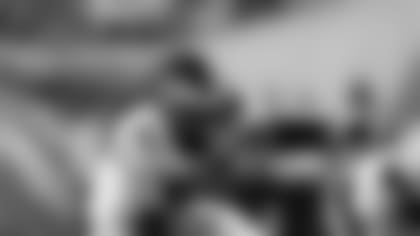 "It was nine months of a lot of frustrating work, especially early on, and then a lot of gratifying results towards the end of it," Kelce said following Sunday's practice. "You start and then the first time you're able to run again, and the first time you're able to not wear a brace and kind of go full-go - it's almost mind-blowing the way the human body can recover from something like that where you're at such a down point where you can't even really walk right and then all of a sudden you're back in the NFL again playing at a very high level against top-notch competition."
Kelce has started each of the first two preseason games for the Eagles, and it appears as if he hasn't skipped a beat. Kelce has looked comfortable at the line of scrimmage, and seems to have gotten even stronger. The third-year center said that he was able to focus on working out his upper-body while he was rehabbing his knee. While Kelce was able to get stronger, the negatives of his injury outweighed most positives.
"Having a full year to dedicate in the weight room to my upper body was beneficial, but I don't want to say that it was beneficial to have an ACL injury," he explained. "The bottom line is, even though I don't really notice it out there, the strength is still coming back as we go throughout the season. Luckily, it really hasn't affected my play, but it's going to be a continual process throughout the year to make sure that I'm fully ready to go for gamedays."
The University of Cincinnati product has taken some extra steps in an attempt to make sure a similar injury doesn't occur. For the first time since college, Kelce will be wearing braces on both knees. Though the braces provide extra support, it will be interesting to see how they affect the center's mobility. Kelce is familiar with how they feel and that he is doing all that he can stay on the field.
"I'm a very mobile offensive lineman to begin with so it's not going to hinder me that much. I wore them throughout college, I feel comfortable in them, and I certainly don't want to deal with another season like I did last year, so I'm going to wear them this year," he said. "There are no guarantees even if you have them on that you're going to be fully protected, but I'm going to do everything I can not to go down again."
Heading into this year's Training Camp, Kelce hasn't had to worry much about how his knee feels because he had so much time to rehab before camp started. If there was anything positive about last season's injury, it was that it occurred early in the season, giving him plenty of time to rest before this year's camp came around.
"Luckily I was able to start running a long time ago before the season started so I was really able to test it out then," Kelce said. "There's no question that the first time you step out onto the field or the first time that you try to walk, run, jog, or whatever it may be, it doesn't feel right and you don't trust it. Mentally you're thinking, 'Is it ready for this step?' but that all just comes with repetition, and with repetition it becomes back to normal and luckily I had a full offseason to prepare for that."
Following the Eagles' 14-9 win over the Carolina Panthers on Thursday night, Kelce said that he "hasn't been this excited to play football in a while." If they can stay healthy, the Eagles offensive line certainly has the potential to become one of the top lines in all of football. Kelce, like many Eagles fans, is excited to see what the season has in store for him.
"The knee feels great ... (it) has actually been feeling really good," Kelce said. "(The Eagles training staff) does a great job of warming you up the correct way and making sure you're body's fully ready to go for the game."