It happened one year ago today in London.
I thought that I initially broke my foot, but I didn't hear anything pop. My foot just felt really, really funny. It happened on the first drive of the game against Jacksonville. The game went on and the pain subsided a little bit. We went in for halftime and I always – always! – change my socks before going back out for the second half. I took my cleats off, put some new socks on, and tried to lace my shoes back up. However, my foot became so swollen that it seemed like my laces were too small now. I struggled to tie them.
On the second play of the third quarter, I tried to make a break and felt something in my foot. I immediately dropped to the ground. Initially, I thought it was maybe a minor sprain or a tweak. I got an MRI and started to rehab it, thinking I could come back. A few weeks passed by and it was getting to be crunch time in the season. There wasn't any progression, so I was placed on Injured Reserve.
It was a difficult time for me. I wanted to be out there and I had no control over it. I felt like I was not only letting myself down, but my teammates and my family as well. We were having a tough season and I wanted to battle through it with my brothers.
I learned a lot, from a football standpoint, while I was sidelined. I got a coach's perspective and learned more about how offenses gameplan to face a defense. I studied how different athletes move. When the players would come to the sideline, I could explain the releases and the routes that the opposing receivers would run.
I still gave pre-game speeches to the guys. I approached that as if I were still playing. Anytime I give a speech, it's never planned. It's how I feel at the moment. I always like speaking from my heart because people feel the realness in what you're saying.
As last season winded down, I relied upon my family – my mom, Kisa, my brother, Jaquan. Outside of my family, I leaned heavily on the players and the coaches. Coach Pederson and Howie Roseman, they would see me around the facility after I had surgery, and they would check in on me in the rehab room. I was on a scooter with a boot and a cast on my foot. The team's support meant the world to me. It might have just been a two-minute conversation, but it lit up my whole day.
I've had surgery, even lower-body surgery before. I told myself that I know how to get through this. But you get to a point where it's hard to maintain that same repetitive mindset. I went through a phase that was almost like depression.
After the season ended, I was here at the facility, primarily by myself. I'd spend about three hours a day at the NovaCare Complex, but then I'd go back home where I couldn't walk. I had to use a scooter to do everything. That was definitely a low moment. All of my family is back in Texas. They have jobs and their lives, so they can't just drop everything and come up here and take care of me for three or four months.
During a rehab day, I'd come in between 6:30 and 7 in the morning. I'd get in the hot tub and warm my foot up. I'd do foot strengthening exercises for 30-40 minutes, then I'd do balance work for another half hour. That was my day until I could start running. It was a slow process from walking out of the boot to jogging in sneakers, then jogging in cleats to lightly cutting then full cutting.
The Eagles' athletic training staff was great. They understood how serious my injury was. Shireen Mansoori, the director of rehabilitation, put together the calendar for me. We had a timeline of certain dates that we'd want to hit. The training staff did a phenomenal job as far as my timetable. Shireen really cared about me and my injury. She wasn't trying to rush me back out there on the field. The bond between us turned from a physical therapist-player one to that of really good friends.
I've always fought through adversity, whether it was when I was younger and outside of my football life, or when I broke my leg just before the start of my senior season at LSU. But this was the greatest obstacle that I've had to face as far as literally not being able to do anything. You take such basic things like being able to walk for granted. You have to let the foot heal itself. You can't rush anything.
One of the most emotional moments was when I finally got out of the boot and put sneakers on. I was in the scooter for four-and-a-half months. I progressed to the walking boot, but putting on shoes was probably the happiest moment of the entire recovery process. I was super excited. I remember the date, March 7, to be exact. I was dancing in the weight room at the NovaCare Complex.
When Training Camp started, that was tough for me as a football player and as a competitor to still be on the sideline. I'd see guys going out there and making plays. I wanted to get out there, but I knew that if I attacked my rehab, I would be beneficial to the team once I was on the field.
I'll be honest. I did wonder, though, if I would ever get back to the same level of play that I was at before the injury. I had multiple talks with my family about it. What if I couldn't bring that same type of energy? What if I couldn't create those game-changing plays? What if I couldn't be electric anymore? I just thought back to playing as a child, as a 10- or an 11-year-old. Don't make it harder than it needs to be. And once I started cutting and running, I flipped a switch and knew that I would be myself again once I was back out there.
My first practice was the Wednesday of Dallas week. I was super, super excited. I wasn't trying to show it. I wanted to bottle up all of my energy for the game where I could let everything out, but I couldn't even sleep the night before that first practice. My mindset all week was that I was going step back out on the field, and I was going to show the coaching staff from the first play that I'm the starter.
Coach Undlin told me on Friday in the meeting room that I was going to start. I didn't want to go too crazy since we were in the meeting, but my heart smiled. I quickly had to shift my focus and get back to the business at hand. After the meeting, I called my mom and my brother. They both had the same attitude that while it was good, it was expected. They believed in me through everything.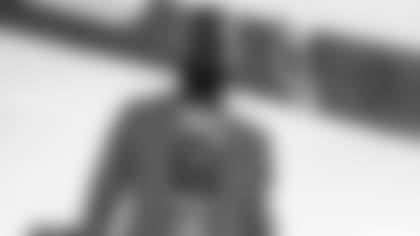 When we traveled, I wore a bright pink suit because it's October and Breast Cancer Awareness Month and the league has the Crucial Catch campaign. I have many friends and family whose lives have been touched by cancer. Then, to be in Dallas, everybody from back home in DeSoto, Texas is a Cowboys fan except my family. I had probably 20-25 people at the game. Before kickoff, I was signing autographs for the fans. Our fans are so true. I was out for the last 10 games of 2018 then I missed the first six this year. They could have wanted someone else in that spot, but for them to show me love, it was only right for me to show it back.
All night, I just wanted to put myself in position to make a play and try to change the game. I was able to get an interception late, which was a refreshing feeling after all that I had been through, but obviously we were disappointed by the end result.
It's great to be able to impact the game on the field once again. Perfection is the goal and it starts in practice. Nobody is perfect and not everything is going to be perfect. Leading up to the Buffalo game, everyone had their head down in their work. You could see the focus in everybody's eyes. We're in a perfect position now after getting the win. We've got the right guys to put this together for the rest of the season.
The biggest thing that I learned in the last year is that I can overcome anything. I had a great support staff. I had my family, my teammates, my coaches, the trainers. Now, it's my time to give back to everybody because they gave me so much.