The Eagles traded up to pick No. 9 in the 2023 NFL Draft to select Georgia defensive tackle Jalen Carter! The Eagles traded their 2023 No. 10 pick and a 2024 fourth-round pick to the Chicago Bears to move up to No. 9.
The 6-foot-3, 314-pound defensive lineman from the University of Georgia is officially an Eagle.
"I had high hopes for Philly," Carter said during his virtual press conference from Kansas City, the site of the 2023 NFL Draft.
Overcome with emotion after his name was called, Carter explained, "I was just thinking about how my family felt. I've been grinding all my life for this moment right here."
Here's what fans should know to know about Carter before he arrives in Philadelphia:
1. He was a difference-maker on the Georgia Bulldogs' defense – and he earned quite a few awards because of it.
Through his three seasons at Georgia, Carter deservingly earned a multitude of accolades. It's unsurprising when you take a look at his statistics; he recorded 32 total tackles, three sacks, and two forced fumbles during the Georgia Bulldogs' 2022 CFP Championship-winning season. Below is a glimpse of his college honors.
- 2022: 1st-Team AP All-American
- 2022: Lombardi Award finalist (awarded to the top OL/DL)
- 2021: Tied for 2nd in the FBS with 2 blocked kicks
2. He was college teammates with two of the Eagles' 2022 draft picks – Jordan Davis and Nakobe Dean.
The trio were teammates on Georgia's top-ranked defense that led the Bulldogs to a 2021 CFP National Championship.
"Playing with former teammates Jordan Davis and Nakobe Dean – that's an exciting moment for me," Carter said. "Those guys were the leaders of our (2021 championship team). If I have any questions, I know I can ask them or anyone on the team."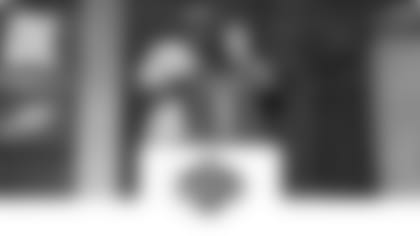 Eagles Draft Sweepstakes
Enter to win an autographed item from our 2023 NFL First Round Pick.
Even before his success in college, he was a renowned talent on the high school stage. Carter was a five-star recruit, ranking in the Top 20 among national prospects. He attended Apopka High School in Apopka, Florida, where he had 12 sacks a senior, lettered in basketball, and even competed in heavyweight weightlifting competitions.
His first-ever dunk is rumored to have been as early as 5th grade – by high school, he could windmill. On the football field, Carter recorded 12 sacks as a senior; he moved between tight end, fullback, and defensive tackle. Another Carter tale? He was even a punter. Legend has it he nailed a 60-plus-yard punt in the Florida State Championship.
Get your first look at the newest Eagles as well as exclusive photos from the NovaCare Complex all weekend long.