A year ago around this time, tight end L.J. Smith felt like a shell of his former self.
Following a successful 2006 campaign in which he recorded 50 catches for 611 yards and five touchdowns, the second-round draft choice out of Rutgers was injury-plagued in 2007.
"Initially, around this time (last year), heading into the first game, I wasn't sure how much I was going to play and even if I did play, what I could possibly do," Smith said. "But now I feel great, I'm healthy and hopefully I'm going to stay that way."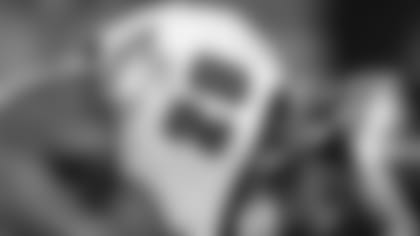 TE L.J. Smith
Last year, Smith had surgery to repair a sports hernia before training camp and, during the season, he aggravated a groin muscle in the same area. That led to a subpar season in which he caught just 22 passes for 236 yards and one score.
Still, the Eagles placed the franchise tag on him in the offseason, meaning someone in the organization thought highly of Smith's contributions to the offense.
After avoiding injury in training camp, Smith recorded four catches for 58 yards in three preseason games before sitting out against the Jets with the rest of the starters.
"I think I'm just another weapon out there that Coach (Marty) Mornhinweg can use as far as play-calling, and then hopefully I can go out there and make some plays and help my team win," Smith said. "I know the red zone was a big issue last year, but I think with another year under (Brent) Celek's belt, (with Matt) Schobel and DeSean (Jackson) helping us out, these are guys that can contribute, work well in man-on-man situations. So we definitely have more weapons than we did last year."
Speaking of Jackson, Smith expects the Eagles' rookie to have a good season, but he wants to help Jackson keep things in perspective.
"He's going to have highs and lows his rookie season, it's kind of expected," Smith said. "Even though he may have consecutive great games, just kind of keep him level-headed. At this level, raw talent only goes so far. I think Coach (David) Culley is a good coach and he's going to make sure (Jackson) perfects his craft and he'll make sure he learns the intangibles that it takes to be successful at this level."
Smith said he tries to give Jackson, and each of the rookies on the team, the respect of a veteran.
"I just talk to the kid," Smith said. "I don't try to pull the veteran move like 'You talk when spoken to' or nothing like that. Actually, I treat him like he's been here five or six years - pat him on the butt when he does well and when he has his head down about something, just pick him up, because that's what he's going to need.
"He's a rookie and guys like Greg Lewis, Hank Baskett and Reggie (Brown), those are the guys he's definitely going to lean on most of the time throughout the year, and those are great guys."
According to Smith, the offense has enough weapons to take pressure off of quarterback Donovan McNabb.
"The No. 1 thing we have to do is make sure everyone contributes, so it helps Donovan and not make it seem like he has to win everything on his own., do everything on his own," Smith said. "He has players to count on, and that's what he's supposed to do. (We have to) make tough grabs, make the easy plays, so he doesn't have to rely on his feet so much as he's done in the past even though he's healthy. Just let him step back there and be a quarterback. Try to be a pocket quarterback."
Now all that's left is to get the ball rolling, and it starts with St. Louis on Sunday.
"It's good to get things going," Smith said. "Now that games count, you can work towards your goal, not just escaping preseason and camp healthy. You're actually working toward that championship, taking one game at a time. Now everything counts."