For patients and members of the American Cancer Society, days can be long and grueling. For some, they had radiation and chemotherapy. For others, they are survivors who are trying to get back a sense of normalcy. Thanks to the Eagles, they were all able to tune out everyday life and participate in a fantastic event at Lincoln Financial Field.
"It was really quiet in the lobby when we arrived, many people had a hard day of treatment," said Paula Green, Vice President of the American Cancer Society of Greater Philadelphia. "As you walked around the room, there was so much chatter and excitement. It brought so much joy to the people that were here."
On Tuesday evening, the Eagles hosted 25 cancer survivors and fighters for Candles with Caregivers, a Crucial Catch event that allowed them to make candles with their caregivers and supporters, interact with players, and win fun prizes.
Crucial Catch is the NFL's mission to fight cancer through early detection and risk reduction. Each team hosts a Crucial Game to raise awareness worldwide about cancer.
"The Crucial Catch partnership with the NFL franchises around the country raises money that comes back to our community," Green said. "It is so important to have this partnership on a national level and here locally. We can get the information out as best as we can but when we have it coming from the Philadelphia Eagles, people pay attention."
The team partnered with Wax + Wine to bring the candle-making experience to the stadium. The local candle-making bar brought scents, wax, and everything else needed for the participants to create their Crucial Catch candles.
Chandlers, professional candlemakers, gave step-by-step instructions on how to make a candle. They went around to help each table and froze the candles before the guests took them home.
"It was really something special," said Jordan Beletz, the owner of Wax + Wine. "Our slogan is At Wax + Wine, we want to create experiences that lighten up the life, and our goal is for people to come here and have a great experience, kind of let go. And that is what this night was all about."
Among the participants was Juan Namnun, a male breast cancer survivor. 
Namnun discovered a lump on his chest a year ago and went through a double mastectomy to remove the cancer. His surgery was followed by excessive rehab and treatment.  
A year after his diagnosis, Namnun is now working with the American Cancer Society as an ambassador for male breast cancer awareness.  
Namnun is using his platform to push the stigma aside and tell other men that this disease can impact them. 
"As we grow, the most important thing is to continue to change how people think about breast cancer," Namnun said. "The Philadelphia Eagles are absolutely first class every step of the way when it comes to awareness, whether it is autism or Crucial Catch."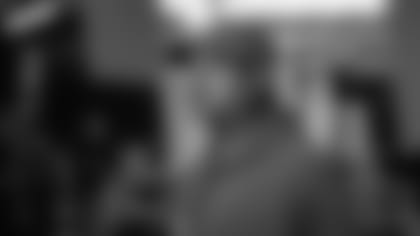 Eagles players participated in the candle-making class. Devon Allen, Fred Johnson, Boston Scott, and Jack Stoll all sat at different tables, interacting with cancer fighters and survivors.
Scott has had very close friends who have battled cancer, so he was honored to partake in such a inspirational opportunity.
"These people are fighting and have beaten the toughest battle that is out there," Scott said. "Sports is so unified, it brings people together from all walks of life, and in those walks of life, people go through things. It is special being part of an organization that opens up to the community. This is something they will remember for the rest of their lives."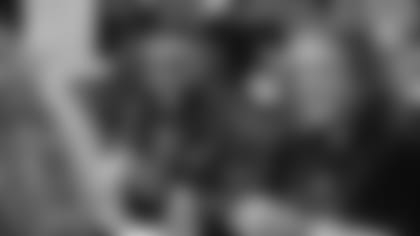 Crystal Williams was diagnosed with breast cancer one week before her 19-month-old son was due. Williams and her husband were living in Texas but were forced to come back to New Jersey, where they are originally from, because the state did not take their insurance.  
Williams had to learn how to become a mother and battle breast cancer at the same time. Her last surgery was in July, and she is getting stronger every day as she crosses the finish line. 
She and her husband had the opportunity to sit with Johnson as they made candles.  
"I was really touched by the things he was saying," Williams said. "I was very thankful to be a part of this." 
Williams talked with Johnson about volunteering at juvenile detention centers, something that Johnson does, and Williams did before her diagnosis. The conversation inspired Williams to get involved again with volunteering and talking with the youth in detention centers.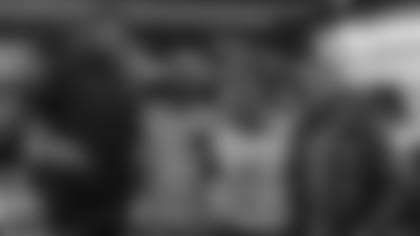 Attendees received raffle tickets for four items that they could win at the end of the event. The prizes included a Jason Kelce signed football, a signed DeVonta Smith jersey, a Crucial Catch-themed helmet, and two tickets to Sunday's Crucial Catch game against the Commanders, won by Mary Ellen McCullough. 
McCullough was diagnosed with cancer five years ago but finds herself in another battle after her cancer recently returned.  
"I will do anything to fight cancer," McCullough said. "Being able to go to the Crucial Catch game and being a part of this is amazing."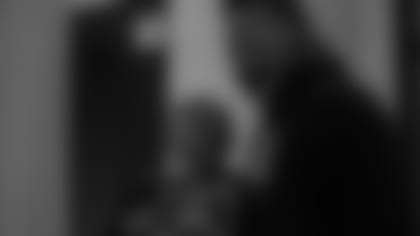 The American Cancer Society of Greater Philadelphia will have a tent at the Community Red Zone located on Pepsi Plaza at Lincoln Financial Field for Sunday's game. They will be handing out information about screening and prevention and giving out swag.
The Eagles made a $5,000 donation to the American Cancer Society during the event.