If you couldn't stay awake for the conclusion of Thursday night's preseason battler between the Eagles and the Carolina Panthers, you missed running back Tony Hunt provide a late-game spark.
No, it wasn't the torrential weather that caused a 58-minute weather delay.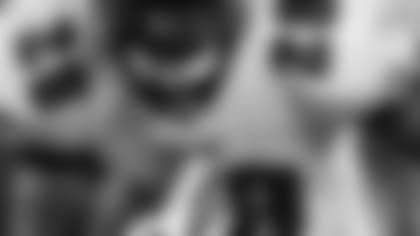 RB Tony Hunt
With 2:15 remaining in the fourth quarter, Hunt ran right off tackle 51 yards into the end zone for what proved to be the game-winning touchdown in a 24-13 victory. All 24 of the Eagles' points came in the fourth quarter.
The second-year back's showing of five carries for 79 yards against the Panthers garnered amiable remarks from both coaches and teammates alike.
"He ran one guy over and made it into the end zone," said fellow running back Brian Westbrook. "So (I'm) definitely proud of him."
After a rookie season where he saw very limited action - just 10 carries for 16 yards - the former Nittany Lions star has improved his overall game. The 6-1, 227-pound back wants to prove that he can contribute in many ways.
"I just tried to show I can contribute on special teams. I can contribute running the football. I know the assignments. I know how to pick up blitzes," said Hunt, who also contributed 30 yards on the Eagles' first scoring drive – a touchdown pass from Kevin Kolb to Greg Lewis. "It's just a good opportunity tonight to show what I can do on the field to the coaches."
The big plays are nice, but Hunt wants to make a positive contribution every time he steps out on the field.
"Just every time you step on the field you want to do something positive," Hunt said. "I feel like I learned a lot from last year. I feel like coming into this preseason I am a step up from last year. It's not like coming into this preseason I am surprised or shocked by anything. I can step up and I'm ready to go."