Cornerback Brandon Hughes (hand) and offensive lineman Dennis Kelly (back) have both been ruled out of the Eagles' season opener against the Washington Redskins. Head coach Chip Kelly said that Hughes will return to practice with the team next Tuesday, following the Monday night matchup.
Meanwhile, Monday night will mark the first regular season game for right tackle Lane Johnson, the Eagles' first-round pick who was selected fourth overall in April's NFL Draft. Facing off against a duo of talented pass rusher in Ryan Kerrigan and Brian Orakpo, Johnson will be tested early and often.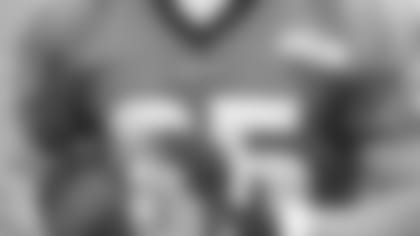 "Lane's going to get tested just because he's young," Kelly said Friday. "If you had your choice, who are you going to try to go against from a tackle perspective? Right now, you've got an All-Pro lining up at left tackle (Jason Peters) and a very talented (right tackle), but still a rookie. I think all rookies are going to get tested no matter what position you play. But I think so far, in terms of what Lane's done, we've been really, really happy with him. I think the one thing with Lane that impresses us the most is that you may beat him on a move, but you'll very rarely beat him on the same move twice. He does such a great job of making in-game adjustments. You'll see he gave something up, but whether (offensive line coach Jeff Stoutland) is talking to him on the sideline, I think he just has a natural feel for it.
"Really for us, it's been a great thing because the one thing he lacked, you knew he had all the athletic ability in the world, was just the experience factor because he was so new to the position - offensive line in general ... I think he knows it. He's going to get tested."
Set to unveil his offense in a meaningful NFL game for the first time, Kelly also addressed the notion that he will be an overwhelmingly run-heavy play-caller. Kelly's Oregon teams ran the ball nearly 62 percent of the time.
"I've said this before, but they keep looking at the numbers we had at Oregon, and you look at it, but we were up so much at halftime in 80 percent of our games that we didn't have to throw the ball, nor did we throw the ball," Kelly said. "And that was a coach's decisions. That wasn't a player's ability or it wasn't that I don't like to throw. But when you look at everybody's like, 'Well they're a big run-happy team,' well when you're winning 50-3, you're going to run the ball a little bit more. So I think some of those numbers are skewed. We were a lot more balanced team in the first half of football games than I think people think
"I know that's not going to happen in this league because no one's up 50-3 at halftime. I think you're going to see a lot more balance in terms of us running and throwing the football."
Finally, Kelly addressed the scuffle in Thursday's practice between Cary Williams and Riley Cooper.
"Our whole deal that we talk about all the time is that you have to play with emotion and not let emotion play with you," said Kelly.