Michael Vick worked harder this offseason in the weight room than he ever had in the past, and his efforts did not go unnoticed by his teammates and the Eagles' new coaching staff. In fact, according to head coach Chip Kelly, the strength and conditioning staff ranked Vick ranked first among all players in the offseason training program. After the Eagles struggled through a terribly disappointing past two seasons that mimicked Murphy's Law at every turn and culminated in a coaching change, Vick's contract was restructured to a one-year, essentially "prove it" deal. Instead of pouting, he responded positively by accepting Kelly's challenge and rededicating himself to getting back into the best shape possible in order to maximize his ability.
"It's just a credit to wanting to be better, wanting to get better," Vick said. "Knowing how things ended up last year, I wanted to make it right. One thing I do know is that if you train hard and you put in the hard work, you'll get the results out of it, and I didn't want to leave any stone unturned."
Vick "never felt like" he was out of shape in 2012, but he was "underweight and could've been a lot stronger." Now at 220 pounds, he believes the training program Kelly's staff has installed is "on a different level." Vick's initial leadership moment for the 2013 season came back in the spring when players were skeptical of the new training regimen. Not everyone bought in at first, but Vick urged his teammates to be open-minded and give it a try. Lo and behold, it did not take long for players to achieve immediate results and fully embrace the program.
"We all understood that if we were going to get better, we have to listen to the guys who know more than us," Vick said. "When you come to that realization, you understand that, why not give it a shot? And that's what I was telling guys all spring. …. What do we have to lose? It sounds good, let's try it. And it only took two weeks for everybody to buy into the program. Now we enjoy it. These guys come to work and love to be here every day, and that's a great environment to be in."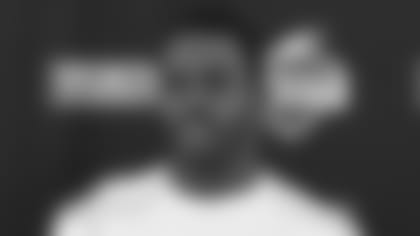 Though Vick is cognizant of the fact that he cannot allow himself to get hit on every snap, physical contact is a part of playing the quarterback position. Part of the reason he bought into the nutrition aspect of the training program and worked so hard to enhance his body is that he knew he had to be in better physical shape to withstand the punishment that accompanies his playing style. There also has to be a mental component, however, to ensure self-preservation.
"Hopefully, I'll be able to (sustain) the hits with the extra weight that I've put on," Vick said. "I've been taking my vitamins, feeding my body with calcium like never before. I'm trying to do things that will give me an edge now. Will that allow me to take certain hits? I don't know. I still have to protect myself. That's most important. I have to be very cautious."
Vick admitted that over the past few seasons, and to his own detriment, he tried to alter how he played the game by being more conscious of staying in the pocket and not putting himself at risk to get hit. Vick's mindset has now changed due to the combination of the training program and demands of Kelly's offense, where his mobility – even just the threat of it – will be an invaluable asset.
"I think you have to take on a certain mindset that you have to play the game all out and give it everything that you got," Vick said. "I think when you go into a football game not wanting to get hurt and trying not to get hurt, it doesn't allow you to play the way that you want to play. … It's just all about your mindset and what you set out do and not holding anything back.
"I'm going to have my opportunities to do what I like to do within this offense, and to run the football. Yes, I will be a threat. That's exciting. That's what I worked hard for this offseason. I've built the strength up in my legs to be able to do that. ... The mobility, it gives you an extra facet of the game that's hard to stop at times. … I'm going to use (my legs) to my advantage as long as I'm in this league."
Vick has traveled a long, winding, tumultuous road to get to this point in his career. He returned to the NFL after his incarceration and eventually reinvented himself as a passing quarterback under Andy Reid and Marty Mornhinweg. Despite the numerous struggles that marked the end of that tenure, Vick cherishes what he learned from both men and how applying those lessons will be crucial to his continued evolution.
"I'm proud of the stages that I went through in my career, being able to work with Andy and Marty I've learned so much in the passing game," Vick said. "It's the reason that I can come out here and excel in the passing game. I know how to put my body in position to throw the football, ball placement, things that you don't get taught everywhere. I'm just taking little pieces of my game and putting it together."
Whereas once Vick was classified as a running back who could throw, he is now a quarterback who can run. His body is in the best shape of his life, he has matured and transformed as both a person and player and seems primed for a renaissance season under Chip Kelly.
The new and improved Michael Vick is ready to show the league what he can do. Again.