Head coach Chip Kelly has been learning the ins and outs of a new city, as well as a new fan base. In turn, the Eagles' passionate following has been learning all that they can about their new head coach. Kelly sat down with reporters for a roundtable session to answer a mixed bag of questions, including how people in Philadelphia have reacted to him, how he found success at the collegiate level and much more …
On being recognized around the City of Philadelphia: "It's an interesting town. They've been great. It's obvious they're extremely passionate about the Eagles and it's evident no matter where you go. It's been awesome. We haven't played a game yet either, so that could change."
On being approached during his jogs around the NovaCare Complex: "I mean, they wave. What do you think they try to hit me? No, everybody's been great, people will recognize you and sometimes wave and give you a, 'Hey,' but they've been respectful."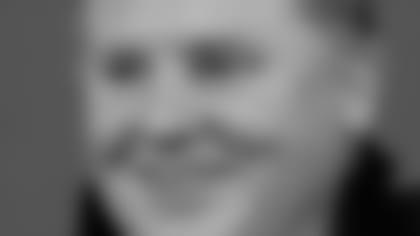 On the offseason in college: "In college football, there's a ton of recruiting. You've got to recruit on a daily basis, so there's got to be time set aside for that."
On how many hours a day he would spend recruiting: "An hour or two. It just depends, sometimes when you're on the road recruiting, it's eight to 10. There are different times during the recruiting calendar depending on what you're doing, but you've got to spend at least an hour. Usually most people spend at least an hour on recruiting every day."
On how he's spending that time now: "Football. ... We were going through Redskins third down (in a meeting). It's a lot more preparation from a football standpoint."
On whether or not he misses recruiting: "No. It's just a different challenge. I never look at things of 'Well I'm doing this; I wish I was doing that.' The football aspect is fun. We have a calendar too. We spent a lot of time when I first got here when we didn't do any football. We were all looking at current player evaluations, free agent evaluations, NFL Draft evaluations, so it's kind of a calendar that changes."
On his success at Oregon and how that translates to NFL: "Every day you go out there, you don't think that we're going to (win) 46 out of 53. It's a competition every single day. I don't think that way of 'Hey, I'm not used to losing.' We have the utmost respect for whoever we're going to compete against and I know that it's going to be extremely difficult to win in this league. Just look at everybody's record over the history of the game. It is a different game from that standpoint, but that's just part of it. That's the challenge. You look at it and kind of embrace it and you're excited about it, that every single Sunday you better bring your A-game or you're going to be in trouble."
On scheduling inferior opponents in college: "That's a fallacy. We couldn't schedule anybody because no one wanted to play us. That's my point on that being a fallacy. We had a conference schedule, and then two years ago we got dropped and the only team we could play was LSU, and we played them in a neutral site game 90 miles from their campus. I think that everybody thinks that you can make your schedule, but it takes two teams to make their schedules. One of the biggest problems that we had at Oregon was that no one wanted to come and play at our place, so we were challenged with playing on the road a lot, which you've got to do.
"If everybody could make their own schedule, then everybody would be playing home games and no one would be playing anybody. When you generalize it and say, 'Oh, you get to make your own schedule,' well there were some times where we played some lower opponents because we couldn't get anybody else to fill that game, and either we've got to play one of these three teams that are available, or we don't play a game.
"I didn't enjoy playing those games, that wasn't a lot of fun for us. We really hated that aspect of it, but we didn't have a lot of say in it. So if I don't have a lot of say in it, because those are the only three teams that we can play, then we're going to prepare like they're the best and go out and do what we're supposed to do."
On chief of staff James Harris' role with the Eagles: "James does a lot of our scheduling and is kind of our liaison from me through our weight room, our training room and what goes on at what I call the first floor here. (It is) a lot different (than what he did at Oregon). He was in life skills there. He started out in, I think, nutrition when I first got there as an assistant, and then moved up to life skills and did a lot of different things like that. Here, he's more of an administrator."
On the players getting more sleep: "It's hard for everybody. We run into it as coaches. Sometimes it's like 'Wow, it's already 11, I've got to get to bed'. But I think they understand it. They understand the benefits of it, and they also know how they feel when they do it. Are we tucking them in at night and waking them up? No."
On not staying up late himself: "I don't get 10 hours a night. I get about 6 hours a night. I try, but sometimes things come up and you've got to get things done. ... I don't sleep here."
On not staying up late to go over game film: "That's silly. No one watches film until 3 in the morning."
On using sports science techniques: "It came later on; the more you can learn about it. We're just looking at what could give us an advantage and trying to impart that to our players. Again, I don't make these guys go to sleep at night. I just educate them on what the proper thing is to do and they're wise to do it, but then they have to make those decisions. Everyone has to make choices. It's available to anybody, but you have to make the decision of is it important enough for you to do it. If it's not important enough for you to do it, that's OK, but then if you don't make it, then you've got no one to blame but yourself."
On the key to his early success at Oregon: "We had really good players. That never changes. People keeping looking for the key to this and the key to that. … The Miami Heat have really good players. The San Antonio Spurs have really good players. The Boston Bruins have really good players. The Chicago Blackhawks have really good players."
On how much recruiting played a role in that success: "I didn't say we had to have really good recruiting classes, I said we had to have really good players.  Some of that stuff gets overblown. You look at the recruiting rankings, and I've always laughed at those, because you have to put a team on the field. Not just one great player and a bunch of guys.  We had great players, but we had great teams. We maybe didn't have great individual players, but we had a bunch of guys who understood what the mission was, who understood how to work and understood what it takes, because it's not always the most talented team that wins, it's the best team that wins."
On losing to talented opponents like Boise State: "What was Boise State's record? They went undefeated and finished third in the country. We lost to them in our opening game by nine points, and they ended up going undefeated and third in the country, and I said through that whole thing that the biggest issue I had was that - Chris Peterson had an outstanding football team that didn't get any credit for being an outstanding football team - is that at the end of the year it's like 'Oh, you lost to Boise State.'
"Well, Boise State's pretty good. They either finished third or fourth, so it isn't like the game we lost at the beginning of the year, and it was like we lost 50-0. It was 19-8 was the final score. It wasn't like this catastrophic 50-0 (loss). We lost 19-8 to the No. 3 ranked team in the country at the end of the year that had a quarterback named Kellen Moore who ended up going 50-3 and had a lot of really good players on it, and I think he may have had 10-12 players on that team that were drafted and are running around this league right now. It was a good football team."