On Thursday, the Eagles' assistant coaches had a chance to update the development of the team. It was also a perfect time to glean some information regarding the eight players who comprise the team's draft class for 2013. Check out what the coaches had to say about the new Eagles ...
T Lane Johnson, First Round, No. 4 Overall
"Lane's done outstanding. He's played a lot of different positions (in college), but he's an outstanding athlete and he's really taken to our new system pretty well," offensive coordinator Pat Shurmur said. "He was involved in kind of a no-huddle-based system in college so he's got some familiarity with the way we function. It's just a matter of him learning what we call the plays, so from a tempo standpoint he's been great. He's actually been doing really well.
"I think he's an outstanding talent, number one. He's extremely tough. He's proven that he can play multiple positions, so he understands the game extremely well. As a blocker, we thought he was an outstanding pass blocker and then very aggressive in the run game. For all of those reasons, we feel like he's going to project really well."
TE Zach Ertz, Second Round, No. 35 Overall
Said tight ends coach Ted Williams on what stood out about Ertz, "Route running. I thought he was the best in college football. He's a big guy who was a basketball player in high school and he plays football that way. He can post you up. He can wheel on you. He can do all those kinds of things in terms of being an athlete, but an extraordinary route runner."
DT Bennie Logan, Third Round, No. 67 Overall
"This organization wants people with high-character, good leadership qualities and people you want to be around," said defensive line coach/assistant head coach Jerry Azzinaro. "That's the first thing. The second thing is you want guys from winning organizations. That's the culture you're trying to create. You want winners. You want to surround yourself with winners."
As a junior, Logan donned the Tigers uniform with the No. 18 in 2012 which was given to the player who possesses a selfless attitude and is synonymous with success on and off the field. On the field, Logan helped anchor one of the nation's top run defenses and didn't get the acclaim that some of his teammates received.
"When you're an inside run defender, you're an inside run defender and the name of the game has changed such that sometimes the ball doesn't go inside so now you're forced to go outside," Azzinaro said. "I think in any good defense everybody has the same assignment - you want to get off your block and go make a tackle. Well, that depends on whether he has so many talented guys on his defense that maybe other guys are making tackles. He can do a multiple level of jobs. He's a good man. He's a good player."
QB Matt Barkley, Fourth Round, No. 98 Overall
"I'm not keeping track, but I would guess most days Matt is the first person in the building. He's excited to be here. He's excited to be in the NFL. I believe that he's learned a work ethic as far as what it's going to take to be successful at quarterback in this league and he's working his tail off to meet that expectation," said quarterbacks coach Bill Lazor. "He's a fun guy to be around because he wants it. He's willing to do what it takes. He's accurate.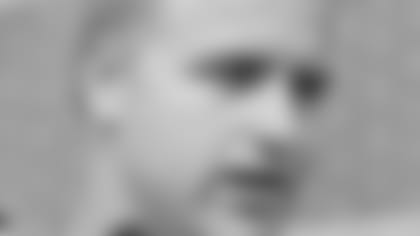 "From the very first day we stepped on the field, he's shown that he's accurate. He can throw on the run really well. He makes good decisions. He can, for the first time being in an NFL pocket, make decisions. He looks like he's done it before. It doesn't look like it's his first time and he carries himself the way you want a quarterback to carry himself. He's probably had great teachers to teach him that and there's something in him that's probably innate, that when he walks on the field and tells the players what's going to happen they believe him."
"You try to project what he did in college to our game. He was a guy who threw for over 10,000 yards. He helped his team win many, many games. He really did all of the things playing quarterback that you need to see at this level. You've got to ask yourself, 'Why not?'" Shurmur said. "He's taken to our training extremely well, the way we communicate is very different than the way he did in college. But he's been able to do very nicely here in the first few weeks.
"It doesn't really matter what level you're playing quarterback. Number one, once you have the general skill set necessary - you've got to be an outstanding decision-maker, you've got to have a sense of timing and then you have to be an accurate passer. We felt like he had all of those traits. It's just a matter of him learning how we call things, how we function and then put all of those traits to work."
S Earl Wolff, Fifth Round, No. 136 Overall
"First of all, when you meet him in person, you loved the guy. Terrific personality. Great kid to be around. The second thing is he is a hard-working, sincere kind of guy. You can tell he's got a love for the game and he wants to get better at it. Those were the things that, initially, I said I would like to have this guy in my room. He would be a great addition," said defensive backs coach John Lovett.
"But when you look at his actual skill sets, the kid's athletic. He can jump. He can run. He's explosive. He can flip his hips. He can change direction. He's a very efficient tackler. Now, the next part is that he has good ball skills, not great ball skills, but we're working on those things. ... When you put that combination together and you talk about the safety, well, there's a guy that can be out there, he can get guys on the ground. He can track the ball when it's thrown and he can get there in a hurry, so those are the things that you have.
"Teaching-wise, we've thrown a bunch at him and he's way behind what the other guys are, but he doesn't make a lot of mistakes with what he's doing. It seems to me that he has a pretty good learning curve. Now, I can't really test it yet, but he's done better than I thought he would do. I thought there would be a lot more busts especially with as fast as this stuff happens, as quick as it goes at practice. I'm very excited about him."
DE Joe Kruger, Seventh Round, No. 212 Overall
"When you see guys like that, you're trying to evaluate what you see right now and then what you might see in a couple of years, couple weeks or couple months," Azzinaro said of Kruger, who is the youngest player on the Eagles' roster.
"When you visit with Joe, you understand what a good person he is. Obviously, what kind of family he's come from. It doesn't hurt (that he comes from a football family), but it's the same thing when you evaluate someone whose dad is a construction worker or a carpenter or a union standard. You know those guys have a good work ethic. Joe Kruger's family has an unbelievable work ethic. It's just that the work they do is football, but they have a great work ethic."
CB Jordan Poyer, Seventh Round, No. 218 Overall
"Why did he slip? There were several corner-type positions out there who went early. Then, all of a sudden there was a run on those guys. It seemed like there would be all of those offensive linemen. Then they'd take a run on something else so I think what happened was at that particular time was there were other guys out there. I mean, we got Barkley when?
"He was a very good pick for us. He's a smart, sharp kid. When he played at Oregon State, he played both corner and nickel and he was unbelievably productive at the nickel position. He had seven picks. He had a bunch of tackles. He's a really smart, instinctive kid."
DE David King, Seventh Round, No. 239 Overall
"When you come from a program like Oklahoma and you've has as much success as Oklahoma has had and he was basically one of the leaders on their defense, those are qualities that are important to us," Azzinaro said.