Hey, the Minnesota Vikings are pretty good. That's the sentiment around the Eagles' locker room this week, at least. If you've won a NFL division, you're probably more than a one-man gang.
That sentiment holds true for the Vikings who have the NFL's leading rusher, the bullish Adrian Peterson, in the backfield. It would be easy for the Eagles to focus all their energy on stopping that particular weapon. But if they do, the Vikings will beat them in other ways.
After all, they're a playoff team, and they're playing on their home field.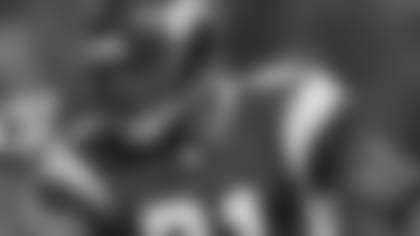 TE Visanthe Shiancoe
"Even though they've got Adrian and everybody thinks they're a running team," defensive coordinator Jim Johnson said, "they're very balanced and they've got good skill people."
If the Eagles allow them to be, the Vikings can be exceptionally dangerous in the passing game. They have different types of receivers that can get the job done, forcing the Eagles to concentrate on multiple things.
Should the Eagles line up eight men in the box to stack the house against Peterson, the Vikings have the ability to go up top. Wide receiver Bernard Berrian – the team's top receiver with 964 yards – is second in the NFL with 20.1 yards per catch. As such, the speedster is a super-legitimate deep threat, and he's even more dangerous at home, where he averages a whopping 26.8 per grab – including an NFL-record-tying 99-yard touchdown in Week 13 against the Bears. In all, when Berrian catches a touchdown pass, the Vikings are 6-1.
There's other options in the passing game, as well. Bobby Wade has 643 yards receiving, and backup running back Chester Taylor is a starting-caliber player supplementing the attack of one of the best in football. His biggest contribution is as a screen receiver – 399 yards and two scores. Sidney Rice is Minnesota's Jason Avant – a valuable third-down threat. Twelve of his 15 catches have been converted for first downs, and all 12 of those have come on third down.
But perhaps the scariest weapon is tight end Visanthe Shiancoe, who's come on late. He'll be looking to expose an Eagle defense that struggled mightily against tight ends earlier in the season, but has gotten stronger with the change to the faster Akeem Jordan at weakside linebacker. If the Eagles protect too much up top, Shiancoe can gash them across the middle.
"I don't know if (Shiancoe's) weight is down, but he looks as fast as I've ever seen him. He's getting downfield," Johnson said. "He's a legit tight end, as far as a pass-receiving tight end."
And then there's the quarterback. Tarvaris Jackson's benching didn't receive as much publicity as Donovan McNabb's did, but his lasted longer – 11 weeks. But when Gus Frerotte went down with a lower back injury against the Lions in Week 14, Jackson came in and rallied the Vikings to victory.
Since then, Jackson has shown no signs of relinquishing his hold on the position. Over the last four weeks, Jackson has 740 passing yards with eight touchdowns and only one interception, good for a quarterback rating of 115.4.
In short, Jackson's certainly gained the support of his teammates. And his team's biggest weapon.
"You want to be able to get into a groove, have a steady quarterback back there," Peterson said. "You know, Tarvaris, he gets bashed a lot from spectators. But he's a good quarterback. I'm sure, in the future, he'll start getting the respect that he deserves."