New England quarterback Tom Brady is done for the season after suffering a devastating knee injury. Tennessee Titans quarterback Vince Young has a sprained knee and could miss up to a month of action. Cowboys' running back Marion Barber left his game with bruised ribs.
On a day when many NFL teams are licking their wounds and compensating for injuries, head coach Andy Reid opened his Monday press conference by announcing his team made it through Sunday's 38-3 win over the Rams unscathed.
But that doesn't mean he doesn't feel for those afflicted.
"I didn't hear the outcome of Tom (Brady)'s (injury), but it's a shame if it is bad," Reid said. "That's a tough position to play and he sure is a good player. I think he's good for everybody that's involved in the National Football League. We went through that with Don, and it's not an easy thing."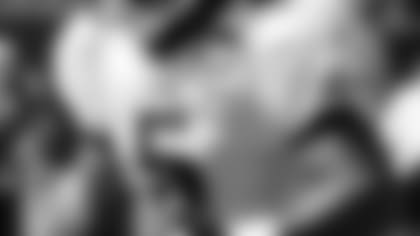 QB Donovan McNabb
If anybody knows what it's like to handle a season-ending injury to a key player, it's Andy Reid. Reid has had to cope without quarterback Donovan McNabb for long stretches of time, but he's had backups that have stepped in and had success.
In Week 11 of the 2002 season, McNabb broke his ankle, but thanks to Koy Detmer and A.J. Feeley, the Eagles won five of their last six games and still made the playoffs. McNabb wasn't fully healed until midway through the 2003 season.
In 2005, McNabb was shut down due to a sports hernia and when McNabb went down with a torn ACL in 2006, Jeff Garcia was there to step in. He guided the Eagles to a 10-6 record and a playoff win.
McNabb rehabbed his torn ACL enough to be back in time to start the 2007 season, but he went down with an ankle injury against the Dolphins and missed both the New England and Seattle games. According to Reid, McNabb wasn't back to being his normal self until the end of the year.
"The last three games of the season last year, I just felt like he was back to his old form," Reid said. "He was confident in his leg. He just had everything going. I think he just picked up from there. It looked like he did in the preseason, and it looked like he did (Sunday) afternoon. He looked the same to me as he did before he was hurt."
In the 2004 opener against the Giants, which was the last time McNabb started a season completely healthy, McNabb went 26-of-36 for 330 yards and four touchdowns. He hit seven different receivers in the game, and the win catapulted the Eagles to a 13-3 record in a season that ended with a Super Bowl appearance.
Against the Rams on Sunday, McNabb was completely healthy once again, and his numbers were eerily similar to those from 2004. Despite not having his top two receivers, McNabb went 21-of-33 for 361 yards, the most in an opener for McNabb, and three touchdowns. Again, he spread the ball around, connecting with seven different receivers, three of which went over the 100-yard receiving mark.
"He's worked so hard to get himself back to this point,"" Reid said Sunday after the game. ""For once, he didn't have to rehab during the offseason. He showed this the last three games of last season and he just kind of picked up where he left off."
Unlike other teams in the league, the Eagles may actually be getting healthier. Reid said that receiver Reggie Brown was feeling better on Monday and may practice Thursday. If Brown's ready, Reid said he may start against Dallas.
"Reggie actually feels pretty good today," Reid said. "He's going to continue to rehab. We'll see where he is once we resume. The players will be in today, then they're off Tuesday and Wednesday and then back on Thursday. We'll see how he does for Thursday. If he can get a little work in, then we'll do that. If not, we'll just play it day-by-day there. It just depends on if he's in a full-time role or a part-time role. We'll see."
He also mentioned that receiver Kevin Curtis is progressing nicely as he recovers from sports hernia surgery, which is good news for the Eagles. Reid is hoping that Curtis could return before the bye week in mid-October.
"He's not going to play this week," Reid said. "But he is doing very well. The month-and-a-half (left on Curtis' injury timetable) takes you to the bye week, so hopefully we can get him back sooner."