Anthony Patch has been working in the Eagles organization for 11 years. Now the team's director of college scouting, Patch has an eye for evaluating college players. The same goes for head coach Chip Kelly, who faced off against many of his draft picks in his first year in Philadelphia. Patch sat down with reporters on Wednesday morning and talked about some of the notable Eagles draft picks and the connection that they have to Coach Kelly.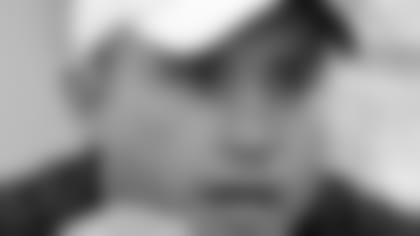 Lane Johnson: Patch says that the team had their eyes on Johnson at the start of his senior season at Oklahoma, but they were impressed with how much he improved throughout the year.
"From day one in the fall, we knew he was a prospect," Patch explained. "Did we know he was going to be a top five pick? Not at that time. But from the start of the process in the fall, to looking at the All-Star Game and Senior Bowl and Combine, he ascended through each one of those things, through the season, through the Cotton Bowl, it was a thing that just kept growing.
"He's just a tough kid. He had all the skill-sets that we were looking for, and a guy who could probably play both sides (of the offensive line) for us, so it was the right fit for us at that spot....If you've got good tape, you've got a good Senior Bowl, a good combine, a good interview, and a good position workout with (offensive line coach Jeff) Stoutland, then all the pieces fall in a row, and we're feeling good as a personnel staff and coaching staff coming together and making a decision. It's a no-brainer at that point."
Zach Ertz: Despite the fact the adversarial relationship between Kelly and Ertz's Stanford Cardinal over the last few years, Kelly knew that the tight end was a perfect fit for his offense.
"(There is) a funny story with Ertz because he scored the winning touchdown in their game (against Oregon), and that was always brought up," Patch said. "There was always some bantering between the two, but that's just Chip's competitive spirit, and Ertz's too. When they got together they reminisced about that.
"Zach's looked really well the first few practices, so we're expecting big things from him. He's a good player, especially losing (Andrew) Luck and (Coby) Fleener and stuff like that, he did really well production-wise... He's versatile. You can use him detached as a flex guy, you can use him outside. You see the league trending to that. You've seen Baltimore and (New England) and more teams using their tight ends out more, and that's Zach. We saw it. He did it at Stanford, playing flexed out and things like that. You can move him places and use him as that guy. You can create mismatches by getting him out in space."
Matt Barkley: Patch says that the Eagles were extremely fortunate to have a someone like Barkley fall to the fourth round. Once the team knew that they had a chance to get him, they did what they had to in order to move up and bring in the former Trojan.
"He was an outstanding captain for multiple years and the production there and the numbers he put up, the intangibles off the charts," Patch said. "He had an unfortunate year production-wise, but they had some restrictions with scholarships and they were kind of beat up up front, not to make an excuse, but we were kind of shocked that he was there in the fourth round. At that point we were like 'Let's get him earlier before we have to pick a few slots down.'
"He's accurate, he's smart, and he loves the game. I would think he would have a smoother transition than most. In a pro-style offense, those guys come in pretty ready. He's played a lot of ball - a lot of experience and a lot of games ... Plus he's a great team-guy. He has the intangibles. That's what you have to nail on with a quarterback, being able to control the huddle and control the locker room and things like that, and he has that stuff."
Patch was also asked where the Eagles would have projected Barkley had he come out after his junior season.
"I don't know," Patch responded. "The quarterbacks the year before were outstanding. That was Matt's choice, and I don't think he has any regrets from it, from what he has told us. It's just how things go. It's the decision he made. He got to finish up at USC and things like that. I don't know what he would have been the year before, in terms of those other guys coming out, but we're lucky to have him."