Some of those in attendance might have sensed a torch being passed through the Eagles' defense.
As free safety Brian Dawkins tied the Eagles' career mark for interceptions (34) in the assumed twilight of his career, another aggressive, hard-hitting defensive back moved more into the limelight of his.
Sure, Sheldon Brown is already a leader on this defense – energetic on the field, frank with the media and adored by fans. But this time, with Asante Samuel out with a neck injury, Brown took charge against Arizona's top-flight receivers, helping to hold them in check in Thursday's 48-20 walloping at Lincoln Financial Field.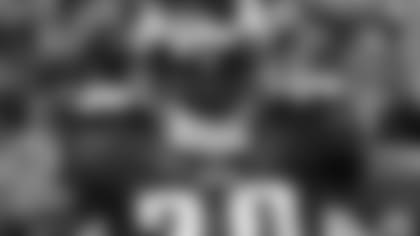 FS Brian Dawkins has been the leader of this defense ever since Troy Vincent left
"I feel we have a good team. I always felt that way. Make no mistake about it, we just haven't been playing well," Brown said. "(We need) consistency, and (on Thursday) we did it and you see what happens when we do it."
As good as the trio of Anquan Boldin, Larry Fitzgerald and Steve Breaston has been this season, Cardinals quarterback Kurt Warner rarely looked for his guys when Brown was covering them.
And, on Thanksgiving, most of them should be thankful.
When Breaston caught a short 3-yard dump-off from Warner in the fourth quarter, Brown did what he's known to do – he lit him up. He lowered his shoulder and went full-speed into the second-year man's chest. With the crowd now 100 percent behind the defense, it was all they needed.
If it wasn't obvious at that point already, the high-powered Cardinals definitely were not coming back now.
"Sheldon really got those guys going. He was firing everyone up out there. Asante was down, and Asante is a pretty good football player," head coach Andy Reid said. "We were playing against two of the best receivers in the National Football League, and I thought Sheldon did a nice job of rallying the troops and letting his veteran leadership show."
Brown's most impressive showing, though, might have been when he rallied himself.
A third-quarter touchdown pass from Warner to Breaston put the Cardinals, down 31-13, in a position to go for two points and make it a two-possession game. Warner's first attempt at the conversion was tipped at the line of scrimmage, but the Cardinals were given another shot on an illegal hands to the face call against Brown.
So, on the Cardinals' second try, Brown was fired up. He made a diving play, deflecting the ball away from Fitzgerald in the back of the end zone.
It was Brown going all out for what might soon be his defense.
"Each and every game is a different situation," Brown said. "The only thing you can do is give your all and continue to work individually and keep sacrificing for one another."