"It feels great. It's been a while since I've been in a game, so it was just great to get back out there and play some football."
Wide receiver Greg Salas was claimed off waivers by the Eagles in November, 2012, but he didn't suit up for the remainder of the season. Now Salas finally has a chance to get back to football, and he's having fun in the process.
"I had a lot of fun," Salas said following the Eagles' 31-22 loss to the Patriots on Friday night. "When you make plays, it is fun when you're out there having a little bit of success. I wish we could have gotten the win, but I'm happy with how we all played tonight."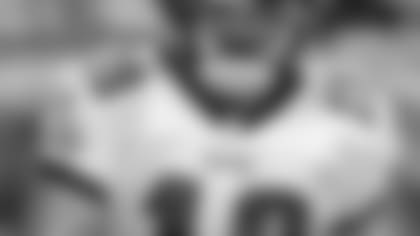 Making plays is exactly what Salas did, catching three passes for 54 yards and a touchdown. The third-year pro out of Hawaii found his way into the end zone on a 12-yard screen pass from quarterback Matt Barkley. Barkley made the perfect read with what the defense was showing.
"I knew that Matt was going to come out to one of the sides because we had the look that we wanted as far as throwing that out there," Salas said. "So I just tried to get up field as fast as possible, read my blocks and try to make something happen and I did, luckily."
Salas acquainted himself very well to the Eagles fans on hand at Lincoln Financial Field. He displayed his ability to follow blockers on the touchdown grab, and would later impress the crowd with a remarkable one-handed, 35-yard grab on a pass from quarterback G.J. Kinne, taking the ball to the 2-yard line late in the fourth quarter.
"G.J. just put it out there and let me make a play on the ball, so I just went up there and snagged it," Salas said.
Perhaps the best part of the night for Salas was that he had success against one of his former teams. It made scoring a touchdown feel even sweeter.
"I have plenty of friends on the team who congratulated me when I talked to them afterwards, so it was great to get out there and play against them and just play period," Salas explained.
On a team that has already lost two wide receivers for the season, Salas has been making quite a name for himself during Training Camp, partly because of the spectacular catches that he has made, but also because of his ability to step up when the situation calls for it. Just ask head coach Chip Kelly, who said after the game that Salas' play has not gone unnoticed.
"He's one of those guys who just keeps showing up," Kelly said. "He made a catch like that, if you remember, I think it was two days ago against the Patriots on the sidelines. He's that guy, whenever he gets his opportunity, he seems to step up. That's an important thing for us because depth at wide receiver is a huge question   for us right now. But you've got a guy with a little experience and I think that showed today. Again, I think he's kind of got a knack for making plays and we talk   about every single time you get a chance to get on your field you're building your résumé and he keeps building his résumé. If he keeps making plays like that, he's   showing up and I think people will take notice of him."
It's been a long road for Salas to get back on the field. He shined as a rookie catching 27 passes for 264 yards before suffering a season-ending leg injury. After Friday night's performance, he feels that he has gotten back his confidence and is looking forward to the road ahead.
"It is a big confidence boost for me, just to go out here and show the team that I belong and earn a roster spot on this team, and that's what's most important to me. ... I'm happy. I could have done better. You always look at things you could have done better and I have a lot more that I can improve, but this is a good first step moving forward," he said.