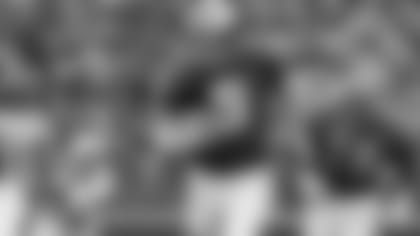 Jim McCusker (No, 75 in the picture above) was a starting tackle for the Eagles' 1960 NFL Championship team. He passed away earlier this year at the age of 78.
McCusker spent four seasons with the Eagles from 1959-62 and played in 51 games. Following his retirement from football, he returned to his hometown of Jamestown, New York and became a hero in the community. He opened The Pub, which became a family gathering spot in the town.
Just over a year ago, a fire damaged The Pub and one of the items lost was an Eagles jersey. That jersey was replaced recently by NFL commissioner Roger Goodell after reading about the late McCusker in a tribute written by The Jamestown Post-Journal's Scott Kindberg.
Included in the package with the jersey were two notes from Goodell - one addressed to McCusker's widow, Mary, and the other to Kindberg.
"I'm sorry for the loss of your husband Jim," Goodell wrote to Mary McCusker. "The article in The Post-Journal was a fitting tribute to an extraordinary man. I hope this jersey can hang in The Pub as a reminder of the special man he was."