Mike Glennon became the starting quarterback of the Tampa Bay Buccaneers quicker than anyone could have expected. Selected in the third round, 73rd overall, of the 2013 NFL Draft, the North Carolina State product replaced the struggling (since released) Josh Freeman – who was at odds with head coach Greg Schiano – after just three games and has taken the reins as the team's leader on offense. Glennon will play the second game of his NFL career on Sunday against the Eagles – a team that thought highly of him during the pre-draft evaluation process.
"I remember very well," said offensive coordinator Pat Shurmur of scouting Glennon. "Yeah, we liked him quite a bit. You know, he's one of those rookie quarterbacks that's probably going through what all rookies (do), and I've had a chance to be around a few of them, but he's a guy that's going to be able to win games in this league. And I'm sure he's learning a lot every time he steps on the field. But he's a good player."
Glennon's first game, a loss to the Arizona Cardinals, was a baptism by fire in which he struggled to find a rhythm despite throwing an early touchdown pass. He finished 24-of-43 for 193 yards with one touchdown and two interceptions. Glennon had played mistake-free until the very end, but his first NFL interception proved devastating and ultimately cost the Buccaneers the lead. With his team clinging to a 10-3 advantage and at its own 11-yard line with 3:23 left, he did not put enough zip on a pass over the middle intended for wide receiver Vincent Jackson, which allowed cornerback Patrick Peterson to undercut the route, make the interception and return it to the Tampa Bay 13-yard line. The Cardinals offense tied the game with a touchdown on the very next play.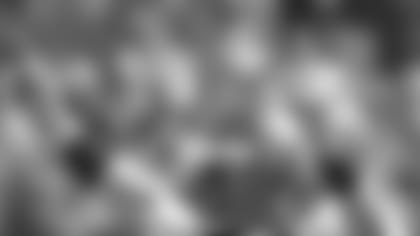 Though he did not attempt a single pass deep down the field against the Cardinals, Glennon has the kind of arm strength that can – and will – be utilized to stretch the field vertically.
"He has a great arm," said rookie safety Earl Wolff, who was a college teammate of Glennon. "I really felt like he had the strongest arm in the draft. Playing with him five years, you always saw it. He could make throws that a lot of guys can't, especially in college. … He's capable of making those big throws, especially in big-time situations."
Given how the New York Giants continually tested the Eagles secondary with long throws, it figures the Buccaneers might open up the playbook a little bit on Sunday and let Glennon take some shots against the NFL's 29th-ranked pass defense.
Players on the Eagles defense have seen the film from Glennon's first game and know he is not afraid to trust what he sees, stand in the pocket and take a hit to make a throw. Just as the Cardinals did, the Eagles defense will have to give Glennon a number of different looks and disguise coverages in an attempt to confuse him.
"Just the fact that he's at this level, he's going to be able to go out there and play," cornerback Bradley Fletcher said. "But he is young, and we have to try to disguise some things and make things hard for him."
"We're going to try to give him different looks," safety Nate Allen said. "Try to confuse him a little bit, try to test him a little bit."
As his college tape demonstrated, Glennon is a rhythm quarterback who can be downright deadly if he gets into the flow of the game and starts "feeling it." If the Eagles defense can succeed in flummoxing the rookie and get him to second-guess what he sees or hesitate even a little bit, the unit will win the all-important mental aspect of the matchup and have opportunities to create turnovers. The front seven will, of course, also be relied upon in this respect, as it must generate pressure to make Glennon uncomfortable and skittish. If he is allowed to easily go through his reads and settle in, he will make the Eagles pay dearly.
"When he's on, he's on," Wolff said. "But I feel like when he's off, he's kind of off until he gets back on rhythm. Like I said, he's a good quarterback. He's still learning. I feel like if we get pressure to him, then we'll definitely win this game. The thing I know about him, Mike will only get better as time goes on."
The Eagles defense knows Mike Glennon is a hungry, determined rookie quarterback itching to make a name for himself in the NFL, and he will not be taken lightly.