It didn't take long for Brian Westbrook to answer the questions that obviously plagued his return to the field from an ankle injury.
Would he be active? Would he start? Would he get a lot of reps? Could he make the adequate cuts necessary to do what he typically does? Could he break tackles? Could he score? All were valid questions that Westbrook used just one word to answer.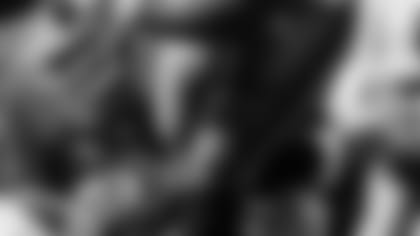 RB Brian Westbrook
With several cuts on a 17-yard screen reception on the game's first play from scrimmage and a barreling 9-yard scamper to the end zone on the 12th, the superstar running back proved that he was ready, as usual, to account for a majority share of the Eagles offense.
"I try to fight through everything," Westbrook said. "Of course, when you're not 100 percent, you're limited in some way. But, as a team, you try to fight through it and you try make the most of it."
Despite missing the team's second series with a rib contusion on his right side –which required a Cortisone shot – Westbrook accounted for 84 yards from scrimmage and the Eagles' only offensive touchdown in a 23-17 loss to Washington.
His presence drew loud ovations in pregame introductions, and on the first drive, the Redskins were caught with their feathers between their legs.
But that's where most of the cheering stopped. The 9-yard score was Wesbrook's longest run of the day (12 carries for 33 yards), and the 17-yard reception was also never topped.
"I don't know if the playcalling (later in the game) changed, or if it was just a big difference between what we were doing," Westbrook said. "I guess we weren't executing. We weren't doing the things that needed to be done for us to have success."
So the yardage wasn't typical of Westbrook. He clawed for everything, often meeting contact from Redskin defenders within moments of touching the ball, especially on the run. For the second straight week, the Redskins were able to limit an opponent's running game, and the Eagles weren't able to ever get anything going.
Unfortunately for Westbrook, it won't be his first drive that defines his performance in this game. For the second straight week, the Eagles' rushing offense left a touchdown on the opposition's doorstep late in the fourth quarter.
With the Eagles down nine points, Westbrook lost three yards on a third-down off-tackle rush at the Washington 2, and the Eagles settled for a field goal. They wouldn't see the ball for the remainder of the game.
"Different things we're going (on) during that play," Westbrook said. "We just didn't get it done."
Westbrook wouldn't say how close he was to 100 percent healthy after this game. He did say that playing with an injury like his, though, posed a risk.
"I was feeling better today," Westbrook said. "The tough part about the ankle is that it feels good for a while. (Then,) you might get tackled and it doesn't feel good after that point. So you try to go out there and fight it out as best you can."