Tight end Dallas Goedert has had a tremendous start to his career. In his first eight games, Goedert has 18 receptions for 188 yards and three touchdowns. He has graded out as the top rookie tight end according to Pro Football Focus. Learn more about the Eagles' second-round selection in the 2018 NFL Draft.
You were named after the Dallas Cowboys. What will it be like playing against them?
"It's going to be really cool to play against the Dallas Cowboys. I've gotten enough grief about the Dallas name and everything like that so I'm ready for it. It will be kind of weird right away hearing 'Dallas sucks' but once it clicks for me that they're saying it for the Dallas Cowboys, it'll make sense."
Do you know how big of a deal the Eagles-Cowboys rivalry is for Eagles fans?
"Obviously, I know it's a rivalry, but I've never played in it and haven't seen how the fans take it and everything. But considering they wanted me to change my name I know it must be pretty real."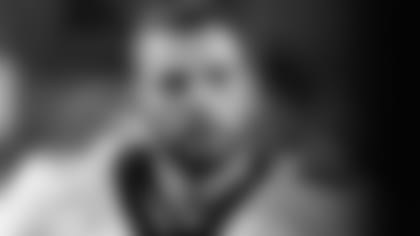 How have Eagles fans treated you so far?
"It's been great. The fans have been wonderful. The support I get, people cheering for me when they see me on the street, how happy and excited they are for me, it's been really cool being here so far."
What have been your favorite parts of living in Philadelphia?
"The fans, the cheesesteaks, and just being on the Eagles, everyone in the locker room playing the game, there's nothing that I love more than playing football."
What's your favorite cheesesteak place?
"Pat's and Geno's are pretty good, but you know, there's quite a few different ones if you just get a cheesesteak at like Chickie's and Pete's. It's pretty good there too, the lobster one."
You're from South Dakota, but is it true that you have some North Dakota roots?
"My mom was originally from North Dakota and I have a lot of family from North Dakota as well. I grew up there my first three years, my grandpa was from up there, so I spent a lot of time up at his house in the summers."
Is there a rivalry between the two Dakotas?
"There is a little bit but I think South Dakota is way better in every aspect – sports, landscape, everything. We got it all. We've got Mount Rushmore, the black hills, that whole area, our crops are better. They've got the oil but that's just about it."
Is it weird catching passes from a North Dakota State alum?
"No, I don't think it's that weird. I've followed him (Carson Wentz) ever since he left North Dakota State. Anytime an FCS guy goes like that, everyone wants to support him so being in the same locker room and catching balls from him is really an incredible experience."
How have you been able to adapt to the NFL so quickly?
"I feel like I have a pretty good understanding of football so that really helps. And then we have some great coaches. Zach (Ertz) and Richard (Rodgers) help me out a ton, and then the coaches do a great job finding ways to use me and finding ways to use me and Zach, so I've got to give credit to them."
What is it like playing with Zach Ertz during his historic start to the season?
"It's crazy watching him. From the first time I got here, every route he runs he's always open. He's a true professional. He does everything the right way, from getting here early, watching film, to going hard every rep in practice, so he's a great guy to emulate my game after."
You were a big basketball player back home. Have you played much since coming to Philadelphia?
"I haven't really since I've been here, but I did a lot in college every offseason playing pickup games just about every day so I'm hoping in this offseason to pick that back up."
Who are the best basketball players in the locker room?
"Man, I haven't seen a ton of people play but if I had to guess, I'd say Alshon (Jeffery) and I hear Nick Foles had a lot of hype around him, so I'm excited to see him play. Probably the person who talks the biggest is Nate Sudfeld, but I don't really see it. He says he can play it all, but I don't see him going down low. He might get banged around a little bit. People have talked about it a little bit, but nothing is set in stone yet. We still plan on playing football for quite a long time."
Growing up in South Dakota, what basketball team did you root for?
"For NBA, we don't have any professional sports, so we were one of the states you could pick whoever you wanted, so I was a Lakers fan, a big Kobe (Bryant) fan. And I did like the Twins for baseball, they were kind of the local one. Minnesota was probably what most of the people in my area enjoyed but the Twins were the only one I liked. Everything else was all over the place."
You did a lot of unicycling back home. Did you bring your unicycle to Philadelphia?
"I did it in a parade right before I came out here. That was the last time I did it, but I don't have a unicycle out here and none of the Eagles people have seen me ride it yet but that will probably come."
"I wouldn't say I miss it but every time I go home and see it hanging up, I take it down and ride around a little bit. You never forget. Right when I got on it, I was a little wobbly, but after a couple minutes of riding I was right back to where I started."