This is the time of the year when teams sign players to "futures" contracts, which means that when the 2013 league year ends in March and the 2014 year begins, those players will be bound to the team and count on the team's roster, which can include as many as 90 players until the first wave of cuts are mandatory in August.
I'm not sure how many fans pay attention to moves made now. They should. The career path of Cedric Thornton, a starting defensive lineman for the Eagles who played at a high level in 2013, is an example of why every move matters in the NFL.
Thornton was a member of the team's practice squad in 2011 after playing collegiately at Division II Southern Arkansas. He wasn't drafted in April of 2011, but the Eagles liked his size and his athletic ability and felt that some added weight and strength and work on his technique could provide him with the chance to play at this level.
Thornton spent 2011 on the practice squad and then was signed to a "futures" contract early in the 2012 calendar year after the Eagles went 8-8 in 2011. Thornton made the 2012 Eagles and played in the defensive line rotation, and then took his game up a huge notch for 2013, starting every game and improving dramatically as a 3-4 end.
These are moves that matter. *Every *move matters, no matter the time of year. Last January, the day before Chip Kelly became the team's head coach, the Eagles signed offensive lineman Allen Barbre, who made the 53-man roster and was a valuable backup at the guard and tackle positions in 2013.
Anyway, the seven players signed on Monday -- lost in the news of the clean-out day -- aren't exactly household names, but the Eagles like what they've seen from each man. Here is a look at each player ...
We've seen enough of Emmanuel Acho to know that he can play in this league. He's physical and tough and smart and is just trying to get established in a firm setting in his career. Now that Acho has the system down cold and is removed from the injury that ruined his rookie season in Cleveland, so he should be positioned to make his best run at a roster spot and some career stability in 2014.
Where does he fit in? The Eagles defense is a "work in progress," as general manager Howie Roseman described on Monday, so there are jobs to be earned. Acho has to show he can run well enough to play at a high level, and he has to go out and become a stopper on special teams.
It's going to be interesting to see what Brandon Bair looks like when he reports to the conditioning program in the spring. He's 6 feet 6 and listed at 285 pounds, so there is plenty of room to add bulk to his frame. Bair spent the entire 2013 season on the practice squad after spending some time on the active rosters of the Raiders and Chiefs in his career. The Eagles want as much depth and talent as possible along their front. Bair has a chance to make it in 2014. Can Bair bulk up enough to be one of the "big guys to beat up little guys," as Kelly has said in the past?
Raw and talented, Michael Bamiro was a late signing by the Eagles prior to training camp and he spent the season working on his technique during the regular season. He's got long arms and the kind of feet that lend to the idea that he could play at this level if he improves. And Bamiro improved in game situations in the preseason, but then did the rest of his work in the obscurity of workouts each day.
The Eagles are going to need to think to the future at some point as Jason Peters plays in his 11th NFL season in 2014. Peters is an outstanding left tackle and shows no signs of slowing down, but the Eagles would be well served to have another young tackle in the pipeline along with Dennis Kelly.
At 6-2 and 215 pounds, B.J. Cunningham looks the part. He was extremely productive at Michigan State and has just not found his niche yet in the NFL. Cunningham will benefit from knowing the system and getting some reps in the training sessions in the spring and summer, and he will try to give the coaching staff something to think about. The Eagles have some questions about their wide receiver corps as both Jeremy Maclin and Riley Cooper are scheduled to become unrestricted free agents in March. Will they return to the Eagles? Will they find work elsewhere?
Beyond those two, the Eagles need more production from the rest of their receivers. Jason Avant's production dipped in 2013 -- his 38 receptions was his lowest since the 2008 season -- as the Eagles spread the football around and used quite a bit of multiple-tight end sets. Damaris Johnson played very little. Jeff Maehl started to come on, and then his playing time dropped later in the year. Brad Smith? He's got one year remaining on his contract after signing midway through 2013 and standing out on special teams.
Is there an opening for Cunningham? Could be, if he steps up his game and shows the Eagles what they want to see.
A versatile player who can also line up at fullback, Emil Igwenagu gives the Eagles a different look at the position. He's a physical player, a good blocker and a developing pass catcher. The Eagles are well stocked at tight end with Brent Celek, Zach Ertz and James Casey, but they clearly like Igwenagu and want to see more from him in the spring and summer.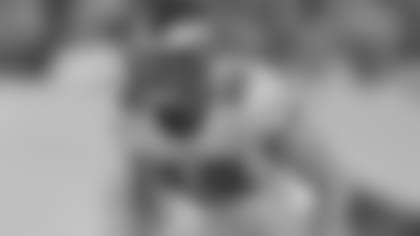 He played through the summer here and then re-joined the team midway through the regular season, so G.J. Kinne has a working knowledge of the offense. Kinne is athletic and he has a decent arm and in the limited times we saw him in the preseason, Kinne acquitted himself well.
Are the Eagles considering Kinne as a backup or a No. 3 quarterback. I think they feel good about the progress he made during the season and they want to see more.
Here is a very interesting prospect. Travis Long is long at 6 feet 4, and he has some range to him, and there is no way to overlook the 20-plus sacks he had at Washington State. Long was a dominating player there.
But a knee injury ruined his chances to get drafted, so Long has to take the hard road to a roster spot in the NFL. He will be a full season removed from the injury by the time he comes to the spring training sessions and should move fine and have a good working knowledge of the defense from his projected outside linebacker position.
Does Long has the explosiveness and the strength to play at the NFL level and come off the edge and provide a pass rush? He's going to get that chance to show he can do it in 2014.