Defensive coordinator Jim Johnson has seen a lot of running backs in his 24 years as a coach at the professional level.
So when Johnson tosses out the phrase, "one of the best I've ever seen," when describing Vikings ballcarrier Adrian Peterson, Johnson's words should be taken to heart.
"He's just a natural runner; a very gifted runner," Johnson said on Thursday. "He's got that Gale Sayers-type feel about the game and sliding and stuff like that. He's just a very gifted guy."
In only his second NFL season, Peterson led the NFL with 1,760 rushing yards and scored 10 touchdowns. He became only the fifth back in NFL history to total more than 3,000 rushing yards in his first two seasons. Two of the other running backs - Eric Dickerson and Earl Campbell - are in the Pro Football Hall of Fame. The other two are still playing - Arizona's Edgerrin James and Washington's Clinton Portis - and they've put up Hall of Fame-type numbers.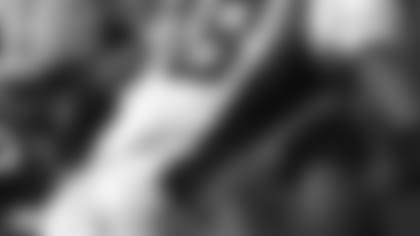 RB Adrian Peterson has fumbled the ball nine times this season, most in the NFL
Peterson, however, also led the NFL in a more infamous category - fumbles. Peterson coughed up the ball nine times in 2008; fortunately for the Vikings they were able to recover five of them. One of those lucky recoveries came last Sunday as the Vikings rallied to edge the Giants to clinch the NFC North title. In his two NFL seasons, Peterson has put the ball on the ground a total of 13 times – an average of once every 46 carries. As a comparison, Brian Westbrook fumbles the ball just once out of every 137 touches.
That stat bodes well for the Eagles who four fumbles and recovered all of them in last Sunday's 44-6 thumping of Dallas..
"All you have to do is look at the stats," Johnson said. "We always talk about stats and stuff like that, but they can watch the film; same thing. It's like any runner, we're trying to punish you and also get the ball away too. That will be the emphasis too."
The Eagles will likely not have defensive end Victor Abiamiri for the second straight week because of a Lis Franc sprain. Abiamiri would be a plus this week because of his ability to play the run on first and second downs. Darren Howard will play more on first and second down which will allow Juqua Parker to slide inside in nickel packages. Chris Clemons, the NFC Defensive Player of the Week, lines up at end in nickel situations.
Steadily, the Eagles have improved against the run over the past four weeks. They finished third in the NFL in total defense and fourth against the run. The last rusher to go for over 100 yards individually was the Giants' Brandon Jacobs way back in Week 10. Peterson led the NFL with 10 100-yard games which were more than every team except for Carolina, who needed two running backs to accomplish the feat.
By forcing five turnovers and returning two of them for touchdowns last Sunday against Dallas, the Eagles' defense proved that it is good enough to dramatically alter the outcome of a game. The question now is whether they can continue to do so, especially against a running back who could very well end up as the league's MVP.
"Every game is a little bit different, like this is an excellent run offense, and, hopefully, we do a good job," Johnson said. "You've got to play good defense when you get into the playoffs and, hopefully, we will. Right now they're playing good and they're pretty healthy, except for Victor, so there's no reason we shouldn't."