In case you haven't found a rookie that really stands out, one that shows signs of great potential - Brian Dawkins has a suggestion.
"I guess I might be a little biased because he's a safety, but I've liked what I've seen (Quintin) Demps do," Dawkins said. "I think he's a playmaker back there in the secondary."
Even the area that Dawkins suggests Demps needs to improve the most can be interpreted positively.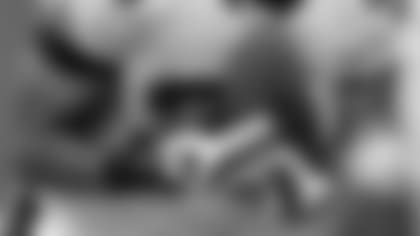 S/KR Quintin Demps
"He's going to have to work on his eyes a little bit - he's in the backfield too much, but I think that's because he's always trying to make a play on the ball. I think he's a guy that has impressed me with his athleticism also."
The veteran's adulation was greatly appreciated by the fourth-round draft pick.
"That's just a blessing," Demps said. "To have a person like that say something like that about you is a good thing."
Defensive coordinator Jim Johnson also had a constructive assessment of his rookie safety.
"It's the hardest thing for a young defensive back to come into the league, with all the little techniques. Quintin's going to be a good football player," Johnson said. "He's got some habits, and we're correcting that, and one of them is to make sure he concentrates on the receivers and stuff like that. He's in a learning process too. It's going to take him a little while, but I'm very happy with Quintin."
Demps' quick feet, hands and instincts have provided the coaches with extra flexibility in using the rookie at both cornerback and safety, but the man who had the most interceptions among all players in the 2008 draft class (17) has another explanation for his versatility.
"I guess God made be to be a defensive back," he said.
As a rookie, the Eagles are just hoping for Demps to be a reliable backup in the secondary and a potential playmaker in the return game. Head coach Andy Reid said after the Carolina game that Demps would get "a few more shots" at kickoff returner and Demps gladly accepts the challenge.
"Any time you can be out there with the ones, doing anything, it's a great opportunity," Demps said. "You just have to catch the ball and go. It's as simple as that."
Special teams coordinator Rory Segrest said Tuesday that Demps will be the number one kickoff returner against the Patriots. Last year a Texas-El Paso, he averaged 13.3 yards on 15 punt returns and 22.4 yards on 22 kickoff returns.
The 5-11, 206-pound Miner product certainly has the confidence to play at this level, but he still has to adjust to the physicality of the NFL.
"It's about as fast as I thought it would be, but they are hitting a lot harder," Demps said. "I got hit real good during the Pittsburgh game so they're bringing it."
As he continues to get more playing time this preseason, whatever Demps possesses that caught Dawkins' eye will eventually get your attention too.