Fresh off a masterful performance against the Tampa Bay Buccaneers in which he went 22-for-31 for 296 yards, three touchdowns and no interceptions (as well as a rushing touchdown) and carved up a top-10 defense, Nick Foles still feels there is room for improvement.
"I thought we executed the offense pretty well," Foles said Tuesday. "I thought there were a couple lulls. What's great about games like that is we played well as a team, but there's still a lot of stuff we can do better. And that's what I look at. I look at, alright, what could I have done better on this play? Maybe I could've been a little more accurate on this one. That's where I get excited when I look at the film. I can play so much better, and that's why I come out here and work. I think about the things I didn't do very well and I work on them. I feel good about it, but I noticed a lot of things I need to work on."
The Bucs were able to blitz successfully in the first half and get pressure on Foles, who had to either flee the pocket or throw the ball away with a defender hanging on him. Recognizing the blitz and getting the ball out quickly to hot reads before the pressure hits home is something Foles knows can take his game to the next level.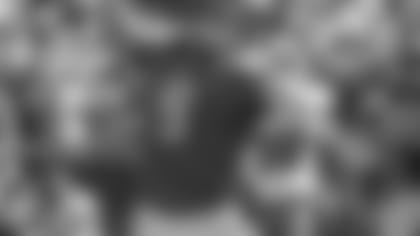 "If you get the ball out, you can gash (the defense)," Foles said. "You just have to know where (the pressure is coming from) and where to go with the ball. I think that as long as you see where (the pressure is coming from) and know where to go with the ball, (getting blitzed) can be a good thing."
The emergence of DeSean Jackson as a red-zone threat with Foles as quarterback has become a popular storyline, and the former is starting to dispel the notion that his size is a detriment when the field gets compressed down near the goal line. A significant part of the equation is that Foles has been instrumental in finding Jackson at the exact right moment and leading him perfectly with throws.
"He's fast and he can catch the ball in traffic," Foles said of Jackson. "He has great eyes, great hand-eye coordination and as long as you give him the ball, he's going to go get it. He's shown that. He's gotten into the right spot. Down there (in the red zone), it's windows. A window could be open for a split second and that's where you have to hit it. Sometimes as a quarterback you have to make a window with a little pump fake and then try to open it up for him. He's just doing a really good job of staying on his routes and finding the windows."
The first passing touchdown against the Bucs was an example of creating and then taking advantage of such a window. Foles went through his progressions and pumped right to Brent Celek to move safety Mark Barron, who had his eyes locked on the tight end, out of the middle of the field before looking left and throwing to an open Jackson in the back of the end zone.
For the second straight week, questions are swirling about Michael Vick's hamstring and whether he will be fully healthy and ready to start against the Cowboys. And for the second straight week, Foles, who took the first-team reps in practice on Tuesday, is unfazed by the situation and continues to prepare the same as always.
"I'm going into this week like I always do," Foles said. "I work every day like I'm the starter. My mentality, everything, nothing changes."
Foles also emphasized that while the media and outside world are harping on a quarterback controversy, he and Vick's bond has only gotten stronger and that they are both committed to one goal above else – helping the Eagles win.
"Mike and I have stayed really close," Foles said. "If anything, we've grown together throughout this. That's the most important thing, for us to remain friends. The most important thing here is the team's success, and what happens with the team, and that's what we both agree on. We're both going to support each other no matter what happens. That's what's pretty great about playing for this organization and the people around it, is everybody supports each other. There's always going to be competition, you're going to push each other, but as long as it's constructive and it makes you better and makes the team better, that's what's important."
With the victory over the Bucs now in the rearview mirror, Foles refuses to get caught up in all the praise and is instead already focused on the next challenge.
"Last week's win cannot win this week's game," Foles said. "I have a 24-hour rule where I enjoy the game, the emotions that go with it. Or if we lose, I deal with those emotions and move forward. I just try to treat every day the same."
The Dallas Cowboys and a battle for first place in the NFC East await on the horizon.