Chad Ocho Cinco's friend helped him tackle off-the-field problems this offseason. His friend helped him realize it was a privilege to play professional football. His friend's advice is helping him cope with a disappointing 1-8 start to a season that seems lost.
When Ocho Cinco, né Johnson before a much-publicized name change, needs to get something off of his chest, he calls Donovan McNabb.
"I'm very good friends with him, man. Donovan is one of the people that I confide in during the offseason when things aren't going well for me," Ocho Cinco said. "And I just want the input of a veteran who understands the things that are going wrong."
There are differences. Under the intense spotlight in Philadelphia, McNabb can basically draw attention to himself by sneezing. "Super Five" has never felt the need to legally name himself after his jersey number, and he's never planted props for touchdown celebrations.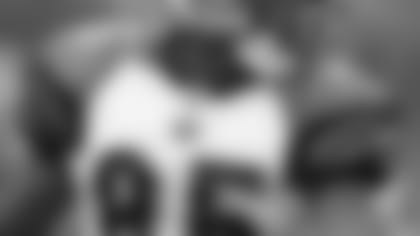 WR Chad Ocho Cinco
In Philadelphia, when attention flocks to McNabb, he doesn't hide. But he doesn't search, either. Ocho Cinco, who still wears "C. Johnson" on his jersey because of a merchandising issue with Reebok, has more a nose for pub than pub has for him. Recently, he confessed to stashing away Barack Obama campaign banners in the end zones in case he scored on Oct. 26 at Houston's Reliant stadium (he didn't).
It's almost strange – on the surface, Ocho Cinco has far more in common with former Eagle Terrell Owens than McNabb, right down to the fact that he lobbied aggressively this past summer to get out of what he deemed a dead-end situation.
In this, he found McNabb, whom he calls a "Hall-of-Fame quarterback," to be a confidant. But not in the way some might expect.
"At that time, with me being frustrated about losing, I looked to some of the people that were close to me," Ocho Cinco said. "Donovan was a big influence, and is really one of the reasons why I really turned myself and looked at my situation in more of a positive outlook."
So, Ocho Cinco still sees opportunities to get his (new) name out in the press and to enjoy himself. Heck, with a 1-8 team, you've got to have something.
McNabb helped him with that.
"Mr. Ocho Cinco, he's a great guy. He brings a lot of attention to himself at times, but he's an entertainer," McNabb said. "Chad's a guy I've communicated with numerous amount of times and he's obviously changed from where he was in the offseason of how he felt to where he's at now. And with whatever situation he may end up in, he just wants to win. That's all that you ask."
And make no mistake, Ocho Cinco would love nothing more than picking up an upset win over his buddy. And there's another motivation for that, too.
According to Ocho Cinco, Eagles cornerback Asante Samuel picked off a Carson Palmer pass intended for the then-Chad Johnson a couple years ago when playing for the Patriots. The broken play resulted in a sideline spurring session between the receiver and his quarterback, which grabbed more, less flattering headlines.
Ocho Cinco remembers the incident well, and he jokingly talks trash on Samuel every chance he gets. No doubt that incident will come up on Sunday.
But also expect a mid-field embrace from two friends who've both faced obstacles.
"Just thinking about all the people that'd love to play this game, (McNabb) took me in that direction, instead of thinking about, 'Oh, I'm tired of losing and I don't want to be here anymore,'" Ocho Cinco said. "That kind of turned me around, and that's why I've been as positive as I have this year. And even though we're losing, man, I've just been plugging away."