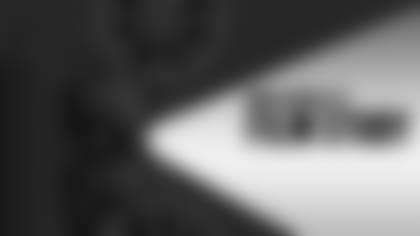 NFL Films senior producer Greg Cosell shares his observations of the upcoming opponent through the tape study of the team's previous game. Here are Cosell's notes from New Orleans' overtime win over the Dallas Cowboys. Fran Duffy's Eagle Eye in the Sky will feature the All-22 of the Saints' offense on Thursday.
Ten Observations Of The Saints' Offense
1. Quarterback Drew Brees played an outstanding game overall, especially given the consistent pressure he was under in the first half.
2. Running back C.J. Spiller's 80-yard touchdown in overtime was no huddle out of an empty set in 12 personnel. Spiller was lined up in the tight slot to the boundary just inside of wide receiver Brandin Cooks. The Cowboys were in base 4-3, hurrying to get aligned and call the defense. Dallas went with man free coverage as linebacker Damien Wilson was matched on Spiller. Wilson did not recognize that Spiller was his assignment quickly enough and was beaten right at the snap by Spiller's wheel route.
3. The Cowboys got consistent pressure on Brees in the first half, primarily with four-man rush but also with selective blitzes.
4. Wide receiver Brandon Coleman's 30-yard reception on the Saints' final possession of regulation was a big-time throw by Brees. Cowboys played man free lurk and Brees placed a perfect back-shoulder seam throw to Coleman to the outside away from cornerback Tyler Patmon who had inside leverage.
5. The Saints' offensive line was consistently overmatched in this game, especially in pass protection.
6. Running back Mark Ingram's three best runs (14, 15 and 9 yards) came with six offensive linemen with a five-man blocking surface to the play side - a downhill attitude run.
7. Wide receiver Willie Snead's 20-yard reception on third-and-2 in the fourth quarter was a beautifully executed stack release concept off Snead shift behind tight end Benjamin Watson. The Cowboys only had 10 defenders on the field. They played man free behind a four-man rush without that extra free defender or blitzer.
8. Snead continues to get more snaps for the Saints. Coleman getting fewer snaps as the Saints need more speed on the perimeter.
9. Snead's 19-yard catch on third-and-11 in the first quarter was a big-time throw by Brees from the far hash to the opposite sideline. The Cowboys were in Cover 3.
10. Watson's 21-yard grab on second-and-9 in the first quarter was a great example of pocket movement by Brees using his explosive lower body movement to avoid defensive tackle David Irving and re-set with his eyes downfield and while maintaining his awareness of the routes.
Ten Observations Of The Saints' Defense
1. Jairus Byrd was back at safety for the Saints. Byrd is not a cover player and he's not a tackler. He's not big and he's not a plus athlete.
2. The Saints played high-percentage man-to-man coverage in this game, and dialed up some blitz schemes.
3. The Saints' high-percentage man-to-man approach forced Cowboys receivers to run excellent routes to create separation and demanded quarterback Brandon Weeden make precise ball placement throws to the right receiver at the right time.
4. Rookie linebacker Stephone Anthony did an excellent job reading run flow and playing downhill in the run game.
5. Anthony's sack late in the second quarter came out of man free blitz in dime personnel with safety Kenny Vaccaro coming off the slot over wide receiver Cole Beasley. Damian Swann and Byrd were the safeties with Kennan Lewis in the inside slot over tight end Jason Witten. Running back Lance Dunbar crossed the formation trying to block Vaccaro, but Vaccaro forced Weeden to break down in the pocket. Anthony, who had Dunbar man-to-man, tracked down Weeden when Weeden left the pocket.
6. With Lewis back at outside corner, the Saints can now match up cornerback Brandon Browner on the tight end in their man coverage schemes. Swann was the Saints' nickel slot corner. There were times he matched up man-to-man on a tight end when the Cowboys were in 12 personnel.
7. The Saints continued to play snaps of dime with three safeties: Vaccaro, Kenny Phillips and Byrd.
8. Subpackage edge rusher Hau'oli Kikaha's red zone sack on third-and-goal in the third quarter came out of man free with a double on Witten behind a four-man rush. The Saints doubled Witten with Browner and linebacker Dannell Ellerbe. Weeden looked right at Witten and saw he didn't have that throw so he moved to his right, Kikaha ran him down from the back side. This sack was very reminiscent of the ones Kikaha generated in college: Not explosive, but relentless with a non-stop motor and great intensity.
9. Rookie defensive tackle Tyeler Davison played a lot of snaps with Akiem Hicks traded last week. He flashed both in the run game and as a bull rusher. Another rookie Bobby Richardson started at defensive end.
10. The Saints are willing to have first-year corner Delvin Breaux play zero man on wide receiver Terrance Williams in a critical situation with 2:00 left. They doubled Witten again and had Breaux zero man on Williams and Lewis zero man on tight end Gavin Escobar. Williams did not win versus Breaux.