For the past few years, parishioners of the Church of the Assumption in Galloway, N.J., have had to wait until the Eagles' schedule came out to plan certain events.
That was the only way they could be sure that their pastor, Father Mike Matveenko, would be able to attend.
For most of the year, Father Mike is a mild-mannered pastor running a Catholic parish in New Jersey.
But for eight Eagles home games each year, Father Mike morphs into Helmet Head, the undisputed general of Section 207.
If Lincoln Financial Field is a cathedral, then Helmet Head is the leader of the flock.
"The day the schedule is released, I get out my calendar and plan events around it," Matveenko said. "Parish events that I really have to be at, I try to schedule them when the Eagles are on the road."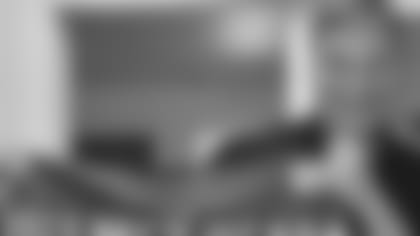 Father Mike Matveenko or Helmet Head
After attending his first game in 1989, Father Mike, some friends and a few other men of the cloth began coming to Eagles home games regularly in 1992.
But how does a priest, who's not supposed to act like a 700-level denizen, go from spreading the word of God early on a Sunday to getting two sections of fans on their feet for an E-A-G-L-E-S chant a few hours later?
It was something born out of necessity.
One day while tailgating before a game, one of Father Mike's friends brought a Harley-Davidson motorcycle helmet painted like an Eagles helmet to the game. The last guy to the tailgate had to wear the helmet during the game.
Well, the person who arrived last didn't want the dubious honor, so Father Mike took it upon himself to bear the cross, so to speak.
At the time, Jim "Eagle Man" Davis led Sections 703 and 704 at the Vet in E-A-G-L-E-S chants, but when he would try to get one section riled up, more often than not the other section would sit down.
When one of Father Mike's friends mentioned that their section needed their own version of "Eagle Man," Helmet Head was the obvious choice
"They all got up and started chanting 'Hel-met Head,' " Matveenko said. "Helmet Head was born. That's how it all got started."
It took a while for Helmet Head to win over some loyal fans, who thought he was stealing Eagle Man's thunder. Some refused to acknowledge Helmet Head and some let their feelings known by using choice words, probably not realizing they were they were taking the Lord's name in vain in front of a priest.
Since moving to Lincoln Financial Field, though, Davis and Matveenko have developed a friendly rivalry. Davis does the chants for Section 209, which boos Section 207 when Helmet Head leads its chant. Section 207 happily returns the favor after Davis does his thing.
"I do think our section wins," Matveenko said. "I get a kick out of it myself. I enjoy doing it."
Since then, the story has grown legs of its own. Like the time a couple in Section 207 found out that Helmet Head was a priest and asked him to marry them.
"I told them I was celibate but that I could marry him and his girl," Matveenko said.
Or the time when a rather attractive female fan wanted to flash the crowd and, after finding out he was a Catholic priest, she asked Father Mike for permission.
"Oh, she did it anyway," Matveenko said. "I pulled the helmet over my eyes so I couldn't see it. It had to be a crowdpleaser. Everybody went nuts. I couldn't bring myself to boo."
Or the time he was performing a Christmas Eve service and he gathered the children in a circle. He began asking each one what they wanted for Christmas and when one asked for a Dallas Cowboys jersey, Father Mike was temporarily taken over by Helmet Head, and he asked the kid to leave.
"I looked at him and said, 'A Dallas Cowboys football jersey?'" Matveenko said. "I said to the kid, 'Get out.' The whole congregation laughed; they all knew I'm an Eagles fan. I was kicking a kid out of a children's Mass on Christmas Eve. But what's an Eagles fan to do?"
Father Mike has also performed a few baptisms for fans and one rewarded him with his signature No. 99 Helmet Head jersey that's repeatedly seen sprinting up and down the 60-plus steps from his seat in the last row to the front of the section.
By the time Monday morning rolls around, Father Mike feels like he's played an NFL game himself.
"It really does get exhausting," Matveenko said. "It gives me a cardio workout. Every Monday morning, my legs are throbbing and I get headaches from people pounding me on my helmet."
In more ways than one, Helmet Head helps make Eagles football a religious experience.