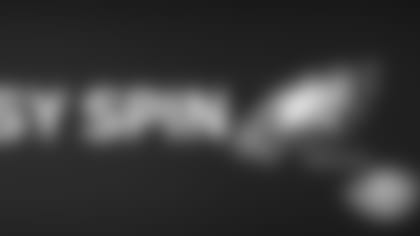 Joe Dolan is the managing editor of FantasyGuru.com and a host for SiriusXM Radio. A former writer for PhiladelphiaEagles.com, Joe still contributes to the site with on-camera segments and written columns. He can be heard hosting "SiriusXM Fantasy Football Gameday" every NFL Sunday from 1-7 PM on Sirius 210, XM 87.
What's your evaluation of the Eagles and Dolphins from a fantasy standpoint?
I tweeted this in the preseason, and for a little bit, I looked really foolish. But the Eagles' offensive line has come together of late, and all three of their backs have played extremely well in the last month of action. In fact, the Eagles have run for over 150 yards in four straight games – the only other team to accomplish that feat this year has been the St. Louis Rams, who have some guy named Gurley you may have heard of. In actuality, it's not that common an occurrence. Since the start of the 1990 season, it's only happened 53 times – just over twice a season. And the Eagles themselves haven't had such a streak since they had one that overlapped the 1992 and 1993 seasons. While the run game got off to an impossibly slow start, this is clearly what Chip Kelly envisioned when the Eagles signed both DeMarco Murray and Ryan Mathews.
The good news is that fantasy football is a big beneficiary when teams are running the ball like this. It's been a much-maligned season for Murray, but aside from Adrian Peterson, he's the only first-round running back still standing and producing. Murray had a monster game in his return to Dallas last Sunday night, with 18/83/1 rushing and 6/78 receiving while playing 56 percent of the Eagles' offensive snaps. The Eagles have been force-feeding Murray the ball – he has over 20 touches in four straight games. Murray's production as a receiver is helping his fantasy standing, and he's certainly looking better health-wise (he had a bum hamstring all year, dating back to Training Camp). The Eagles have run over 70 plays in four consecutive games, and if they're still at that level of volume, it's possible for Murray to get plenty of touches while Mathews and Darren Sproles also still mix in. It's been tough sledding at times, but the Eagles' line is getting better and the offense is getting into a rhythm.
As for Mathews, I like him in particular this week. I'm not ranking him ahead of Murray, but I think he's the type of back who gives the Dolphins fits. The Dolphins had a miserable time against LeSean McCoy, Karlos Williams and the Bills' run game last week, in large part because the Bills got to the edge effectively. The Eagles' sweep play has been deadly on their current streak, especially with Mathews. Mathews has been better for fantasy than a lot of people might think – he's had two top-12 and three top-24 PPR finishes in his last four games. And remember, he played through a groin injury in Weeks 7 and 9. Mathews' 30 percent snap share against Dallas in Week 9 was actually his highest since starting for the Eagles against the Jets in Week 3.
The Dolphins are giving up over 160 yards from scrimmage and a third-most 32.2 FPG to opposing running backs over the past month, so it's possible for both Murray and Mathews to come through in this matchup. Heck, even Sproles could mix in, though his value has been more tied up in real football than the fake stuff.
So here is my view of the Eagles' offense as we stand now, in "confidence tiers" for fantasy:
No-Doubt Weekly Starters: DeMarco Murray
In Your Lineup More Often Than Not: Jordan Matthews
Weekly Decision Required Based on Matchup: Sam Bradford, Zach Ertz, Ryan Mathews
Useful in a Pinch: Darren Sproles, Miles Austin, Riley Cooper
I Am Decimated by Injuries and/or Byes: Brent Celek, Josh Huff, Nelson Agholor (obviously, he needs to get healthy)
The Dolphins' run game has also been strong, since Dan Campbell took over as head coach. Lamar Miller has been the biggest beneficiary of the Joe Philbin firing. Playing 81 percent of the Dolphins' offensive snaps in Week 9 against the Bills, Miller posted 12/48 rushing and 7/97 receiving, with two short touchdowns from 1-yard out. Philbin wouldn't run it at the goal line on multiple occasions earlier in the year. In four games under Campbell, Miller is fantasy's No. 1 running back at 26.5 FPG (and #2 among running backs with 50 or more touches at 1.49 fantasy points per touch), because he continues to get the ball in both run and pass situations.
And even in a matchup against a typically tough run defense like Philly, Miller's 182 receiving yards over the last month are No. 2 to only Duke Johnson at the running back position. That may be an area the Dolphins look to exploit the Eagles' loss of rookie Jordan Hicks, who was arguably their best defensive player before tearing his pec against Dallas last week. The Dolphins have been running from under center more since Campbell took over, but the Eagles are phenomenal at stopping the run out of their base defense (Campbell has been using two-TE sets a lot). Perhaps it's also worth noting that Miami offensive coordinator Bill Lazor is a Chip Kelly disciple, and Chip will certainly know Lazor's tendencies.
With regards to Miller, we also have to mention rookie Jay Ajayi, who made his NFL debut last week and gained 41 yards on five carries. Ajayi was impressive enough that Jonas Gray was released from the active roster. For now, Ajayi is merely a handcuff, but he's an interesting one because he's a more physical runner than Miller and could fit beautifully with Campbell's two-TE and under-center, run-game looks. Ajayi is also a more-than-capable receiver. He played only seven snaps last week, so let's not go nuts here, but he's worth a prospective add. The Dolphins may want to get a better look at him with Miller an impending free agent.
Without further ado, the confidence tiers for the Dolphins:
No-Doubt Weekly Starters: Lamar Miller
In Your Lineup More Often Than Not: Jarvis Landry
Weekly Decision Required Based on Matchup: Ryan Tannehill, Rishard Matthews
Useful in a Pinch: Kenny Stills, Jordan Cameron
I Am Decimated by Injuries and/or Byes: Jay Ajayi
Stevie Johnson, Chargers –  Stevie nearly had a huge game in his first game with Keenan Allen on Injured Reserve, but he got tripped up just short of the goal line. He still posted a respectable 7/68 receiving on 10 targets, but the TD-less game kept his value reasonable for at least another week. And now, with Malcom Floyd (shoulder) potentially missing a lot of time, Stevie is the no-doubt No. 1 WR for the time being and, depending on the severity of Floyd's injury, potentially for the rest of the season. As much as the Chargers are struggling, playing as the top target with Philip Rivers is a good recipe for success.
Any Star Quarterback – This is an extension of the hint I threw out last week, but if I have a Drew Brees-type, I will trade him in a second for someone who will be in my lineup every week at another position. He can be replaced on the waiver wire.
Jonathan Stewart, Panthers – He's coming off a bad game and there are plenty of warts to his game, but if you need a back who dominates the touches in a backfield, you're getting it in Stewart. His snap share/carries have been at least 70 percent/20 in four straight games. His schedule down the stretch is glorious, including Atlanta, at the Giants and at Atlanta in playoff Weeks 14-16.
Antonio Andrews, Titans – Andrews is doing a solid job lately and is a good fit for Mike Mularkey's two-TE heavy-power running scheme, and he'll likely put up yardage with volume in the coming weeks. However, it's always dangerous to rely on volume for shaky talent at running back, especially when there's a more-talented alternative in rookie David Cobb, who was activated from Injured Reserve - Designated for Return this week.
(Note: These options are my rankings for the non-obvious starters at each position. Rankings are based on PPR scoring.)
FantasyGuru.com's Week 10 Mid-Level Flex Rankings
Running Back
Wide Receiver
Tight End
13. Giovani Bernard, Bengals
25. Martavis Bryant, Steelers
7. Delanie Walker, Titans
14. LeGarrette Blount, Patriots
26. Pierre Garcon, Redskins
8. Travis Kelce, Chiefs
15. Lamar Miller, Dolphins
27. Larry Fitzgerald, Cardinals
9. Jimmy Graham, Seahawks
16. Charcandrick West, Chiefs
28. Golden Tate, Lions
10. Martellus Bennett, Bears
17. Jeremy Hill, Bengals
29. Willie Snead, Saints
11. Gary Barnidge, Browns
18. Jonathan Stewart, Panthers
30. Allen Hurns, Jaguars
12. Zach Ertz, Eagles
19. James Starks, Packers
31. Davante Adams, Packers
13. Julius Thomas, Jaguars
20. Shane Vereen, Giants
32. Kamar Aiken, Ravens
14. Ben Watson, Saints
21. Ryan Mathews, Eagles
33. Marvin Jones, Bengals
15. Richard Rodgers, Packers
22. C.J. Anderson, Broncos
34. Rueben Randle, Giants
16. Crockett Gillmore, Ravens
23. Matt Jones, Redskins
35. James Jones, Packers
 
24. Antonio Andrews, Titans
36. Rishard Matthews, Dolphins
 
QB: Kirk Cousins, Redskins – Here's the ultimate matchup test – Cousins has thrown multiple touchdowns in just one game this year. The Saints are the worst defense in the NFL against the pass.
RB: Ryan Mathews, Eagles – For all the reasons I stated above, I think Mathews is a nice flex play this week against Miami.
WR: Allen Robinson, Jaguars – One question about Robinson was too much for me to answer this week. He's a stud, and he needs to be in your lineup this week against a really bad Ravens secondary.
TE: Eric Ebron, Lions – The Packers have given up at least 70 yards to tight ends in three straight games, and over 100 yards to tight ends in two of them, including against the ancient Broncos group led by Owen Daniels.
QB: Carson Palmer, Cardinals – If there's a week to sit Palmer this year, this is it. The Cards are coming off the bye, but so are the Seahawks. Plus, Seattle is at home.
RB: Ronnie Hillman, Broncos – I said to trade him last week before he imploded. He had 1 rushing yard last week, with C.J. Anderson outplaying him.
WR: Terrance Williams, Cowboys – With Dez back, he's useless. Heck, he was useless when Dez was out.
TE: Jordan Cameron, Dolphins – The Eagles have been one of the toughest matchups in the league for tight ends the last two years.