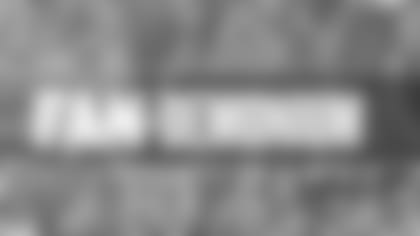 The Eagles were up 16-3 on Sunday. They were deep in Dolphins territory and it looked like the game was going to be a blowout. Life seemed oh so good at that moment. Unfortunately the drive stalled. Then Caleb Sturgis missed a field goal. The Eagles still had a good lead, but that miss seemed to change the game. From that point on, there were more mistakes for the Eagles than points.
What seemed so promising, just fell apart.
This is the Eagles' 2015 season in a nutshell. There are times when the Eagles look outstanding. The offense will move up and down the field. The defense will make big plays and shut down opponents. Special teams units will deliver big plays. Unfortunately, each of those units has also made crucial mistakes that have ended up really hurting the team in close losses.
The Eagles are a handful of plays from being 7-2. Winning close games comes down to a handful of moments. Right now the Eagles are finding ways to come up short. Their mistakes have put this team down at 4-5 and scrambling for their playoff lives.
Good teams are consistent. They execute well. They limit mistakes. They make plays. They play smart football. The Eagles do these things for a quarter or a half. Heck, they've even done it for a whole game. They just can't seem to do it on a consistent basis. The potential is there, but the results aren't. That makes this team somewhat maddening for everyone.
Chip Kelly and the coaching staff have worked hard to fix the problems that have hurt the team. The players are working hard to correct the problems. Unfortunately, this is one of those cases where effort and desire aren't good enough. This is all about performance and results. You either get the job done or you don't. Right now the Eagles are not getting the job done.
The good news is that there are still seven games left. The Eagles can turn things around and become a good team. It can start on Sunday. That's the tricky part about trying to be a good team. You never know when the light is going to go on. The Carolina Panthers were 3-8-1 last year. A six-game losing streak put them at that point. Life seemed pretty bleak. But then something happened. What exactly, I don't know.
Carolina won their final four games to finish 7-8-1. Amazingly, that was good enough to put them atop the NFC South. The Panthers then beat Arizona in a home playoff game before losing at Seattle in a hard fought contest. This season Carolina is 9-0 and is a Super Bowl contender. That team that was 3-8-1 has won 13 regular season games in a row. You never know when, or why, things are going to click. That's the mystery of sports.
Just because the Panthers turned things around doesn't mean every team can do that. The Eagles actually have a much easier challenge. The Panthers were losing last year and some of those games were blowouts. The Eagles had a 45-7 lead on them in the fourth quarter of last year's game. Carolina was a mess. The Eagles haven't had anything close to that this year, which is part of what makes them so frustrating. This team really isn't that far away from winning these games.
The tough part is that so many of the problems are self-inflicted wounds, as Chip Kelly calls them. When Dez Bryant makes an amazing leaping grab in the end zone, you give him credit. When Ndamukong Suh tosses blockers out of the way and blows up a play, you give him credit. Missing a short field goal has nothing to do with the opponent. Not having everyone set so a penalty wipes out a touchdown pass has nothing to do with the opponent. The quarterback not protecting the ball better in the red zone late in a close game has nothing to do with the opponent.
This is a fixable situation. This season can be saved.
Kelly and the players need to keep grinding and trying to figure out what it takes to get this thing right. The NFL season is a marathon, not a sprint. The 1994 Eagles were 7-2 and looked like Super Bowl contenders. They ended up missing the playoffs. This team is half a game back from the division lead. This team, as erratic as they are, still controls its own destiny. Go win this week. Then build on that.
The ultimate goal is more than just winning the close games. We would all like to see this team play to its potential on a consistent basis. If that were the case, Sunday's game would not have been close beyond the first quarter. Life in the NFL is hard. Not every game is going to be a blowout. Still, the Eagles are keeping opponents in games with the self-inflicted wounds. Make the other team beat you. Don't help them out. It takes a lot of discipline and focus to play well each week. The Patriots are the best example. They are like a machine. 
The Eagles weren't the only team to suffer a tough loss this week. Houston handed the Bengals their first loss of the year on Monday night. The previously 1-7 Lions won at Lambeau in a crazy game. The Bears upset the Rams, 37-13. There were some wild games and strange outcomes. Road teams had a great weekend. That doesn't make the Eagles loss any less frustrating, but perspective can help to understand things.
I'm an optimist by nature so I still see the potential in this team and in this season. The Eagles have to forget about Sunday and focus on this week's opponent, Tampa Bay. You can't go un-lose to Miami so focus on what you can do: beat the Bucs. Get back to .500 and we'll see what happens after that.