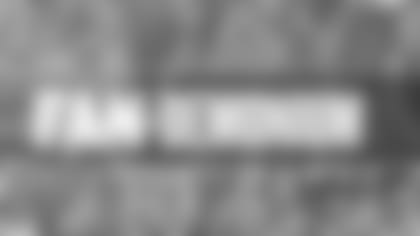 Free agency starts this week. On Monday, teams can begin talking to agents of players from other teams. That allows everyone to get a feel for what the market will be like. Trades and free agent signings can officially happen on Wednesday afternoon. Let's talk about the Eagles and what they might be doing in the next couple of weeks.
The Eagles are not a player away from being an elite team. This isn't an offseason for them to throw money around at free agents who could put them over the top. With a new coach and a lot of changes happening, the Eagles need to be smart shoppers. That doesn't mean they can't be aggressive, but they need to be wise about who they go after and how much they pay players.
Back in 2004, the Eagles were smart to take a chance on Terrell Owens. That was a veteran team with an established coaching staff. They could afford to spend big on a player with a less-than-ideal track record. Owens proved to be a great addition, for one year. He helped the Eagles finish with the top record and the No. 1 seed in the NFC.
The 2007 Eagles had a good defense, but needed a playmaker. The team handed a mega-deal to cornerback Asante Samuel. The defense finished in the top five in a lot of key categories and the team almost got to the Super Bowl the following year. There are times to spend big and roll the dice.
This should be an offseason of building. The Eagles have done a great job of re-signing their own players. That should always be the first priority. Take care of your own guys before looking for outside help. Now the time has come for the team to do some shopping. The first order of business is to try and plug some holes in the starting lineup.
The Eagles need offensive line help, specifically at guard. There are some solid options for the team to choose from. Here are some potential targets:
Kelechi Osemele, Ravens - The top guard on the market. I don't think the Eagles will pursue him because Osemele's reported asking price is more than $10 million per season. That's big money for a guard, and the Eagles are already paying big money to other offensive linemen.
Alex Boone, Niners - If he wasn't about to turn 29, Boone would definitely be my top choice for the Eagles. Has started at left guard for the past four seasons. Huge player at 6-7 and 330 pounds, but moves well and is a good pass blocker. Boone is also smart. He handles stunts and loops well. The Niners ran the ball a lot in the last four years and Boone was a big part of that. He is able to get movement in the run game. Boone's age might not be a concern to the team. They have a much better feel for a player's long-term forecast than I do. Boone is a fun player to watch and would offer an immediate upgrade at left guard.
Jeff Allen, Chiefs - Allen makes sense as a target because he played for Doug Pederson in Kansas City. I wasn't sure what to expect when I turned on the tape of Allen, but came away very impressed. I saw him start at right tackle and left guard. That versatility is instantly interesting. He just turned 26 so his best football is still in front of him. Allen is a physical blocker with a bit of a nasty edge. He is good in both the run and pass game. Allen could step in at left guard and help settle down that side of the line. His combination of talent, familiarity and age should make him the Eagles' top target.
Brandon Brooks, Texans - A lot of people love Brooks. Brooks will grab at times, so offensive line coach Jeff Stoutland will have to work with him on that. He is talented and has terrific size at 6-5 and 340 pounds. He moves pretty well for such a big man. Brooks will turn 27 this summer so he is in the prime of his career. I think he is a good player, but I believe he'll command a big contract.
J.R. Sweezy, Seahawks - If players got paid on effort, Sweezy might be the richest player in the NFL. Blocks to the whistle, often the echo of the whistle. Sweezy played defensive tackle in college, but Seattle converted him to a guard. He is a good athlete and outstanding run blocker. He loves to block in space and defenders better be on the lookout for him. Sweezy can be up and down as a pass blocker, but he has improved. You have to remember he has only played 49 games at guard. Sweezy will turn 27 in April. His best football should definitely be ahead of him. Sweezy could be an excellent value signing. The key is if the Eagles think he would be a good fit in the new offense.
Other Offensive Linemen Of Possible Interest
Ramon Foster, Steelers
Mike Harris, Vikings
Geoff Schwartz, Giants
Jahri Evans, Saints
If Walter Thurmond Doesn't Return At Safety ...
As it stands now, the Eagles have an opening at safety. There has been some speculation that the team could move Eric Rowe to that position, but for now he's at corner. There are some good safeties on the market.
George Iloka, Bengals - Has just five career interceptions and two forced fumbles to his name, but a good safety. Plays smart. Takes good angles to the ball and plays under control. Comfortable playing in the box or back deep. Iloka would be a good fit in the Eagles' new scheme.
Eric Weddle, Chargers - Older player who can do it all. Lines up all over the field and does a little of everything. Weddle is smart and instinctive, which is crucial at safety. Declining, but still a good starter.
Tashaun Gipson, Browns - If the Eagles want a ballhawk, Gipson is the way to go. Has 14 career interceptions and is only 25 years old. He's not a great run defender, but has value because of his ball skills.
Rodney McLeod, Rams - Who? McLeod isn't a household name, but is a good player. Young guy who has started 48 straight games. McLeod is a good hitter and tackler. Can play deep or in the box. Has five career interceptions and seven forced fumbles.
Reggie Nelson, Bengals - This will be his 10th season in the league. Nelson has 30 career picks, including eight last year. Good hitter and blitzer, but can be erratic as a tackler.
Other Safeties Of Possible Interest
Michael Griffin, Titans
Tyvon Branch, Chiefs
Will The Eagles Add A Veteran Wide Receiver?
Wide receiver is a position the Eagles could look to upgrade in free agency. We don't know if the team will use a two- or three-receiver set in the base offense, let alone who the starters will be. There are no top-shelf receivers to pursue. This is a position where the Eagles need to be careful. There is no reason to overpay any of these targets. This is one position where the team should be patient. Let other teams throw huge money around. When the initial spending spree is over, go in and find someone at a reasonable price. There are some interesting targets, even if none of them are No. 1 receivers.
Rueben Randle, Giants - The other receiver for the Giants. Started all 16 games last year and caught eight touchdown passes. Has good size and can make some tough catches. Randle is a player on the rise.
Mohamed Sanu, Bengals - I think Sanu would be an ideal target, but many people expect Hue Jackson, his former coordinator in Cincinnati, to offer him big money to come to Cleveland. He would be outstanding in the Eagles' version of the West Coast offense.
Rishard Matthews, Dolphins - Coming off a career year. Matthews started 11 games and caught 43 passes. He wouldn't be a guy to feed the ball to, but could be part of a good receiving corps.
Jermaine Kearse, Seahawks - Complementary receiver for Seattle who would like to get a big contract and more passes thrown his way. Kearse does a terrific job of making contested catches. He has amazing awareness and concentration. Has been a good special teams player as well.
Andre Holmes, Raiders - Only has 18 starts in four years, but Holmes is an interesting player. He is 6-5 and more than 200 pounds. He can help on offense and special teams. Has four touchdown catches in each of the past two years.
Nate Washington, Texans - Will turn 33 this summer, but remains an effective starter. Washington could be a good mentor for the Eagles' young receiving corps.
Ricardo Lockette, Seahawks - In recent years, the Eagles have had at least one receiver who was a key special teamer (Brad Smith, Seyi Ajirotutu). Lockette could fill that role in the future.
More Toys For Jim Schwartz?
I think the Eagles could use some depth on defense. Here are some players who should fit the new scheme and could be valuable role players.
Jason Jones, Lions
Eugene Sims, Rams
George Selvie, Giants
Vincent Rey, Bengals
Tahir Whitehead, Lions
Danny Lansanah, Bucs
Justin Durant, Falcons
David Hawthorne, Saints
Travis Lewis, Lions
Sean Spence, Steelers
Tommy Lawlor, goeagles99 on the Discussion Boards, is an amateur football scout and devoted Eagles fan. He is the Editor of IgglesBlitz.com and was a contributor to the Eagles Almanac.