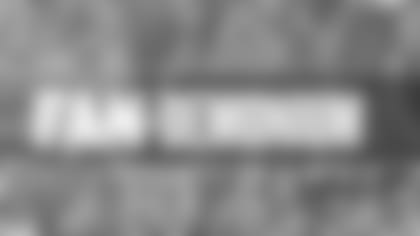 Two weeks into the preseason, the Eagles look like the best team in the NFL.
I still think you have to favor the Packers or Seahawks as the best team in the NFC right now, but the Eagles are playing better than I would have ever imagined. They have won both preseason games and looked great in doing so. There is every reason to be excited about them so far. 
Sam Bradford played in his first game as an Eagle. He only played one series, completing three of five passes, so you can't make any definitive judgments just yet. Still, he did the things people wanted to see.
Bradford was initially rusty. His deep ball for Riley Cooper was a bit too far out in front. On another play he seemed thrown off by the fact he had so much time in the pocket. That led to an awkward, errant throw. You have to remember that Bradford has never played behind an offensive line with talented players like Jason Peters, Jason Kelce and Lane Johnson. 
The Ravens got a couple of big hits on the Eagles quarterback, one up high and one down low. There is a lot of public debate as to whether or not they were cheap shots, but that's somewhat irrelevant to me. I'm more interested in the fact Bradford got up from them and kept on playing. Any player coming off an injury is nervous until he takes a couple of hits. You need to experience them to shake off the rust and once again get comfortable on the field. You can't simulate full speed hits in practice with your quarterback. He has to get them in a game. I'm sure Bradford was nervous about taking the hits and finding out how they would affect him. They didn't. Oh sure, the hits hurt like heck, especially the second one. Getting run over by a massive defensive tackle like Baltimore's Brandon Williams isn't something you'd wish on your worst enemy. Now Bradford can forget about getting hit and focus on just playing. 
Bradford spread the ball around. He threw left, right and over the middle. He threw deep and short. He threw to different receivers. He found the open target on several passes, but showed that he wasn't afraid to throw to a covered receiver if his player had the advantage. His completions to Darren Sproles and Jordan Matthews both came on third downs and moved the chains. 
The offense moved at a pretty good pace with Bradford in the game. There were a few penalties and those always slow the game down, but when they had the chance, the offense played with tempo. Bradford looked comfortable in the pocket. Just as importantly, he looked in command. We have seen new quarterbacks look highly confused in the past, as they struggled to get on the same page with those around them. If you didn't know better, you would have guessed Bradford was the returning starter, not a player hitting the field for the first time with his new team. 
I don't want to over-hype this and make Bradford sound like the second coming of Joe Montana. He did some good things and gave Eagles fans a reason to feel good, but Bradford has plenty to work on. Quarterbacks coach Ryan Day, offensive coordinator Pat Shurmur and head coach Chip Kelly will go over the tape with Bradford to point out all the issues that need to be addressed, but Saturday night was a good start for Bradford, and he should be a lot better in the coming weeks. 
One of the things that really jumped out at me during the game was how the running backs attacked up the field. You can clearly see a difference in the way this group ran compared the way LeSean McCoy ran. McCoy's style worked great for him, but Kelly prefers downhill runners with some pop. DeMarco Murray, Ryan Mathews and Darren Sproles combined to carry the ball 10 times for 46 yards and two scores. Murray almost broke his first run for a long touchdown, but he slipped as he passed the line of scrimmage. 
This running style takes pressure off the offensive line. Those guys don't have to hold blocks as long. With McCoy running east and west, the blockers had to sustain as long as possible. The new trio attacks the defense. Blockers need to win the initial battle, but then they can look for someone else to hit. 
Kelly loves the fact that he can call plays without worrying about who is in the game. Murray, Mathews and Sproles are all talented runners. Murray has the best overall combination of skills. Mathews has the best combination of size and speed. Sproles is the shiftiest and hardest to tackle. All three of them are physical and rarely go down on first contact. They run behind their shoulder pads and make life tough for tacklers. There is no excuse for having a tired player in the game this year. The players can rotate in and out quickly to keep fresh legs in the game. That should help to keep the offense moving as fast as possible. 
Moving over to the defense, both of the Eagles' touchdowns came after interceptions. Kelly knew his defense had to be better this year and he used a variety of resources to improve the unit. So far, so good. You aren't going to mistake them for Gang Green anytime soon, but they aren't giving up big plays and they are coming up with takeaways. That's what Kelly wants to see from his defense. To be sure, he would love to have a group that could go out there and physically dominate opponents, but special units like that are rare. 
The Eagles run defense was sloppy early on. The Ravens have a good offensive line and it showed. They were able to get some movement and get the running backs up the field. Emmanuel Acho has been very good on passing downs this summer, but his run defense needs work. Jordan Hicks looks like a rookie, showing both ups and downs. 
This is where you can see the improvement from last year. Even though the Ravens had some success moving the ball, they were doing it four and five yards at a time. The pass defense wasn't giving up big throws. Jim Johnson always believed that if you made offenses methodically drive a long field, something would go wrong for them. There would be a penalty. Or a dropped pass. Or maybe an errant throw. 
Joe Flacco made two errant throws and the Eagles picked off both of them. The first was a great play by Nolan Carroll. He had tight coverage on his receiver down the field. Flacco forced the ball anyway. Carroll got a hand up and deflected the ball to Walter Thurmond, who was right there to pick it offand run it back for a nice return. The other pick was simply an off-target throw that went over the receiver. Byron Maxwell saw the ball and then leapt up and picked it off. When offenses make mistakes, you must make them pay. The Eagles dropped several interceptions last year. When the ball is there, you have to catch it. 
Thurmond and Malcolm Jenkins are former cornerbacks. That is what Kelly wants. This defense wouldn't be a good fit for Andre Waters or Mike Zordich. Those guys were physical tacklers that punished runners and receivers. Kelly prefers safeties that can cover first and hit second. He is more focused on stopping the passing game and coming up with takeaways than seeing highlight hits. Those of us who grew up watching Gang Green don't always agree with Kelly, but Thurmond's interception was an impressive play and helps you to see where Kelly is coming from. 
Once again, this wasn't just a game of offense and defense. Kenjon Barner returned another punt for a touchdown. He has had good blocking, but also has done his part. He has the strength to fight off arm tackles and is more elusive than you'd expect. Once in the open field, you can see the 4.39 speed Barner flashed at his Pro Day a couple of years ago. Barner is making a strong case for the 53-man roster. You also have to think there are some teams around the league who might have interest in him. 
Slowly but surely, Kelly's vision for the Eagles is coming together. The offense is deep, talented and more physical than ever. The defense is deep and athletic, with an emphasis on coverage skills. Special teams remains a group that can make impact plays.
The good news is that we still haven't seen the Eagles at their best. Bradford has yet to hit his stride. Zach Ertz is hurt right now. Kiko Alonso, DeMeco Ryans and Mychal Kendricks have yet to play. These are all significant weapons that will make the team even better in the coming weeks and months. 
Taylor Hart played his best game as an Eagle. We have heard a lot about how improved he is with his new bulk this summer. Hart was disruptive on Saturday night. I thought he was somewhat quiet in the opener, but Hart caught my eye against the Ravens. 
Vinny Curry played some outside linebacker. He looked lost a time or two, but when you let him get after the quarterback, good things happen. He was very disruptive. 
Rasheed Bailey has turned out to be a better player than I ever expected. He has terrific hands. Bailey has handled the size and speed of the NFL pretty well so far. Some players from small schools get overwhelmed. 
Matt Tobin was supposed to challenge for the right guard spot. He has focused on left tackle in the preseason and I think he's played pretty well. He had his ups and downs against Elvis Dumervil, but remember that is a guy who had 17 sacks last year. The fact Tobin kept him under control most of the time is impressive. 
Defensive lineman Travis Raciti will have a tough time making the roster this year because this is such a deep, talented group. He is an undrafted rookie from San Jose State and has impressed me. Raciti has played end and nose tackle. He is tough and athletic. He has the kind of frame Kelly loves. Raciti is perfect for the practice squad. Let him add 15 pounds and spend the year working on his game. He has NFL talent. 
Rookie Eric Rowe gets better and better. He is in the mix to play the nickel spot. 
Raheem Mostert has big-time speed. He's likely going to get caught in a numbers crunch in the battle for a roster spot, but Mostert is a prospect that can develop into a good role player if given time.