Brian Westbrook understands that injuries might be holding him back from contributing nearly as much as he's used to. In the midst of a tough season, it's something he's got to deal with.
So, despite not being the center of the criticism this season, Westbrook at least understands quarterback Donovan McNabb's plight on the surface. McNabb was benched for second-year man Kevin Kolb in Baltimore on Sunday after a first half of complete ineffectiveness. But Westbrook said the problem isn't just McNabb, who will regain the reins of the offense on Thursday against Arizona.
Without weapons performing around the quarterback, few offenses can be successful. For others, it's time to step up, Westbrook said.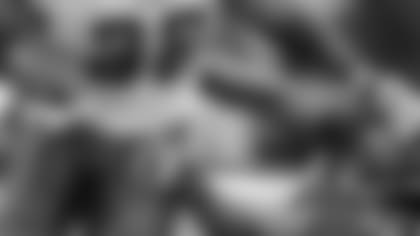 RB Brian Westbrook
"We have been in better positions than we are now, but we are still going to go out there and do what we can. Like I said, Don is going to go out and have a great game," Westbrook said. "Hopefully, I will go out and have a good game, as well, and be able to provide this offense some energy and some playmaking ability."
McNabb has admitted to pressing to make too many plays recently, and his teammates concurred. But Westbrook said Reid's benching of McNabb – as well as those of tight end L.J. Smith and linebacker Omar Gaither – was an attempt to send a message to the team that Reid wants the best. Basically, try to do more than you've worked on in practice, or more than you normally are asked to do, and you're going to be in trouble.
So it's about calming down and letting things come naturally.
"I think that the guys still depend on what Donovan can do, and I don't think that's going to change until he leaves this place," said free safety Brian Dawkins. "We are going to depend on his ability to make plays, and the thing that Donovan has to do is just relax. It's hard to say in tough situations and (amidst) criticism and all that stuff, but just relax and play your game."
McNabb may seem or even personally feel like the scapegoat here, but the problem clearly isn't his alone, Dawkins said. Kolb had little success with the offense, the running game was unable to get going again, receivers dropped balls and linemen missed blocks. Defensively, the Ravens had a lot of success with the ground game, which wore down the Eagles and eventually broke them in the fourth quarter.
So Reid's spark might not have come immediately when he trotted out Kolb, but the best the Eagles can hope for is the team has gotten the message since.
"It's a sport. You go out there and try to do what you can do. It's not always going to go the way you want it to go," wide receiver DeSean Jackson said. "The biggest thing with Donovan is that he's had a lot of success. Some unfortunate things happened the last couple of weeks. We still have faith and we're still rolling with him."
Dawkins said he's talked to McNabb, to try to show him that the pressure shouldn't all be on his shoulders.
"I've talked to him. Just make sure that he understands that he doesn't have to do everything by himself," Dawkins said. "It's just going to be up to him to just be able to realize the moment, seize this moment, which it is. All eyes are going to be on him, but not think about he has to do everything by himself, because he does not. We're all there for him."