(NOTE: This story was originally posted prior to the Eagles' Salute to Service game against the Dallas Cowboys. It is being reposted in honor of Veterans Day.)
Sunday's game will be extra special for defensive back Elijah Riley and tackle Brett Toth. It's Eagles-Cowboys in prime time. But it's also the Eagles' Salute to Service game where the team will honor the commitment and sacrifices made by the men and women of the Armed Forces.
That includes Riley and Toth.
Riley and Toth played together at Army, although their paths to the service academy were quite different.
Toth was born into a military family. His father, Douglas, is a Navy veteran. Toth has a family member who served in each branch of the Armed Forces. The Charleston, South Carolina native was inspired by the brotherhood and camaraderie he witnessed when he made his official visit to the U.S. Military Academy while attending West Ashley High School.
"You realize that there's something out there more than football," said Toth, who made his NFL debut against Baltimore. "I saw that West Point was that opportunity to show and use your platform for something. When I went on my official visit there and you meet some of the brotherhood, Chuck Schretzman and Greg Gadson, just guys that have played in the past, it changes your perspective. After going to visit there, there's no doubt that you're going to want to commit."
Riley had dreams of playing in the NFL, but Long Island, New York isn't exactly a hotbed of football talent. Army recruited Riley hard out of Newfield High School. After doing his research, Riley decided it was the perfect place to improve as a person, a leader, and as a football player.
"The more I got to learn about the school and the more I learned everything that West Point is about, obviously the service aspect of it, the leadership component, the Ivy League education, and then the ability to play FBS football was exciting to me," said Riley, a member of the practice squad who was called up for two games this season. "I wanted to do something that was bigger than me. I felt like Army was the best opportunity to do that. I could maximize leadership, academics, and football."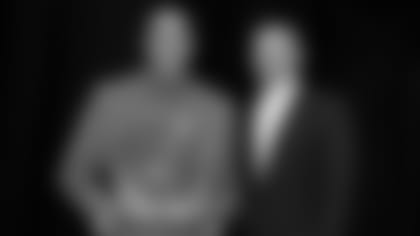 Elijah Riley (above, left) was a team captain at Army. Riley and Brett Toth are just two of four U.S. Military Academy alumni to play in a game for the Eagles, not counting Alejandro Villanueva, who was with the team in 2014 Training Camp after serving three tours of duty overseas.
Riley's first college game, fittingly enough, was at Lincoln Financial Field as a true freshman against Temple. Becoming an integral part of the football team so early in his college career made Riley wake up to what he could achieve.
"It forced me to not necessarily mature faster, but figure myself out," Riley said. "Everybody at that school was a big fish in a little pond at one point. You get there and now you're a big fish in an ocean of sharks."
He figured it out and was a team captain as a senior in 2019. The lessons about leadership at West Point carried over to the football field. The most critical component, Riley said, is a four-letter word.
"Love. Honestly, love is all-encompassing in terms of leadership because if you love somebody, you're going to hold them accountable," Riley said. "They're going to be able to trust you as much as you trust them. You are going to push them in ways that they've never been pushed and at the end of the day, if they need a shoulder to cry on, you're there for them.
"I think being a loving leader is important in a locker room or overseas somewhere deployed. It's important because people are going to feel isolated and lonely at times, away from their families and away from their comfort space. You got to be able to provide that second home for them."
Riley looked up to Toth, who was a senior in 2017. Toth had to postpone the start of his NFL career due to military obligations. Following his graduation, Toth spent the 2018 season as a graduate assistant at Army, helping coach the Black Knights to the most wins in a single season in program history with 11. He turned his focus to his military career, taking the Basic Officer Leadership Course at Fort Leonard Wood in Missouri. An engineering officer, Toth learned everything from demolition to project management to construction. Upon completion, Toth earned a platoon leader role with the 3rd Chemical Brigade doing Basic Combat Training. Toth was granted a waiver in 2019, and the Eagles signed him during Training Camp.
"I was adamant about worrying about my military obligations first as well as what my duty title was," Toth said. "I told my battalion commander, my company commander that, first and foremost, I was there to complete my duty. That was going to be my first priority."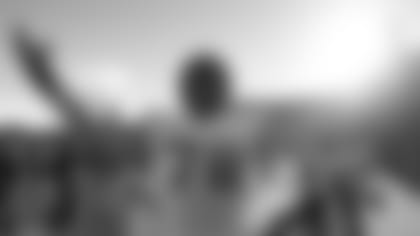 Brett Toth celebrates a win over Air Force in 2017. Other recent members of the Armed Forces to play in a game for the Eagles include fullback Kyle Eckel (Navy) and wide receiver Chad Hall (Air Force).
Riley's collegiate career began at Lincoln Financial Field and ended there as well with the annual Army-Navy game, one of the greatest spectacles in all of sports.
"Both teams are willing to sacrifice themselves not only on the playing field, but in the field of battle. There's a lot of raw emotion and passion. Everybody who is playing in that game is doing so because they love football. They love the sport. Most people don't go to the service academy to play football because they have dreams of making it to the NFL," Riley said.
Following the game last December, Riley's mother, Alicia Washington, said it wouldn't be the last time he played at the stadium. As usual, mother was right. He signed with the Eagles as a rookie free agent and was able to defer his military commitment until his playing career is over. Toth rejoined the Eagles after he was claimed off waivers on October 7.
"He was kind of like a mentor to me because he had league dreams as well," Riley said of Toth. "It's dope now being on the same team. It's great having a familiar face in the locker room, especially in a year like this where we didn't have an offseason and missed out on a lot of the opportunities to hang out and get to know everybody, all of the camaraderie aspects that the veterans talk about."
On Sunday night, they'll have a unique vantage point as the Eagles honor the servicemen and women of our Armed Forces.
"It's definitely great to see the men and women who have devoted their lives to selfless service be recognized for that. It's important that we're able to do that," Riley said.