*App users, please click on "View in Browser" for the full experience.
Sunday marked the annual Salute to Service Game for the Philadelphia Eagles. While it was just one game, we are thankful each and every day for the sacrifices made by the men, women and families of the armed forces. Here's a look at everything that transpired including this moment that is sure to provide inspiration to everyone ...
Featured in the video above is U.S. Army Sergeant Dan Rose from Wisconsin, who was paralyzed in April of 2011 by an IED in Afghanistan.
On Sunday, Rose was at Lincoln Financial Field and able to walk in front of the nearly 70,000 fans in attendance at the Salute to Service Game thanks to the **SoldierStrong organization** and the SoldierSuit designed by Ekso Bionics.
"The feeling of standing and walking again is indescribable," Rose said. "The first time I used the rehab suit was two years after my injury, two years of living life in a wheelchair. The first time I stood up and looked across the room, it was like reaching the summit of a mountain and looking down on the world. I am very fortunate to have received this gift from SoldierStrong, and even more fortunate to be able to experience looking down on the world from my mountain every day."
Former Eagle Jon Runyan is on the advisory board of SoldierStrong, whose overall mission is to help veterans back on their feet through scholarships and educational opportunities, the Ekso Suit program and other services they provide for veterans.
The SoldierSuit weighs 50 pounds and is comprised of aluminum and titanium braces along with electric motors that wrap around the legs. A computer that is located on the user's back receives data from 15 sensors to control the suit. Various aspects of the suit from the length and speed can be adjusted based on the individual patient.
---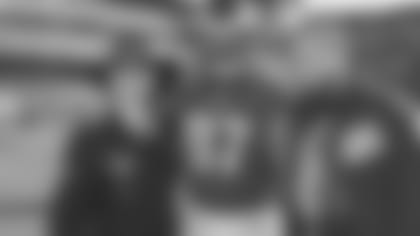 Before his big game, tight end Brent Celek met PFC Tyler McGibbon (left), who suffered a traumatic brain injury and multiple fractures to his skull serving in Kuwait. McGibbon has recovered and wants to reenlist. One of McGibbon's biggest supporters has been his brother, Justin (right).
---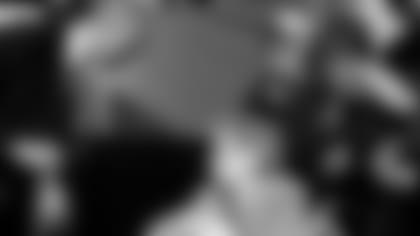 President Don Smolenski presented a game ball and jersey to SSgt. Grace Ricci Bergman, the oldest living female Marine in Pennsylvania. On December 3, she will be 100 years young.
---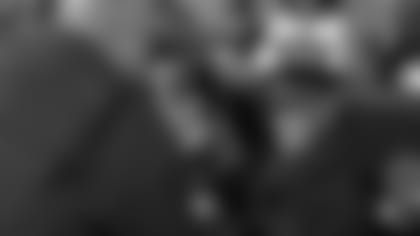 Head coach Chip Kelly welcomed 101-year-old Lt. Thomas Bayes Hollis. A native of Philadelphia's Mount Airy section, Lt. Hollis was the Officer on Deck who guided the USS Panamint into Japanese waters for their formal surrender of their Ominato Naval Base which had protected Northern Japan at the conclusion of World War II in September 1945.
---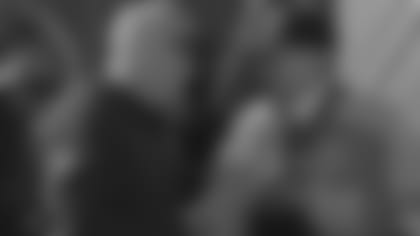 Kelly also greeted Corp. Ralph Herman, who served in the U.S. Army from 1944-46. The 90-year-old Herman fought in Germany at the Bridge in Remagen where he was wounded. He was awarded a Combat Infantry Badge, a Purple Heart and a Bronze Star.
---
Wendell McGinnis, a vet who spent 20 years overseas, talks about how much he relished the times he could watch or listen to his Eagles while deployed and serving our country.
---
From Inside the Eagles, Lawns Of America, a non-profit organization that services deployed and disabled veterans and takes care of their lawns, pays a visit to a local Eagles fan, along with the Eagles Cheerleaders.
---
Naval servicemen and servicewomen took over the competition and played three games in relay-race fashion, hosted by Eagles long snapper Jon Dorenbos.