Pre-Practice Injury Report: The injury report is starting to dwindle for the Eagles, a positive sign as the regular season inches closer and closer. Defensive tackle Fletcher Cox (knee soreness), cornerback Mekhi Garner (ankle), and running back Trey Sermon (ankle) were full participants in Tuesday's joint practice with the Colts. Wide receiver Quez Watkins returned from his hamstring injury in a limited capacity. The players who remain sidelined include: wide receiver Britain Covey (hamstring), linebacker Kyron Johnson (appendectomy), defensive tackle Moro Ojomo (concussion), linebacker Haason Reddick (thumb), linebacker Nolan Smith (shoulder), and wide receiver Greg Ward (ankle).
1. I'm always excited to watch one-on-one drills against opposing teams in these joint practice sessions, and my eyes are set on the Eagles' receivers against the Colts' DB room. This period did not disappoint. It's good-on-good for the first rep, as A.J. Brown muscles his way past Colts star corner Kenny Moore for a go ball down the right sideline. In turn, Olamide Zaccheaus responds with a slot fade over cornerback Tony Brown on the next rep. A couple of snaps later, undrafted rookie Jadon Haselwood routed up cornerback Chris Lammons for a catch along the sideline. Devon Allen wins on a really crafty slant route, clubbing cornerback Kevin Tolliver aside and working in for a wide-open catch. We didn't see that kind of nuance from Allen last year. The second-year receiver came back a couple of minutes later with a great stutter-go move for a touchdown over the top. Allen stood out as a gunner in special teams drills today as well. A.J. Brown reeled in a beautiful one-hander over the shoulder against Moore soon afterwards. Brown makes things look so easy sometimes, even against great corners. – Fran Duffy
2. While Fran focused on the Eagles' offense on Tuesday, I covered the defensive action. I also witnessed the one-on-one session between the Colts' wide receivers and the Eagles' defensive backs. Here are the highlights: Scary moment on the second rep as veteran wide receiver Isaiah McKenzie slipped coming out of his route against Avonte Maddox. McKenzie was down for several minutes being attended to by trainers before hobbling off the field with an apparent leg injury. ... When play resumed, Darius Slay was draped all over wide receiver Michael Pittman, who did get the catch on a comeback route. ... Kelee Ringo with sticky coverage on his two reps forcing tight throws and contested catch opportunities on both occasions. First, Ringo locked up with Juwann Winfree and the throw from Gardner Minshew could simply have not been any better as the receiver came down with the over-the-shoulder catch on the corner route for a 35-yard touchdown. On the second rep, a rematch with Winfree, Ringo read the comeback route to help force the incompletion. ... Josiah Scott, a key member of the defense as the reserve nickel a year ago, had a pass breakup on an attempt to wide receiver Kody Case. Scott stayed on the receiver's hip and brought his arm around the body at the perfect time for the deflection. ... Josh Jobe was all over wide receiver Tyler Adams to force an incompletion on a short, shallow cross over the middle. – Chris McPherson
3. The 7-on-7 drills begin, and right off the bat we get a completion from Jalen Hurts to Quez Watkins, who was back on the field in limited fashion today for the first time in over a week after a hamstring injury. Two plays later, Hurts hit A.J. Brown over the middle on an in-cut for a first down before finding Dallas Goedert and D'Andre Swift for completions underneath. – Fran Duffy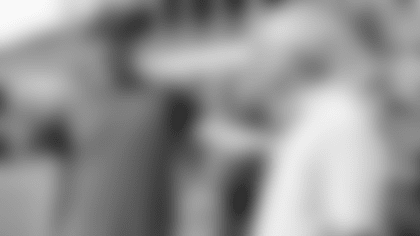 4. Rookie quarterback Anthony Richardson completed his first five pass attempts in this session, but the first three passes were short passes thanks to the coverage. Linebackers Nakobe Dean and Zach Cunningham were in perfect position on the first two throws, respectively, to the flats. The third throw was a quick checkdown underneath. Richardson's most impressive pass came on a short out route to tight end Mo Alie-Cox, who got underneath the off coverage from cornerback Josh Jobe. Richardson wasn't a perfect 6-for-6 as his attempt to tight end Kylen Granson was incomplete as safety Reed Blankenship perfectly read and broke on the in route over the middle.
When former Eagle Gardner Minshew came in for four snaps, K'Von Wallace had impressive coverage on tight end Drew Ogletree, shadowing him on a crossing route to help force the incomplete pass. On the final play of the series, Minshew lofted a 20-yard pass down the seam to Pharoah Brown. Safety Sydney Brown wanted to level him, but smartly pulled back. – Chris McPherson
5. Full-team sessions get underway, the first pair of snaps favor the Colts after a Jalen Hurts scramble and a short run by Boston Scott, but then the offense began to heat up. Hurts found Kenneth Gainwell underneath for a nice gain before pitching the ball to Gainwell on an outside run to the right for good yardage. DeVonta Smith made his first big grab of practice with a deep curl route against Kenny Moore. Hurts went on to find Rashaad Penny and A.J. Brown for quick completions before getting in on the action himself. Hurts called his own number, taking an inside run for a long gain down the right side. Sometimes it's tough to tell when a run play actually hits in practice without the aspect of live tackling but ... there was no questioning this one. Hurts followed that up with one of the prettiest plays in practice, after a bobbled snap in the backfield, Hurts stepped up in rhythm and found Smith for a deep post route for a touchdown. Smith went up-and-over the defensive back and came down with the contested catch for a score. – Fran Duffy
6. In the first team period, working from midfield, the Eagles' defense opened by making the rookie quarterback Anthony Richardson uncomfortable. First, the athletic quarterback kept the ball only to have safety Terrell Edmunds flying in on a blitz and linebacker Zach Cunningham stuffing the hole. Two plays later, Josh Sweat looped around to come up the middle and force an errant incompletion in the flat. Richardson completed his next pass, rolling to his left and connecting across the middle with wide receiver Michael Pittman. But Jalen Carter got past lineman Braden Smith on a swim move and would have had a shot for a sack. Carter impressed again on the next snap, reading that Richardson was keeping the ball on a fake handoff and shedding the tight end blocking him to get in for a stop. When the first-team units came out again for a second group of snaps in this period, the linebackers continued to impress as Zach Cunningham again plugged a hole where Richardson wanted to go and Nakobe Dean was squared up in space with running back Deon Jackson, in position to make the play. On Richardson's final snap, edge rusher Josh Sweat dipped past left tackle Bernhard Raimann and slowed up before getting to the quarterback. – Chris McPherson
7. The second team session begins, and after a quick completion to Boston Scott, Jalen Hurts finds DeVonta Smith on a slant route that he takes for a big gain through the teeth of the defense. On the next play, Kenneth Gainwell runs off the right side untouched for a touchdown that would have gone for a score in a game as well. D'Andre Swift takes the next snap up the middle, lowering the shoulder on linebacker Zaire Franklin from the Colts. The run game hits continue, as Rashaad Penny takes a perimeter run on the left side for a big gain with pullers out in front. All of the Eagles' top runners are getting in on the action today. – Fran Duffy
8. In the second team period, the Colts' offense started at the Eagles' 35-yard line and worked on the plus side of the field. Anthony Richardson's first throw was dangerous as safety Sydney Brown collided with tight end Mo Alie-Cox going for the ball that was lofted down the seam. Both players were OK. Two plays later on a quarterback keeper, Jalen Carter shed a double team to get in position to make the stop. When the second-team units took the field, defensive back Josiah Scott had a pass breakup on a short throw to tight end Will Mallory. Gardner Minshew threw a touchdown pass in the red zone after a miscommunication left Mallory open in the back corner of the end zone. When Richardson returned, Jordan Davis and Jalen Carter combined for a nice run stuff of running back Jake Funk. On the next play, Zach Cunningham quickly read the QB keeper and was there to stop Richardson. Minshew finished off the session, though, with another touchdown throw in the red zone, this time to Alie-Cox in the back of the end zone. – Chris McPherson
9. The tempo level is rising a bit as the third team session begins with both full squads converging on one field. Jalen Hurts hits A.J. Brown over the middle, and a safety hits Brown in his back as he makes the catch. Brown let him know that he wasn't happy about it afterwards, but nothing boils over. Two plays later, Hurts hits DeVonta Smith down the right sideline for a huge gain. This was a WOW catch from Smith, who went up and over cornerback Darrell Baker for the explosive play. Coverage was tight on the ensuing snap, resulting in a "sack" of Hurts. The quarterback responds with a touchdown toss to Smith on a back shoulder throw on the right side. Another great catch from Smith, who comes down with another jump ball in practice. – Fran Duffy
10. On the defensive field, Jordan Davis wrestled past the center Danny Pinter on the first snap to force quarterback Anthony Richardson out of the pocket. Credit the back end of the defense with erasing any throwing options for Richardson. On the second snap, Fletcher Cox was immediately in the backfield past Pinter, who tried to pull to stop Cox but was a beat late. Brandon Graham was in space ready for the ball carrier as well. Richardson decided to keep the ball on the fake handoff on the third snap, but Josh Sweat had seen it enough with Jalen Hurts in practice and was in position to make the play. Richardson's first pass attempt of the series was an incompletion to tight end Kylen Granson as safety Justin Evans, getting some run with the first-team unit, was in coverage. The defensive swarm continued on the ensuing snap as Jalen Carter and Jordan Davis collapsed the pocket and Derek Barnett came around the right tackle and poked the ball away from the quarterback. Richardson completed his only pass of the series on the next play, hitting the shifty wide receiver Josh Downs over the middle. Gardner Minshew led the second-team offense out and safety K'Von Wallace appeared to provide the highlight for the defense with an interception of a pass intended for wide receiver Breshad Perriman, but the referee threw a flag much to the chagrin of the Eagles' sideline. Minshew ended the session with a dart of a throw to wide receiver D.J. Montgomery for a touchdown despite tight coverage by safety Sydney Brown. – Chris McPherson
11. The second-team offense was able to move the ball as well in this session, with Grant Calcaterra pulling in two nice gains downfield (one of which comes on a Kenneth Gainwell throw!). Marcus Mariota kept the ball a couple of plays later for a long run on the right side. – Fran Duffy