The Eagles announced on Thursday that they signed all five members of the 2019 draft class to four-year deals in advance of this weekend's Rookie Camp. In addition, the team inked 11 undrafted free agents, including cornerback Jay Liggins who was signed on Friday. Head coach Doug Pederson addresses the media at 11:20 a.m. on Friday before the rookies take the field at noon. We will carry both of those events live on PhiladelphiaEagles.com and our social media channels.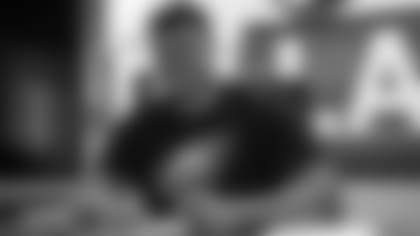 T Andre Dillard
Jersey No. 77
The Philadelphia Eagles moved up three spots in the first round to select former Washington State tackle Andre Dillard with the 22nd overall selection of the 2019 NFL Draft.
"This is a guy we had ranked as one of the top 10 players in the draft," Howie Roseman said. "This was the best tackle in the draft."
In order to move up, the Eagles sent a first-round pick (No. 25 overall), a fourth-round pick (No. 127 overall), and a sixth-round pick (No. 197 overall) to the Baltimore Ravens in exchange for the 22nd overall pick which was used on the 6-5, 310-pound first-team All-Pac-12 tackle.
Dillard started the final 39 games of his college career at left tackle, playing in 42 games overall. As a senior, Dillard also earned third-team All-America honors. According to Pro Football Focus, Dillard was the top pass-blocking tackle as he allowed just one sack on 677 pass attempts in 2018.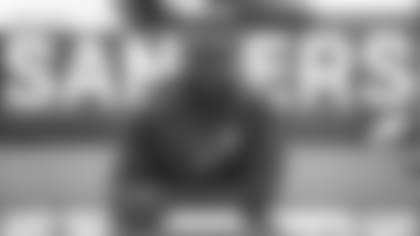 RB Miles Sanders
Jersey No. 26
With their first pick in the second round of the 2019 NFL Draft, the Philadelphia Eagles chose running back Miles Sanders out of Penn State with the 53rd overall selection.
The Pittsburgh native became the Nittany Lions' full-time starter for the first time in 2018 and gained 1,274 yards rushing (15th in the nation) on 220 carries for an average of 5.79 yards per carry and nine touchdowns in 13 games. His 98 rushing yards per contest ranked fourth in the Big Ten. He also added 24 receptions for 134 yards last season.
Sanders, a 5-11, 211-pound underclassman who will turn 22 on May 1, was a second-team All-Big Ten choice and Penn State's Most Valuable Offensive Player in 2018.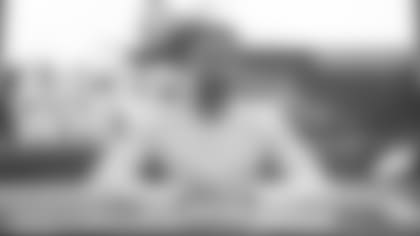 WR J.J. Arcega-Whiteside
Jersey No. 19
The Philadelphia Eagles' second pick of the second round was also used to bolster the offense as Stanford wide receiver J.J. Arcega-Whiteside was selected 57th overall just four spots after running back Miles Sanders.
Arcega-Whiteside, a big-bodied wideout at 6-2, 225 pounds, was a team captain in 2018 who earned second-team All-Pac-12 honors after catching 63 passes for 1,059 yards. He also had 14 touchdown receptions to tie a school record. A Biletnikoff Award semifinalist in 2018, Arcega-Whiteside finished his Cardinal career with 135 receptions for 2,219 yards and 28 touchdowns.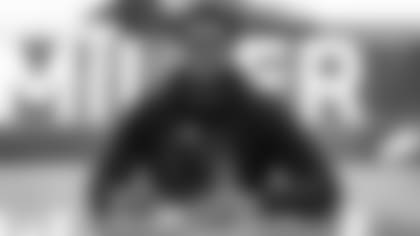 DE Shareef Miller
Jersey No. 76
Philadelphia native Shareef Miller stays home.
The Eagles selected the former Penn State defensive end with the 138th overall pick to close out the fourth round of the NFL Draft on Saturday afternoon.
The 6-4, 254-pound Miller was a third-team All-Big Ten selection in 2018 after posting 41 tackles, 15 tackles for loss, and 7.5 sacks in 13 games. He was also Penn State's Co-Most Valuable Defensive Player this past season. In 40 games over his three-year career, the 22-year-old had 100 tackles, 31.5 tackles for loss, 14.5 sacks, a forced fumble, and a fumble recovery.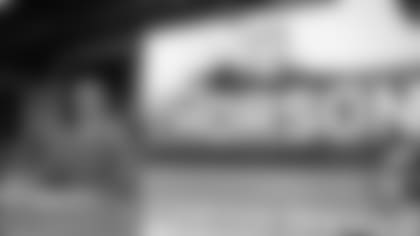 QB Clayton Thorson
Jersey No. 8
With the 167th overall pick, the Eagles chose quarterback Clayton Thorson out of Northwestern.
The winningest quarterback in Northwestern history, Thorson completed 58.4 percent of his career attempts for 10,731 yards with 61 touchdowns against 45 interceptions for a 118.1 passer rating. He also added 27 touchdowns on the ground. A four-year starter for the Wildcats, the 6-4, 222-pound Thorson is also the school's most prolific passer in terms of passing yards, completions, and touchdowns. He set the Big Ten record for most starts by a quarterback with 53.
Here are the 11 unrestricted free agents: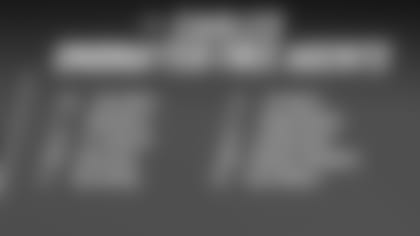 Click on the link below to check out the entire 2019 Rookie Camp roster.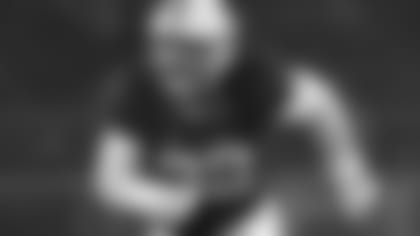 LB Joey Alfieri
6-3, 239 pounds
Stanford
Jersey No. 50
A two-time Pac-12 All-Academic honorable mention as a 3-4 edge rusher, Alfieri had 165 tackles, 26.5 tackles for loss, 14 sacks, two interceptions, and a touchdown in 50 career games.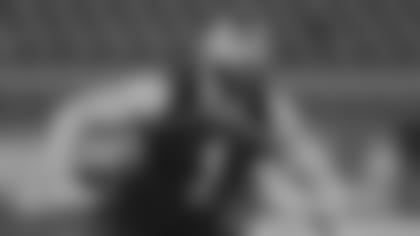 T Ryan Bates
6-4, 302 pounds
Penn State
Jersey No. 74
The Warrington, Pennsylvania native was a third-team All-Big Ten selection in 2018. He started 12 games in 2018, nine at left tackle and three at right tackle. He was on the preseason watch list for the Outland Trophy.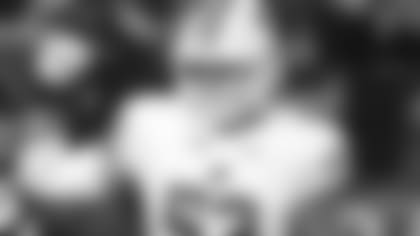 LB T.J. Edwards
6-1, 242 pounds
Wisconsin
Jersey No. 57
A first-team All-Big Ten selection by the media in 2018, Edwards started 52 of his 53 career games. The 52 starts are the second most in school history and fifth most by a Big Ten player. Edwards finished his college career with 10 interceptions, most by a linebacker in school history, and led the Badgers in tackles in three seasons.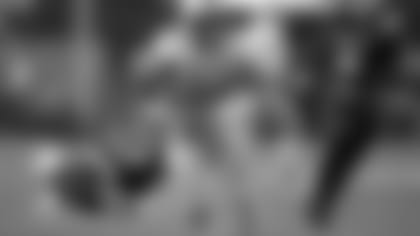 RB Nico Evans
5-9, 211 pounds
Wyoming
Jersey No. 41
In his lone season as the starter in 2018, Evans gained 1,325 yards rushing, averaging 6.5 yards per carry, and scored eight touchdowns. Evans also has experience as a slot receiver and on special teams as a kick returner.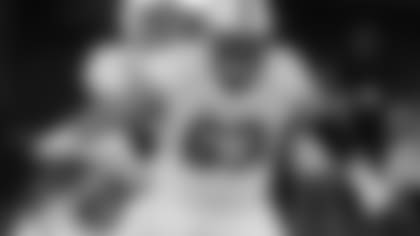 G Nate Herbig
6-4, 334 pounds
Stanford
Jersey No. 67
A two-time All-Pac-12 selection, Herbig started the seven games (six at right guard and one at right tackle) he played in 2018. Herbig was on numerous preseason All-America lists entering his final year on campus. He played in 13 games as a sophomore in 2017 and was a first-team All-Pac-12 choice.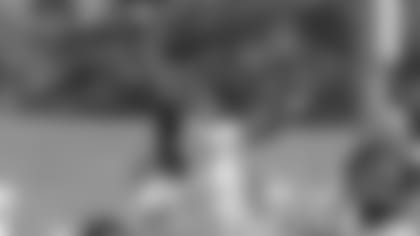 CB Jay Liggins
6-2, 200 pounds
Dickinson State
Jersey No. 46
A two-time NAIA All-American selection, Liggins had eight interceptions in 2018, including four in one game against Northwestern College. The Blue Hawks were undefeated at home (20-0) during his college career.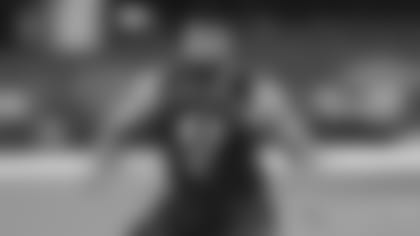 G Sua Opeta
6-4, 305 pounds
Weber State
Jersey No. 78
Opeta started his college career at defensive tackle before moving to the offensive line in 2016. He was named an FCS All-American in each of the past two seasons, starting 27 total games over that timeframe at left tackle.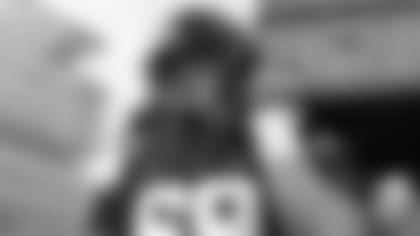 C Keegan Render
6-4, 307 pounds
Iowa
Jersey No. 64
Render started all 13 games at center in 2018, earning third-team All-Big Ten honors. Also has started at both left guard and right guard during his Hawkeyes career. Was a team captain in 2018.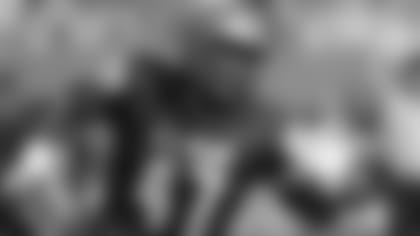 DT Anthony Rush
6-5, 350 pounds
UAB
Jersey No. 66
Rush transferred to Alabama-Birmingham for his final two seasons after playing at Northeast Mississippi Community College. He had 43 tackles, 11 for loss, and two sacks in 2018.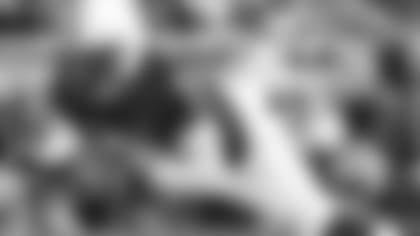 WR DeAndre Thompkins
5-11, 188 pounds
Penn State
Jersey No. 1
Finished his Nittany Lions career with 1,245 receiving yards and two punt return touchdowns. His best season as a receiver came in 2017 when he had 28 catches for 443 yards and three touchdowns.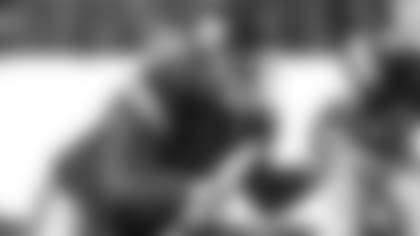 DT Kevin Wilkins
6-2, 304 pounds
Rutgers
Jersey No. 78
Led the defensive line with 50 tackles in 2018 after starting all 11 games at defensive end. Played 47 games in his college career.
Eagles waive DB Mercy Maston, WR Johnny Holton
The Eagles continued shaping the roster leading up to this weekend's Rookie Camp by waiving defensive back Mercy Maston on Tuesday and wide receiver Johnny Holton on Wednesday.