INDIANAPOLIS – Super Bowl LVII was directly in his sights on this Opening Night in Arizona, so Brian Johnson didn't speculate about his future. His focus was on Jalen Hurts and the Eagles' offense as it prepared for the Kansas City Chiefs, and Johnson, in his second season as the Eagles' quarterbacks coach, was lasered into the week of work ahead.
The topic was, of course, Hurts, a finalist for NFL Most Valuable Player in 2022, and the rapid ascension to stardom the third-year signal-caller had made.
"He is relentless," Johnson said. "That's just the way he is. He's going to take hard coaching and he's going to demand excellence not only from me but from everyone around him. He's never satisfied, and you have to understand that he is his own worst critic. I think that's what makes him so special. You can never be as hard on him as he is on himself."
Johnson now has the chance to take Hurts and the Eagles' offense to new heights in 2023 as the team's offensive coordinator, the Eagles announced on Tuesday. Johnson replaces Shane Steichen, now the head coach of the Indianapolis Colts.
A former star quarterback at the University of Utah, Johnson graced the cover of the EA Sports 2010 NCAA Football video game. A native of Baytown, Texas, Johnson was a three-year starter and two-time bowl MVP at Utah and finished with the most wins (26) in school history, including an undefeated 13-0 season during the 2008 campaign. For his career, Johnson threw for 7,853 yards and 57 touchdowns and ran for 848 yards and 12 scores.
Then Johnson moved into the coaching ranks at Utah and at age 24 became the offensive coordinator there, the youngest OC at the FBS level, in 2012. Johnson then moved to Mississippi State as the quarterbacks coach, helping Dak Prescott develop into an NFL-level quarterback along the way, before vaulting into prominence at the University of Florida from 2018-20. Johnson was the offensive coordinator/quarterbacks coach there and he orchestrated the top-ranked passing attack in the FBS level in 2020. Johnson coached three All-Americans that season including QB Kyle Trask, a Heisman finalist who led all of FBS with 43 passing TDs.
It has been a career of upward success for Johnson, who has drawn rave reviews from the Eagles particularly for the way he's helped develop Hurts in the two seasons they've worked together, continuing a relationship that began when Hurts was a child and Johnson was friends with Hurts' father.
"It starts with the relationships that we have with the players. And Brian stepped right in here and had a great relationship with our quarterback dating back to when our quarterback was, however old he was, 2 years old," Head Coach Nick Sirianni said of Johnson. "So the relationship means a lot. And the trust was automatically there. Sometimes you have to develop the trust. A lot of times you have to develop the trust, but that was there. And then with that, Brian's great with, not just Jalen, with everybody. He can adapt and just be able to connect with anybody on our roster. And that's offensively and defensively. And that's one thing that I think Brian's special at. And then we're not even talking about the football knowledge that he has. And so Brian's excellent with Jalen as far as his development of fundamentals. I think you've heard me say this plenty of times.
"Coaches have to have two things. They have to be able to – position coaches, first and foremost, have to be able to get their players better as players. They have to be able to take them a level here to a higher level that they can't reach without the coaching of that individual. And that happens through fundamentals and being able to explain the plan, being able to explain the offense to make it easier for that player to understand and to execute. Brian does a great job of that. And Brian is also very gifted in the sense of helping be able to scheme, even though he wasn't the offensive coordinator last year, he still helps a great deal with our schemes and the way we're attacking defenses in the run game, in the pass game, in the protection world, in situationals.
"So, yeah, he's been a great influence, obviously, for Jalen. And Jalen's done a nice job, obviously. But it's a good relationship of those two guys because I do believe that's helped Jalen become a better player."
Communication and having transparency, Johnson said on that Monday night before the Super Bowl, have been key for the success offensively.
"Everyone has to be on the same page, obviously. That's something we've worked very hard on," Johnson said. "Jalen is going to be there every day, grinding. He's so dedicated to his craft and to staying in the moment and keeping that incredible focus. Jalen pushes himself and he leads by example and that's why we've had such success. He is a special person and a special quarterback."
And now the two will work together at a different level, with Johnson as of the offensive coordinator, calling the plays, and working with Sirianni and the offensive coaching staff on a way to bring the Eagles to even more success in 2023 and beyond.
Said Hurts of Johnson: "He is going to be a star one day. He is going to be a big-time head coach one day. It's definitely just the beginning for both of us."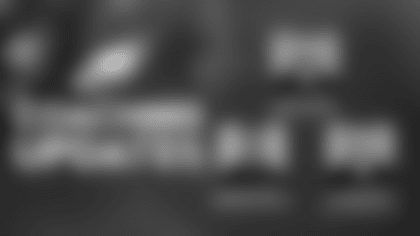 The announcement of Johnson as the new offensive coordinator was only one of the team's moves to address the offensive coaching staff on Tuesday. The others:
Alex Tanney, Quarterbacks Coach
• 2022 was his first season as assistant quarterbacks coach/offensive assistant
• In 2021, he was offensive quality control coach
• NFL quarterback for nine years 2012-2020 (Chiefs, Giants, Bucs, Browns, Titans)
• During his time as a player, Tanney crossed paths with Nick Sirianni in Kansas City (2012) and Shane Steichen in Cleveland (2013). Tanney attended Monmouth College (IL), where he set NCAA Division III career records in passing yards (14,249) and passing touchdowns (157) and was a three-time Midwest Conference Offensive Player of the Year.
• In 2009, Tanney threw for 3,856 yards and 44 touchdowns and won the Melberger Award as Division III's best player. He also established a school record with 50 touchdown passes as a sophomore in 2008.
Marcus Brady, Senior Offensive Assistant
• Colts offensive coordinator (2021-22), Colts QB coach (2019-20)
• In first season as offensive coordinator, Brady helped the Colts rank second behind the Eagles in rushing yards per game (149.4) and tied for ninth in points per game (26.5).
• 2023 will be his 15th season as a coach.
• Spent 16 years in CFL as a coach and a player.
• Was offensive coordinator for the Toronto Argonauts from 2013-17. In 2017, the Argonauts won their first Grey Cup since the 2012 season.
• Played seven years in CFL as QB, threw for 3,321 yards.
T.J. Paganetti, Run Game Specialist/Assistant Tight Ends Coach
• 2023 will be ninth season with the Eagles
• Served as offensive quality control coach from 2021-22. Eagles set a franchise record with 477 points in 2022 to go along with several other team records in total TDs (59), scrimmage TDs (57), and rushing TDs (32).
• Eagles also finished with the best third-down (45.9%) and red zone efficiency (67.8%) marks in franchise history in 2022.
• Previously served coaching staff in several other capacities including analyst (2013-14), assistant offensive line coach (2017-18), assistant running backs coach (2019-20), and assistant run game coordinator (2020).
• Started his coaching career at Oregon as an undergraduate intern in 2007 and returned to the Ducks as a graduate assistant/linebackers coach in 2015-16.