Jackie Morriss didn't meet her husband, Guy, until after his Eagles career was over. But she's heard tons of stories from his days in Philadelphia.
An ironman at the center position who missed only one game in 11 seasons with the Eagles from 1973-83, Guy Morriss remained close with his Eagles brethren throughout the rest of his life. Earlier this summer, former Head Coach Dick Vermeil was present for Morriss' induction into the Kentucky Pro Football Hall of Fame. Last year, Morriss made the trek to Canton for Harold Carmichael's Hall of Fame ceremony.
"I just can't believe the heart and the love they had for each other," Jackie said. "That team was so special."
That team lost one of its own this week as Guy Morriss passed away peacefully at the age of 71 on Monday evening, surrounded by his loving family on his farm near Perryville, Kentucky. He is survived by Jackie, his wife of 35 years; his children including Colleen Patterson, Kerry Clark, Savannah Morriss, Austin Leigh Blacklock; and five grandchildren.
"I'm going to miss the stories because they all had them," Jackie said. "I've never seen so much emotion out of guys in my entire life."
Morriss was a second-round pick of the Eagles out of TCU in 1973 and quickly ascended to the top of the depth chart where he would remain for over a decade. Morriss was the anchor for the 1980 NFC Championship Team and to this day only four offensive linemen in franchise history have played in more regular-season games than him.
"If you spent a lot of time in the training room, the coaches are looking at somebody else in your spot. I was the kind of guy that enjoyed practicing and I loved to play the games. I didn't want to give somebody else the opportunity to take my job just because I was laying on a training table in the trainers' room," said Morriss, who remained in tip-top all year round well before it was the standard in the NFL.
"I had the knee strains and sprains and stretched ligaments and partially torn ligaments and all that kind of stuff, just like everybody does. I played one year where my shoulders were just tore up. At the end of the year, I had surgeries on both shoulders at the same time. But it's just like I said, if I wasn't on the field, somebody else was in my spot and the coaches may decide they like him a little bit better than they did ole Guy Morriss. I just wasn't going to let that happen."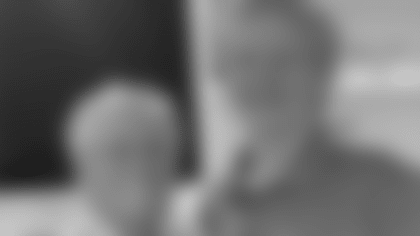 Following his tenure with the Eagles, Morriss played four more seasons in New England with the Patriots which is when he met his wife. Football remained an integral part of Morriss' life as he transitioned into coaching.
Vermeil referred to Morriss as one of the "dirty dozen" – the 12 players who helped take the Eagles from a perennial struggling team to the Super Bowl "because of their character, their work commitment, their unselfishness, and their caring about the program."
The Pro Football Hall of Fame head coach was not surprised to see Morriss stay involved with the game.
"He cared about the game and everything about it. I have no doubt that he will have any problem transferring those feelings to those who play for him or work with him," Vermeil said.
Morriss coached football for nearly 30 years at the high school, college, and professional ranks. He was an offensive line coach for the Patriots and Cardinals, and the head coach for two college programs – Kentucky and Baylor. He retired after coaching the offensive line at Lexington (Kentucky) Christian Academy in 2015. Jackie has been overwhelmed by the memories and outpouring of support from former players in the past few days.
"He loved being a coach because he could teach more than football," Jackie said. "He was just a good person. He affected a lot of people."
Additional reporting and background info were provided by Jim Gehman.