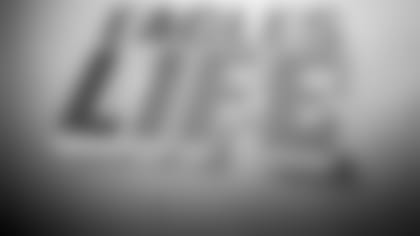 Father Mike Matveenko has been an Eagles fan ever since he can remember. Growing up in South Jersey, a strong sense of Eagles tradition was instilled in him by his immediate family and close relatives. As a child, the Eagles and the church helped define who Father Mike is today.
For as long as the Eagles have been a part of Father Mike's life, so has the Catholic Church. From a young age, Father Mike remembers always being involved in the church, whether it was as an altar boy or a lector. This service gave him the opportunity to develop a strong relationship with the parish clergy who became some of his greatest role models.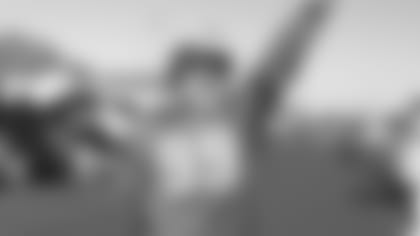 Father Mike set out on his own path after college, and was ordained in May 1982. He currently calls St. Charles of Borromeo Church in Sicklerville, New Jersey home, but becoming a priest, was just the beginning of Father Mike's amazing story.
Throughout the years, Father Mike's journey with the Catholic Church continued alongside his journey as one of the many Eagles Faithful.
Sundays are a special day for Father Mike. Not only is it time for him to spread God's word, but it is also time for him to lead Eagles Nation in Philadelphia. As an Eagles Season Ticket Member, he never misses a home game, even with his busy Sunday schedule.
"As soon as the Eagles schedule comes out I put it right into my day planner," said Father Mike. "When we do our mass schedule there's one priest here with me and I just make sure that I have the early mass on Sundays so I can get over to the stadium as fast as I can."
That is when Father Mike becomes Helmet Head in Section 207.
It all started years ago in 2002 at Veterans Stadium during a tailgate with some friends. One of the tailgaters took a Harley-Davidson Motorcycle helmet and painted it to look like an Eagles helmet. The original agreement was that the last member to arrive at the tailgate would have to wear the helmet for the entire game. That, of course, didn't last long. Once in the stadium, the helmet found its way to Father Mike, who gladly accepted.
"The Eagles had the ball at that point. They marched down and scored a touchdown," said Father Mike. "So they (fellow section members) said, 'Now you have to go down in front of our section and get everybody up to do E-A-G-L-E-S!' So I went down there. As I was coming back up to my seat, there was a guy jumping up and down saying, 'Yeah Father Mike, you were great! You got the helmet, you're Helmet Head! You're Helmet Head!' and that's how it was born."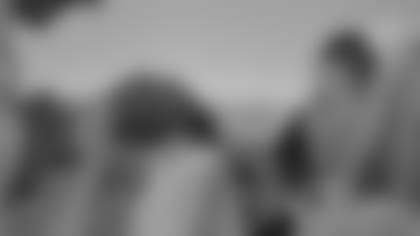 Since that day, Father Mike, or Helmet Head, has been the leader of his section. When the Eagles moved to Lincoln Financial Field, that passion continued in Section 207. Every Sunday that the Eagles have a game, Father Mike ends his mass with "Go Eagles!" as he prepares to lead the masses at his next stop – Lincoln Financial Field.
"In a sense, I'm kind of like a cheerleader for the Lord," said Father Mike. "So it goes hand in hand with being a cheerleader for the Eagles. It's the interaction with people. I've made a lot of friends at the Linc, and the Vet before that. People respond to me."
It is common to see Father Mike leading people in prayer and giving guidance before or during Eagles games. He also throws a dash of football into his Sunday morning sermons. Father Mike is constantly drawing parallels between his two passions, not only for himself but those around him. As he looks ahead to Pope Francis' visit to Philadelphia, Father Mike sees the potential effects.
"I think the Pope coming to Philadelphia brings a lot of energy," said Father Mike. "That definitely spills over to us Eagles fans. Anything that gives us that positive lift kind of bubbles over to the team itself. They feed off the fans energy, so anything that energizes us can help energize the team."
Football has just begun, and there is a long season ahead of this 2015 team. In the meantime, Father Mike a.k.a. Helmet Head, suits up every day to carry out his greatest duties for the church and the Eagles.