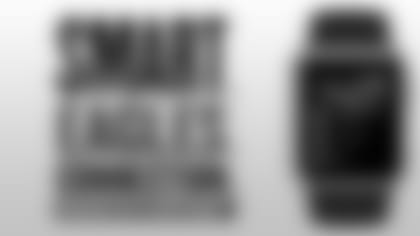 The Philadelphia Eagles have developed an interactive app for the Apple Watch that will provide fans with up-to-the-minute breaking news, updates, information and more in 2015. Apple Watch users will be able to download the app from the Apple Watch App Store on April 24, in advance of the 2015 NFL Draft, which kicks off at 8 pm ET on April 30.
The Eagles app will deliver fans the latest headlines, photos and graphics, enabling quick and easy access to team coverage directly on your wrist. The first edition of the app will feature Eagles-related news leading up to and surrounding the NFL Draft.
Working closely with long-time development partner YinzCam® Inc., the Eagles designed the app that will feature breaking news alerts from the team, roster information and details about players selected by the club during the NFL Draft. Fans with an Apple Watch can swipe through headlines and get a quick glance at stats and information in a matter of seconds.
For the 2015 season, fans will have the ability to keep track of scores, live stats, player details, roster changes and standings.
The Eagles app for the Apple Watch works in conjunction with the team's iPhone and iPad apps and will be free for all users. In addition to receiving breaking news alerts, fans will also be able to read the opening of an article and can quickly transition to their iPhone or iPad to read the full story on the Eagles app using Handoff, which seamlessly transitions content from device to device.
The Eagles have been innovative developers of apps with special features for individual fan recognition and custom content delivery.