When he explains himself, it's hard to argue with Cary Williams. A day after he insisted that the Eagles defense could use an infusion of toughness and that it was not feared around the league, the former Baltimore Ravens cornerback clarified himself Monday.
"I wasn't making a comment to get any grief from it," Williams said. "I was just saying that we're a young team with a young coaching staff that just came in and we're just trying to build our culture here, that culture, that fierceness, that nastiness. We're trying to bring that back to Philly. Those days when Brian Dawkins was flying around, people were getting hit. That's the only thing I was trying to bring out in this conversation with the media yesterday was that and I still stand by that and I think we're well on our way."
Defensive coordinator Bill Davis, for his part, agrees with Williams' contention.
"I think every defense in the NFL is striving to be a feared, respected defense," Davis said. "And the only way you can get to where you are feared and respected is by playing great defense, being able to get off blocks and make tackles and stop the run to having a pass rush that they're afraid of, a blitz package, to have lockdown coverage, cover corners and safeties to where you're playing great defense, to swarm to the ball, to have big hits and tackle. That's what puts fear in people and the only way you get to that is playing the individual techniques and learning the defense and playing together. It's the same goal for every NFL defense."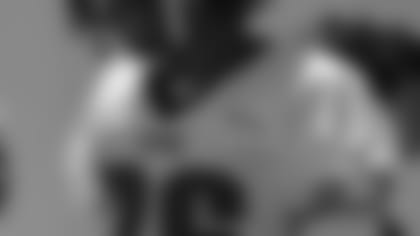 Davis, too, believes the defense that finished tied for 29th last season in scoring defense still has a ways to go before it can puff out its figurative chest.
"We don't collectively have the mindset that needs to be where it is," Davis said. "You don't just talk about it and say the words and all of a sudden everyone has the attitude. The way you get that confidence in your defense and in your techniques is by having success during the games. You can tell we did not have that success in (the first preseason game)."
Williams, meanwhile, is still waiting to play his first game as an Eagle after missing the preseason opener with a hamstring injury.
"They signed me to be a leader. They signed me for my play," said Williams, adding that he hopes to play Thursday night against the Carolina Panthers. "I am here to make plays on Sunday. Unfortunately, I haven't been able to do that and that's what's frustrating. But when I'm out there, I give it everything I got and my teammates know that."
Williams said that he preemptively talked with head coach Chip Kelly about the intention of his comments on Sunday.
"I came in because it left me uncomfortable because I think the words I used were taken out of context and I just wanted Chip and (general manager) Howie Roseman to understand that those aren't my intentions," Williams said. "I'm here to be a team player. I'm here to promote the Eagles. I'm here to play my best football and I think that me taking it one day at a time and this team taking it one day at a time is the best for the team. Like I said, I wasn't trying to be a jerk.
"I never came out and said that my teammates were soft. I never said that one time. I never said in a disrespectful manner that I don't respect any guy out here and I do. They have to have some type of ability, some type of toughness to be at this level and to play especially for this organization because it has tremendous tradition. I respect that."