Andy Reid wouldn't take the opportunity, when a reporter presented it to him, to offer his "I-told-ya-sos" or his "Look-at-what-we-dids" on Monday, just hours after his Eagles improbably clinched a playoff spot.
The Eagles' 44-6 win over Dallas at Lincoln Financial Field on Sunday catapulted them into the NFC's final playoff spot, on the heels of some fortunate events in other contests around the conference.
So, despite the errors and the inconsistencies, Reid will be making his seventh trip to the playoffs as Philadelphia's head coach. But, he said, he won't tell anyone what to think.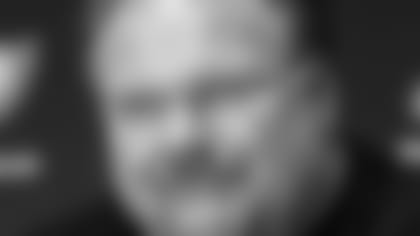 Head coach Andy Reid
"Listen, that's not how I operate," Reid said. "You know what? Hey, I know it's crazy, but we're all in this thing together, trying to make a living at doing what we're doing. And I know it's not an easy job day in and day out."
"Easy" certainly isn't the word for it. The Eagles not only needed to beat Dallas – which, in reality, turned out to be the easiest part of all – but needed lowly Oakland to topple Tampa Bay and Houston to stifle Chicago. The cards fell into place, and now the Eagles have a wild card matchup with the NFC North champion Vikings on slate for 4:30 PM Sunday in Minneapolis.
Make no mistake, despite an ugly stumble of a loss in Washington last week, the Eagles were relatively hot to finish the season. They were 4-1 in their last five games, and over the past four weeks, the Eagles' defense has scored more touchdowns (three) than it's allowed (two).
Still, the struggles in Washington magnified some of the Eagles' early-season mistakes, perhaps marking a point of no return where they fell into an abyss of poor habits and bad luck.
But the fortune was theirs on Sunday.
"Those things happen in this league. I thought last week, I thought our defense picked it up and our offense struggled a little bit," Reid said. "I thought we did a better job all the way around offensively. We missed some opportunities; we dropped the football, which we hadn't done much of the week before. Normally we don't do that."
Now, the Eagles go on the road for the long haul, where they've been incredibly unpredictable this season, en route to a 3-4-1 slate. It includes some big wins (at New York), some tough losses (at Dallas, at Chicago) and the flat-out embarrassing outcomes (at Cincinnati, at Baltimore).
Should they continue on, they'll need to step it up.
"We've always done well on the road here and this year it has been a little bit up and down. It's important that we focus in during the week and make sure that we eliminate any distractions, which there can be sometimes during playoff time with people wanting to go up to Minnesota and get tickets and all that kind of stuff," Reid said. "You have to just put all of that aside along with the media and so on and just focus in on the game. And the better you do that, the fewer problems you'll have once it comes game time."
In terms of storylines, there will be no shortage of angles – starting with Reid himself.
Reid had the opportunity, in a weekly phone call with Vikings coach Brad Childress, to offer some congratulations to his former offensive coordinator. But that was where it stopped.
"It's kind of one-sided. You congratulate each other and then don't say anything after that," Reid said. "We talked last night, so there probably won't be a lot of communication this week, but that's all right."
INJURY NOTES: Both linebacker Stewart Bradley (ribs) and tackle Jon Runyan (knee) made it through Sunday's game without hitch … There will be more question marks for Sunday in the persons of L.J. Smith (shoulder), Victor Abiamiri (Lis Franc sprain) and Shawn Andrews (back). Reid said Smith "is not there yet" and Abiamiri and Andrews would "struggle" to play on Sunday.