The Eagles celebrate the life of All-Pro defensive tackle Charlie Johnson, a member of the franchise's 75th Anniversary Team, who passed away on August 13 at the age of 69 at his home in Angleton, Texas.
Known by his family as "a gentle giant," Johnson was a seventh-round pick in the 1977 NFL Draft out of Colorado. Johnson helped change the team's fortunes in his five years in Philadelphia, as the Eagles went to the playoffs four times and won the 1980 NFC Championship.
He leaves behind cherished memories with his sisters – Linda Anderson, Judie Simmons, Deborah Grice, Melvin Jean Beasley, and Sybil Mason – and brothers – Ben Johnson, Michael Johnson, and Gregory Johnson.
He was preceded in death by his father, Ben Carrie Johnson; mother, Anna May Grice; stepfather, Melvin Grice, Sr.; and brother, Clayton Lee Johnson.
"He was a very good person. He would give the shirt off his back to anyone who needed something, and he would never ask for anything in return," said Johnson's sister, Judie Simmons. "He was just a kind-hearted person."
Johnson started nine games in his rookie year, and by the end of the 1979 season, he earned the first of three Pro Bowl selections. He added All-Pro honors the following two years, including an appearance in Super Bowl XV following the 1980 campaign.
In his five seasons in Eagles green, Johnson started 73 of the 76 games he appeared in. He intercepted three passes and had a nose for picking up any loose balls, recovering seven fumbles. He started in a total of seven playoff games for a franchise that had not been to the postseason once since the 1960 NFL Championship Team prior to his arrival.
"It was a dream come true," Simmons said of the Eagles drafting her brother. "The only thing that he hated was that his mother was unable to see it (she passed when he was 14). He gave it his all. He played hard, and I know he played hard because he was selected to the Pro Bowl three years, and he said the Super Bowl was the best experience in his life.
"He loved playing for Coach (Dick) Vermeil. He always talked about him even after leaving Philadelphia. After his career ended, he still talked about the Eagles. He was one big Eagles fan."
Born in Beaumont, Texas, Johnson fell in love with football at a young age. He was a standout player at Columbia (Texas) High School, where he helped the Roughnecks reach the 1969 state finals. Johnson was inducted along with his teammates from that squad into the school's Hall of Fame.
After high school, Johnson enrolled at Tyler Junior College and played football, but before finishing his education, he enlisted in the Army and served our country in Vietnam. He was honorably discharged and proceeded to continue his path to the NFL at the University of Colorado.
The Eagles traded Johnson to the Minnesota Vikings following the 1981 season, where he played three seasons before retiring. Johnson enjoyed fishing, landscaping, watching football, basketball, track, the Olympics, old Westerns on television, and spending time with his family in his post-NFL life.
The program at his funeral noted that he remained an "avid" Eagles fan, even in the heart of Texas.
"I have a lot of friends who love the Cowboys," Simmons said. "I'd get cards of my brother where he's taking (Hall of Fame quarterback) Roger Staubach down and just rub it in their face."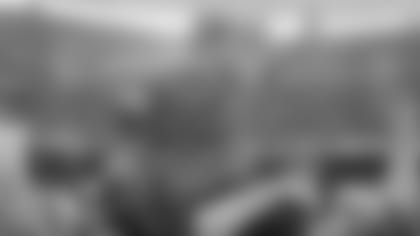 Charlie Johnson (left) carries off Head Coach Dick Vermeil with the help of defensive end Claude Humphrey following the 1980 Divisional Round win over Minnesota.