Although they play in (and failed to win) the division that most consider to be the worst in football, the Atlanta Falcons are still going to be a tough test on Monday night. Any team led by a veteran quarterback like Matt Ryan is going to be difficult to beat, as Greg Cosell pointed out this past weekend. Ryan will always put that team in position to win games, and he is the type of quarterback who can compensate for deficiencies elsewhere because of how far along he is mentally at this stage in his career.
With a new coaching staff in Atlanta this year, this team will look a little bit different than in years past offensively, but there will be a lot of similarities. Kyle Shanahan-coached teams are always big on the stretch run game, and I imagine that they will try to establish themselves on the ground in the same way that his offenses did in Cleveland and before that in Washington.
When you look at this offensive attack, you still have to focus on the passing game when a team has a duo like Ryan and Julio Jones, who is without question one of the most physically gifted receivers in the game. His combination of size, athleticism, and ball skills make him as tough a cover as any wideout on the Eagles' schedule. Jones' talent is accentuated by two things - his development as a route runner and the way the Falcons use him around the formation.
Jones has always been one of those freakish athletes who can run past you in the open field, but also beat you physically at the catch point. His improved route running has made him even more of a lethal threat, as he proved on this play last year against Green Bay. Jones has the ability to separate at the top of his stem, and look at how easily he gets that cornerback's hips turned, as he breaks inside for the deep dig and the first down. Excellent route and catch by the former high first-round pick.
In the same game, look at how much separation he is able to get because of how he sells this Sluggo route, as he hauls in a 79-yard pass for a huge play for Atlanta. Jones' physical skills are special. One-on-one he is a tough matchup for any corner in the league. When you then take into account the different things Atlanta has done (and presumably will continue to do) with moving him around the formation, he becomes an even tougher test.
On this play down in the red zone against Cincinnati, Jones lines up as the No. 2 receiver inside. This is the All-American pass play called "Smash." It's a simple high-low read for the quarterback. If the cornerback over the No. 1 receiver drops back into coverage (say in Cover 3 or Quarters coverage), then the ball goes underneath to the hitch route from the receiver across from him. If that cornerback stays tight on the hitch route, this ball will go to the corner route every time. That's exactly what happens on this play, as Ryan hits Jones for a touchdown.
On that play, you saw Jones in the slot to the two-receiver side, which is not really uncommon when you look around the league. The Detroit Lions do this with Calvin Johnson, the Arizona Cardinals do it with Larry Fitzgerald, Dallas with Dez Bryant, so on and so forth. But lining up tight to the formation doesn't just happen in spread formations with Jones.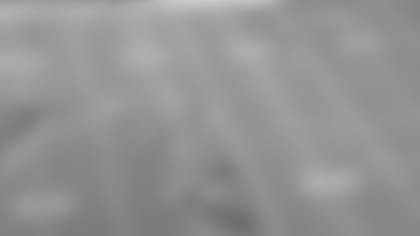 Look at this play against Tampa Bay last year. You see Jones at the bottom of the screen, lined up on the numbers. If a receiver is lined up on or inside the numbers (closer to the quarterback), this is what is known as a tight (or minus) split. What does that mean for the cornerback? Well, it could mean a couple of things. This could be a run play to that side (such as a sweep or toss play), where Julio could be asked to crack down on a hang defender. It could be a deep shot off play-action, something I see a lot out of formations similar to this where the receivers are brought in tight to the formation.
The biggest thing to take into account, however, is the fact that when he lines up inside like this, Jones has a two-way go. He can break inside, or he can break outside, with plenty of space to go outside the numbers. The sideline, a cornerback's best friend, is a long ways away. When the Falcons line Jones up this way, in a position where he can run different isolation routes out in space, it's a huge advantage for Matt Ryan.
Jones gets an inside release, beats the corner over the top and Ryan has plenty of room to drop this ball in at the pylon. The play on the ball that Jones makes, readjusting in the middle of the route, is downright silly.
This play against Arizona has Jones at the top of the screen with an even tighter split, a full 2-3 yards inside the numbers. He gets a clean outside release on this play (instead of the inside release he got on the play against Tampa Bay), and there is so much room for him to run through. Even against one of the top cover men in the league in Patrick Peterson, look at the amount of space Ryan has to drop this ball in. Jones hauls in the pass for another Atlanta touchdown.
So with the Falcons lining up with so many tight formations, more often than not it results in them deploying "bigger" personnel groupings. It happened last year, and that held true this preseason as well.
Matt Ryan played 37 snaps in the preseason. Of those 37 snaps, the Falcons played 19 in 21 personnel with two running backs and a tight end. They played just 11 snaps in 11 personnel with one running back and one tight end, and they played seven in 12 personnel. What does that mean? It means that on 26 of the 37 snaps with the first-team offense the Falcons played with just two receivers. They mix and match different groupings with different formations, so sometimes you may see a fullback in the slot, or a tight end out wide, etc. One thing you'll see a lot of though, especially with their issues up front along the offensive line, is shot plays with max protection, where tight ends and running backs are kept in to help keep Ryan upright.
This shot play off of end around-action is all based on an isolation route from Jones, who is running a deep post (notice the tight split again). If that's taken away, the fullback Collin Mooney is underneath as a safety valve. Ryan sees the post taken away, dumps it off to Mooney and he takes off for more than 60 yards and a big play. I would expect to see the Falcons utilize their backs and tight ends often on Monday night.
I mentioned the struggles that the offensive line has had up front. Injuries, youth, inconsistency and a new system have resulted in a ton of mixing and matching in the trenches for the Falcons this summer. Jake Matthews, a former top-10 pick, has been out of action for the past week or so with a back injury. Second-year lineman James Stone was promising a year ago and early in camp, but is smarting after a really tough outing against Miami and defensive tackle Earl Mitchell. Veteran Mike Person was moved from left guard to center, where he replaces the incumbent Joe Hawley, who was cut this week after recovering from a torn ACL/MCL. The team traded for Andy Levitre, presumably to play at left guard, after he was a disappointment in Tennessee.
It's easy to see why there have been so many changes as the Falcons head into the regular season. On this play against New York, the entire left side of the line loses its one-on-one battles. This was a theme throughout the preseason, so changes were needed.
The troubles up front have put a damper on the Atlanta run game. Offensive coordinator Kyle Shanahan, like his father Mike before him, bases his offense on the outside zone stretch run game. Inconsistency along the offensive line and injuries in the backfield have limited the production on the ground, but it appears as if rookie Tevin Coleman will get the starting nod on Monday night.
Coleman was a player whom I personally liked coming out of Indiana in the NFL Draft. He was one of, if not the, most productive backs in the country. He showed good patience, he had a great burst in a short area and on this play you can see the competitiveness that can make him a good inside runner. If the Falcons can get the run game going this year, it will take a load off of their passing attack, and help make their offense more balanced.
Fran Duffy is the producer of "Eagles Game Plan" which can be seen on Saturdays during the season. Be sure to also check out the "Eagle Eye In The Sky" podcast on the Philadelphia Eagles podcast channel on iTunes. Prior to joining the Eagles in 2011, Duffy was the head video coordinator for the Temple University Football team under former head coach Al Golden. In that role, he spent thousands of hours shooting, logging and assisting with the breakdown of the All-22 film from the team's games, practices and opponents.